More big banks slip into line with lower one year fixed rate home loan offers. BNZ is the latest, then ASB. But challenger banks still have lower rates on the table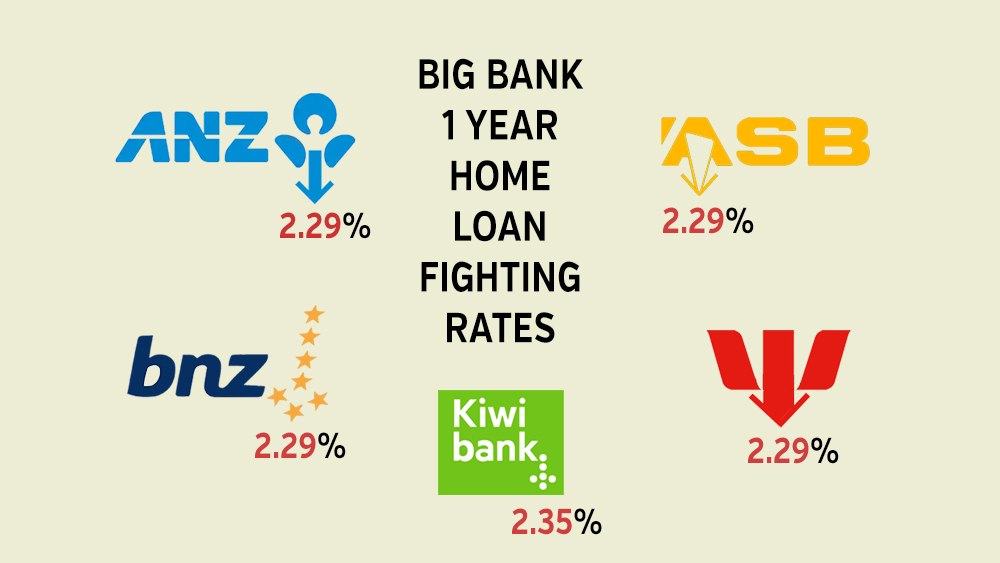 More banks are falling into line with carded rate cuts to home loans.
BNZ is the latest. They have adopted the 2.29% one year fixed rate first claimed by Westpac.
But they have also trimmed their two year rate to 2.59% and matching ASB for that term.
It is starting to look like trailing banks are going to do the minimum to remain competitive.
We are awaiting rate change announcements from ASB and Kiwibank, which will surely come soon.
Update: ASB has also now cut its one year fixed rate, also to 2.29%.
Further update: Kiwibank have announced their one year fixed rate will reduce to 2.35% on Monday, January 25, 2021.
Carded rate changes are one thing, but on the front lines, most banks will match the market lows of their main rivals if you ask them (provided your financials are attractive enough).
Currently, the lowest one year rate is from Heartland Bank at 1.99%.
The lowest 18 month rate is from HSBC at 2.25%.
The lowest 2 year rate is from Heartland Bank and HSBC at 2.35% and TSB's 2.49% also undercuts the main bank levels.
Remember, the RBNZ's Funding for Lending program is in place, allowing banks to access money at the OCR's 0.25%.
If banks use that funding line, they can still keep their margins intact with rates down to about 2%.
Only one bank has drawn $1 bln in the FLP line late so far, doing so late last year. $1 bln is enough to fund about 2000 home loans.
In today's move, BNZ did not change any of its term deposit offers at the same time.
One useful way to make sense of these new lower home loan rates is to use our full-function mortgage calculators.
And if you already have a fixed term mortgage that is not up for renewal at this time, our break fee calculator may help you assess your options.
Here is the updated snapshot of the lowest advertised fixed-term mortgage rates on offer from the key retail banks at this time.
In addition to the above table, BNZ has a unique fixed seven year rate of 5.20%.