Kiwis appear stuck with high credit card interest rates despite Aussie crack-down, with the Commerce Commission leaving them to market forces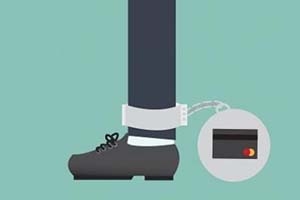 New Zealand regulators are continuing to turn a blind eye to our high credit card interest rates, despite the Reserve Bank of Australia (RBA) cracking down on the issue. 
Even though New Zealand credit card interest rates are as high, if not higher, than Australian ones, the Commerce Commission - which oversees consumer credit laws - says it has no mandate to follow the RBA's lead.
The RBA has pulled banks up for gouging millions of dollars from credit card holders, in its submission to a Senate inquiry into credit card interest rates.
It asserts that even though it's become cheaper for banks to fund themselves since the global financial crisis, they're upping their credit card interest rates.
So not only are they not passing RBA cash rate cuts onto their credit card holders, but they're charging them more.
The same thing is happening in New Zealand, but our regulators aren't doing anything about it.
OCR down, interest rates up
Credit card interest rates here have not fallen as much as they might have against the backdrop of the Official Cash Rate (OCR) falling to 3.00% now from a peak of 8.25% in 2008. 
As displayed in the table below, standard credit card purchase rates sat at around 22% in 2008, and dropped to just under 20% between 2009 and 2014 when the OCR was between 2.50% and 3.50%.
Just this year, credit card interest rates have been inching higher, up a percentage point to just under 21%, despite the OCR falling 50 basis points and being expected to continue its downward trend.
 

Aug 08

Aug 09

Aug 10

Aug 11

Aug 12

Aug 13

Aug 14

Aug 15

Purchase Rate (%)

ANZ

MasterCard

Standard

22.20

19.95

20.95

Low Rate

14.90

13.90

ASB

MasterCard/ Visa

Standard

22.20

19.95

19.45

19.95

20.95

Low Rate

12.50

12.00

19.95

13.60

13.50

BNZ

Visa

Classic FlyBuys

22.20

19.95

20.95

Lite

13.75

13.25

13.50

13.90

Westpac

MasterCard

Standard

21.90

19.95

20.95

Low Interest

14.85

12.95

12.99

12.95

13.45

OCR

8.00%

2.50%

3.00%

2.50%

2.50%

2.50%

3.50%

3.00%
Our credit card interest rates are also higher across the board than in Australia.
While we're paying just under 21% for the standard cards listed above, Australians are paying just under 20% for similar cards.
Our cash advance rates (the rates we pay when we draw money using our credit cards) are also generally over a percentage point higher than in Australia, at just under 23%.
NZ regulators: Let the free market's 'invisible hand' do its thing
The RBA's Payments System Board will finalise new rules governing credit card fees in the Australian market in coming months. These are expected to see credit card fees lowered.
However the RBNZ can't follow suit, as it operate under a different mandate to the RBA.
It says: "The Reserve Bank of New Zealand regulates banks, insurers, and non-bank deposit takers (NBDTs) at a systemic level - i.e. to make sure the financial system remains sound. 
"We don't regulate from an individual customer protection perspective and don't have comment to offer about pricing of products and services offered by banks, insurers and NBDTs. 
"The way that banks, insurers, NBDTs (and indeed all other businesses) in New Zealand interact with customers (including pricing) is governed by well-established consumer protection laws. 
"Other than a small handful of price-regulated industries (wholesale prices for electricity transmission and some telecommunications are well known examples), businesses are quite within their rights to set prices, fees, charges etc within the competitive market in which they operate – and consumers are free to shop around for the best deal."
As for the Commerce Commission, a spokesman says: "There are no restrictions on interest rates so constraint is provided by the competitive market. It's not an issue we would investigate unless evidence emerged of collusion between banks to set rates at a certain level."  
Labour calls for government to step in
Against this backdrop Labour's consumer affairs spokesman David Shearer is calling for the Government to step in and demand a better deal from the Australian banking giants.
He accuses the Australian banks of "creaming" Kiwis, as they make higher profit margins here than they do across the ditch.  
"They are some of the most profitable banks in the Western world, generating a return here of 1.6 per cent pre-tax profit as a percentage of total assets last year, compared with Australia's 1.28 per cent. (The US was 1.1 per cent and the UK 0.39 per cent)" Shearer says.
"New Zealanders delivered them a net profit after tax of $4.4 billion last year – a giant step up from $3.6 billion the year before."
Bankers: Changes to NZ regulatory framework driven by customer demand 
The chief executive of bank lobby group the Bankers' Association, Kirk Hope, says "New Zealand banks operate in a different market and regulatory framework compared to their Australian counterparts. Any changes in New Zealand are more likely to be driven by customer demand.
"Our banks are very responsive to consumer concerns and that's reflected in their high customer satisfaction ratings. 92% of bank customers are satisfied with their bank, according to Consumer NZ."
Hope says credit card interest rates are higher than mortgage rates, because the lending is unsecured, so is risker.  
"It's important to note there's a range of credit card options available to meet a variety of customer needs. Many people pay no interest on their credit cards, or they have a low interest credit card. Often they go for the higher interest product because of the loyalty offerings and because they pay the card in full before the interest-free period ends" he says.
"Banks also offer very competitive deals to attract new customers. Incentives to switch often include extended interest-free and low interest periods for the transferred balance from an existing credit card.
Furthermore, Hope says New Zealanders seem better informed about credit cards and how to manage them.
"In New Zealand over half of credit customers pay off their balance in full in the interest-free period, compared to only a third in Australia and the US.
"Only between 1% and 3% of New Zealand credit card customers pay the minimum each month. This figure is significantly lower than in the US and UK, where as many as 13% to 14% make the minimum repayment each month.
"As we can see, New Zealanders' credit card behaviour is different from that in Australia and other countries. What may be an issue there may not be a concern here.
"Another point to note is that there are low barriers of entry to the New Zealand payments market, which keeps it very competitive." 
 
 
 
New Zealand

as at August 20, 2015

Annual
Cash Adv
Purchase
 
 
 
Fee $NZ
%
%
 
 
 
 
 
 
ANZ
MasterCard
Standard
30.00
22.95
20.95
 
 
Low Rate
58.00
22.95
13.90
 
 
 
 
 
 
ASB
Visa
Standard
24.00
22.95
20.95
 
 
Low Rate
40.00
22.95
13.50
 
 
 
 
 
 
BNZ
Visa
Classic FlyBuys
30.00
22.95
20.95
 
 
Lite
60.00
22.95
13.90
 
 
 
 
 
 
Westpac
MasterCard
Standard
44.00
22.95
20.95
 
 
Low Interest
65.00
22.95
13.45
 
 
 
Australia

as at August 20, 2015

Annual
Cash Adv
Purchase
 
 
 
Fee $A
%
%
 
 
 
 
 
 
ANZ
MasterCard
First
30.00
21.49
19.74
 
 
Low Rate
26.00
15.64
15.64
 
 
 
 
 
 
CBA
MasterCard
Awards
59.00
21.24
20.24
 
 
 
59.00
21.24
13.49
 
 
 
 
 
 
NAB
Visa
FlyBuys Rewards
95.00
21.74
19.99
 
 
Low Rate
59.00
21.74
13.99
 
 
 
 
 
 
Westpac
MasterCard
55 Day
30.00
21.29
19.84
 
 
Low Interest
59.00
21.49
13.49