Co-operative Bank CEO David Cunningham says sub-4% home loan rates unsustainable unless deposit rates fall about 50 basis points
By Gareth Vaughan
The recent sub-4% mortgage rates could be a generational low, says The Co-operative Bank's CEO David Cunningham, who argues they're not sustainable unless term deposit rates are cut significantly.
Speaking to interest.co.nz in a Double Shot interview, Cunningham said The Co-operative Bank had stood back and watched the recent home loan market competition between the big four banks believing it to be unsustainable.
"We've seen plenty of term deposit rates for six, 12 month terms around 3.50% even 3.60%, and when you're lending at 3.95% on one year or even two years, 35, 40 basis points is incredibly slim [for a margin]. Over time you tend to see that spread at about 1%," Cunningham said.
"So I've seen that competition and I've stood back and said 'it's unsustainable.' I think probably what we've just seen, sub-4% interest rates on mortgages is possibly the generational low...unless term deposit rates were to fall, say half a percent, in which case we'd see those [mortgage rates] back there."
"I think it was just this flurry of competition, maybe prompted by the [Financial Markets Authority and Reserve Bank] conduct and culture review, it was a way for banks to show that competition was alive and well. But I sort of stand back and go 'interesting but how many people have actually benefited from those really low rates?' Perhaps a few tens of thousands of people at the absolute most," said Cunningham.
All the big four banks - ANZ, ASB, BNZ and Westpac - have recently had their one or two year advertised fixed-term mortgage rate below 4%. However, they've now all ended these offers.
Unlike the big four The Co-operative Bank uses retail funding for all its funding requirements. However retail deposit funding is also important for the big banks. The Reserve Bank introduced the core funding ratio (CFR) in 2010 to reduce New Zealand banks' reliance on short-term offshore borrowing/funding. The CFR requires banks to meet a minimum share of their funding from retail deposits, long-term wholesale funding and/or capital. The minimum CFR for each bank - on a daily basis - is 75%. 
The CFR is a comparison between an estimate of a bank's funding that's stable and can be assumed will stay in place for at least one year, and the core lending business of the bank that needs to be funded on a continuing basis.  All banks comfortably met their CFR requirement as of September 30, as demonstrated in the Reserve Bank table below.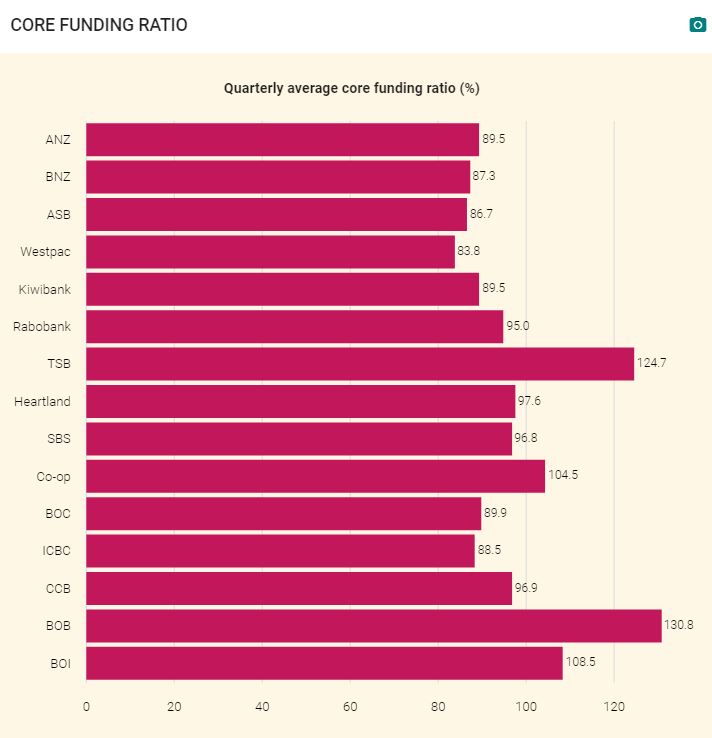 Meanwhile, Cunningham suggests one and two year mortgage rates will probably settle around 4.20% to 4.40% next year.
"It looks like the OCR [Official Cash Rate] is going to remain reasonably unchanged over the next year or two [as] we've certainly got a more dovish Reserve Bank Governor in Adrian Orr. So I don't think there's a lot of upside in the OCR. But what I do see is margins restoring to more sustainable levels in terms of that funding cost versus the lending rate. So I think probably mortgage rates settle, I'd say, round that 4.20% to 4.40% level for one and two year terms is what we're going to see over the year ahead."
Reserve Bank data shows $209.139 billion, or 81%, of $258.949 billion worth of residential mortgages is fixed with one and two year loan terms the most popular.
The charts below are interest.co.nz ones.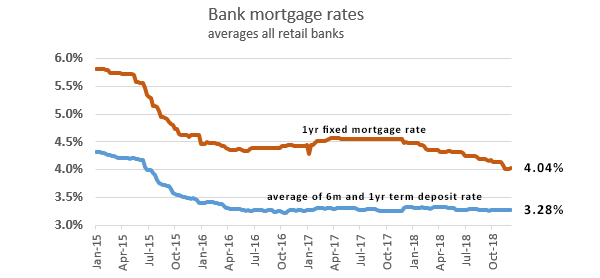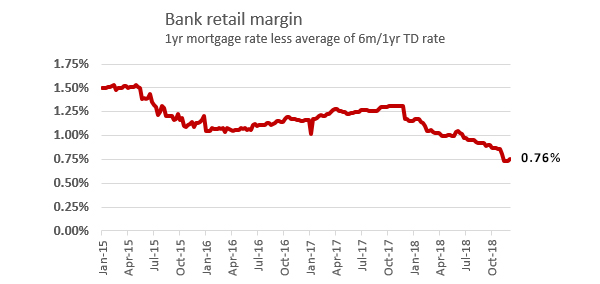 See all banks' carded, or advertised, home loan interest rates here.
All carded, or advertised, term deposit rates for all financial institutions for terms of less than one year are here, and for terms of one-to-five years are here.
*This article was first published in our email for paying subscribers early on Thursday morning. See here for more details and how to subscribe.