ANZ economists believe there is even 'upside risk' to their 8% house price rise forecast but do believe 'a number of headwinds' will keep the market in check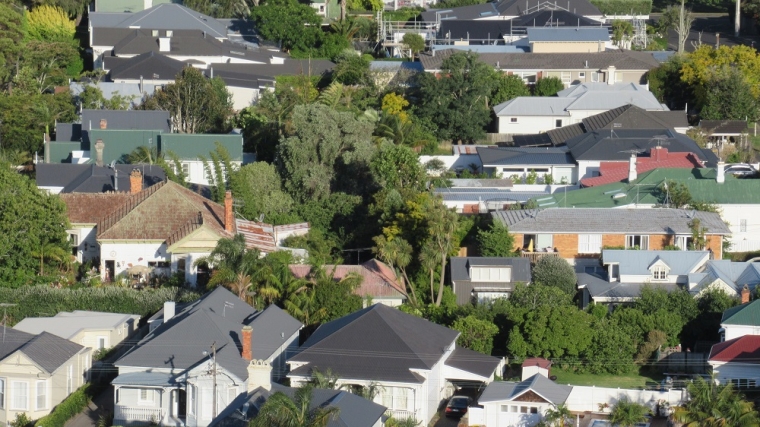 Economists at the country's biggest bank now see house price inflation hitting 8% by the middle of this year.
In the ANZ's latest Property Focus publication, ANZ chief economist Sharon Zollner and senior economist Liz Kendall say there is even is some upside risk to that 8% number.
"The market is tight and house price expectations have increased – but we think a number of headwinds will keep the market in check," they say.
"Given the current low interest rate environment, house prices could prove volatile."
ANZ is New Zealand's biggest residential mortgage lender with $85 billion of lending exposure as of September 30 last year.
The Reserve Bank will be watching financial stability risks closely when setting macro-prudential policy to ensure a growth-positive pick-up in housing "does not come with a risky speculative dynamic".
Previously the ANZ economists had forecast house price of about 5%-6% this year, but noted in their weekly newsletter last week that the housing market had the "bit between its teeth again" and said they would not rule out the possibility of the Reserve Bank actually clamping down on its loan to value ratio (LVR) limits again if necessary.
Westpac economists have for some time been forecasting that house price inflation will hit 7% and they were for quite sometime market outliers in their prediction, but as the housing market has perked up, so other forecasts have been rising.
In the latest Property Focus, Zollner and Kendall say they expect house price inflation to reach 8% year on year before moderating, with affordability constraints, moderating population growth, and prudent bank and buyer behaviour keeping the market in check.
"But house price expectations have increased and the market is tight, posing further short-term upside risk to the outlook. And as always, longer-term downside risks should not be ignored."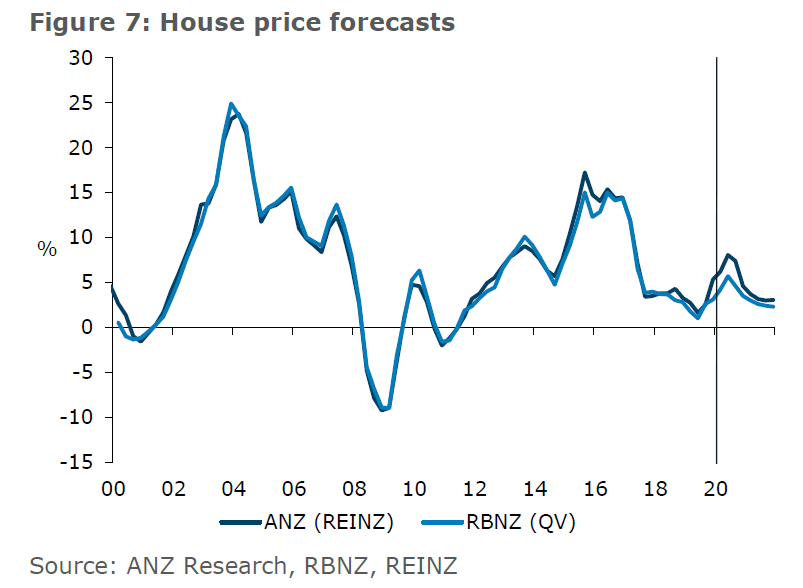 They say while they expect that the RBNZ's LVR settings are in a holding pattern for now, a rapid increase in housing market strength combined with a risky speculative dynamic "would not be left unchecked".
In looking at recent trends, the economists say that the housing market went through a cooler period from the start of 2017 until the middle of 2019 particularly in Auckland, with house prices rising 7% over that 18 month period. A number of headwinds were at play: uncertainty, actual and proposed policy changes, affordability constraints and credit rationing.
"But conditions have turned a corner and house prices have recently rebounded, rising 6% over the second half of 2019."
They noted that over 2019, the Official Cash Rate dropped 75 basis points (to 1%) and expectations shifted to interest rates being lower for longer.
Mortgage rates fell and financial conditions eased.
"Consequently, the housing market tightened. Monetary policy is clearly 'working' (putting aside the question of whether rising house prices are in the long-term interests of the New Zealand economy or its inhabitants, which isn't something monetary policy can do much about). But it wasn't just interest rates driving the lift; this was against a backdrop of continued population growth (albeit easing), limited growth in housing supply, a tight labour market, and some easing in headwinds, particularly on the credit side," Zollner and Kendall say.
They say housing credit growth has picked up "a bit more than one might have expected" based on housing turnover.
"Banks appear to be competing more in the mortgage lending space. This may be partly related to the RBNZ bank capital changes that have the effect of making mortgages even more attractive versus other forms of lending."
They say they expect continued robust house price inflation through the first half of 2020.
"Annual house price inflation is currently sitting at 5.3% y/y (3mma), below its historical average of 6.8%. But we now expect this to reach 8% y/y in mid-2020, before moderating. This is above the RBNZ's November MPS forecast for house price inflation to peak at 5.7%."
Zollner and Kendall say stronger house price inflation will support consumption, residential investment and GDP growth in coming years.
"This is one of the reasons why we no longer expect the RBNZ to cut the OCR any time soon." 
They say It is possible that house price inflation could be even stronger if current tight conditions persist. However, at this stage they think that a number of factors will keep the market in check:
Population growth is easing. Changes to net migration data make recent trends difficult to discern, but we expect population growth has abated somewhat.
Financial conditions are easy and supporting the market, but further OCR cuts are looking less likely and the additional boost from lower mortgage rates will eventually run its course. Credit expansion is also likely to be tempered by bank caution in the current environment.
Affordability constraints are expected to weigh. Australia provides a cautionary tale, proving that prices can reach considerably more eye-watering heights, but there are limits.
Policy changes targeted at reducing investor demand are still playing out, which may be exacerbated by election uncertainty. And if lending gets silly, the RBNZ may step in with tighter macro-prudential policy.