English defends move to increase first home buyer deposit subsidies, says we need to sustain current building levels for 5 years; Peters takes aim squarely at Labour over tax policy with Kingmaker status on the line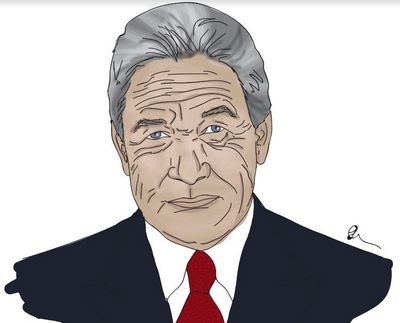 By Alex Tarrant
A National lurch across the centre line on housing, Winston Peters takes aim squarely at Labour, and John Key finally appears on the campaign trail (via video link, at least).
That's exactly what we were expecting. As polling opens Monday, we're seeing the main parties jostle for position, relevance and the votes of those still undecided on which way they'll turn as 7pm on September 23 approaches.
Labour has had all the momentum of late, with the recent 1 News Colmar Brunton poll showing it now has a choice of potential coalitions: with the Greens and Maori Party, or with New Zealand First.
While it looks like National will now have to rely on NZ First, and only NZ First, for any chance of forming a government, Labour's new 'position of choice' means Peters needs to target Ardern with the hope of winning back that Kingmaker slot he's been coveting most of the year.
It didn't take him long. On Monday morning Peters launched a broadside against Ardern, saying he would ensure Labour sets out an exact tax policy before NZ First would consider entering a coalition with them.
Shrugging off the notion of sending everything to a Tax Working Group, Peters told the Herald he believed Labour already had an idea of what they wanted the Group to recommend. "You can't possibly mean to go into an election saying, 'My tax policy will be decided by a committee, and I am very sincere about that'. One needs to know what we are talking about ... that should be fatal to a party's chances. And we need to know," he said.
We now wait to see whether the move will take votes off Labour for New Zealand First. If it only serves to take votes off National, leaving Labour in a position to form government with the Greens and Maori Party, then Peters could well and truly find himself out in the cold again.
Is there a faction of Labour-leaning voters who are worried enough about the party's tax stance that they will turn to Peters to 'keep Ardern and Robertson in line' over the issue?
National aims for first home buyers
Meanwhile, Peters will also be hoping that National's housing announcement on Sunday will serve to hurt Labour's momentum. Amy Adams and Nick Smith were wheeled out to announce a boost to the government's HomeStart deposit subsidy. Also announced is that banks will be allowed to approve 10% government guaranteed Welcome Home Loans on the spot to first home buyers on low incomes, without having to jump through the current checks and balances.
Bill English on Monday morning defended the need to boost the subsidy, and also explained why National wouldn't lift the HomeStart house price caps, which in Auckland is $600,000 for an existing home, and $650,000 for a new-build.
National did look at raising the cap but decided against it as house prices were plateauing in Auckland now, he told Radio NZ. "And the drive in Auckland, as in the rest of the country, is getting more houses on the ground, faster." This was well under way, English said.
"Prices are flat-to-falling, so that indicates there's progress. But we do need four or five years of the kind of building boom we have now, where across the country there's around about 30,000 houses a year going to be built."
Asked whether that meant there weren't enough houses to meet current demand, English replied: "Well, there's people who want to get into houses at the moment who can't get in. As of today, a number of the first home buyers will be pricking up their ears, because there's now – we reckon about 80,000 more will be able to get into the market, where in the last two-or-three years 30,000 have already used the HomeStart scheme.
"It's also going to be clearer to them what they can get. Because the Welcome Home Loan, which is a guarantee for those who have a 10% deposit instead of a 20% deposit – government backed guarantee – they have to go through a separate process with [Housing NZ], and we want to bundle that together so when they go to the bank, they can see that they can get the HomeStart grant - $20-30,000 if they're a couple; $10-15,000 if they're on their own – and get the Welcome Home Loan if it's a 10% deposit," he said.
English argued there were a "significant number" of houses priced below $600,000 that were sold in any given year. A significant proportion of houses being built at Hobsonville, for example, were under the cap, he said.
Asked whether those houses were large enough for families – rather than studios and one-bed apartments – English acknowledged people would want properties that suited their needs. "The houses are getting built…you've just got to drive around Auckland and see the massive development." Across the rest of the country prices were lower than in Auckland, he said.
"There is strong demand. This is a feature of an economy, where New Zealanders want to stay home, where we're attracting people from overseas, there's no doubt about that, to do the jobs that need to be done here. This is all headed in the right direction. The houses are getting built, the infrastructure systems are much better than they used to be, and that is why, for first home buyers, we reckon 80,000 of them will be able to use the scheme to get in."
National had kicked HomeStart off 2-3 years ago, had bypassed planning systems, written a new Auckland Unitary Plan on the back of a new Council, rebuilt 30,000 houses in Christchurch. "So yeah, there's been a very high level of activity," he argued.
"We can now sustain that through the next three-to-five years, get the 200,000 houses built, get the people into them. That's where the housing market is going. What will create uncertainty is all this discussion about capital gains tax, land tax, inheritance tax that Labour is floating, just at the time when we need real confidence and investment in the housing market."
National had always been looking at enhancing housing support, English said in response to a question of whether the announcement was made because National was falling behind in the polls. "Prices are flat-to-falling. We want to get more first home buyers into the market. And now people know our plan. It's pretty clear."
He disagreed that the move would fuel house price rises, saying government would ensure this didn't happen "by continuing to pursue all the projects with Councils that are getting more houses built faster."
Greens take aim at Peters
A response to Peters's attack on Labour was expected. Perhaps not from the Greens, though. Leader James Shaw put out this statement mid-Monday morning:
Winston Peters needs to show us how he plans to pay for his $10 billion of recent election promises before he attacks Labour on their fully-costed plan, the Green Party said today.

Winston Peters set out another new condition of going into government with Labour this morning, saying that Labour must tell him what its tax plans are.

"Winston Peters needs to explain what new taxes he plans to raise to pay for his $10 billion of election promises before he can attack Labour's fully costed fiscal plan," said Green Party Co-leader James Shaw.

"It's the pot calling the kettle black.

"Peters needs to be held to the same high standard Labour and the Greens have submitted themselves to by having his election priorities fully costed and independently scrutinised.

"The Green Party will release its independently analysed fiscal plan before the election.

"Peters has promised at least $10 billion of new spending this election, yet is still to reveal what new taxes he plans to raise or what public services he will cut.

"Until he's transparent with his own plans, he has no right to attack Labour for theirs.

"Once again, we see Winston Peters holding a potential new Labour Government to ransom. If voters are seeking a change in Government this election, which Winston Peters has not committed to, then the Greens can give that assurance," said Mr Shaw.
National campaign manager Steven Joyce used the opportunity to update his party's fiscals:
The National Party has today released an updated summary of its 2017 election campaign announcements and their impact on future budgeted expenditure.

"The policy announcements we have made since 12 August up until yesterday have a total effect on the Government's operating budget of $424 million in the 2018/19 year against a budget operating allowance of $1.7 billion," National Party Finance spokesperson Steven Joyce says.

"Across the four year period, the amount allocated through our policy announcements equates to 11 per cent ($1.98 billion) of the $17.34 billion reserved in the Pre-election Fiscal Update for new spending.

"We are therefore on track to stay well within the parameters of the pre-election update and reduce the government's nett debt to $56 billion by 2022.

"This is in marked contrast to the Labour Party who by their own admission would have debt $11.4 billion higher at $68 billion by 2022.

"And that's before you consider how unrealistic they are being about their revised fiscal plan and its projected zero budgets outside of education and health.

"Or the negative effects their policies would have on economic growth and tax revenues which would increase debt further.

"Only the National Party has a fully costed sustainable fiscal plan that will keep New Zealand growing strongly and keep debt and interest rates under control," Mr Joyce says.

"We will continue to update this policy summary through the remainder of the election campaign."