ANZ economists say high house prices and associated high debt levels have seen consumer spending remain more subdued than might have been expected with the economy buoyant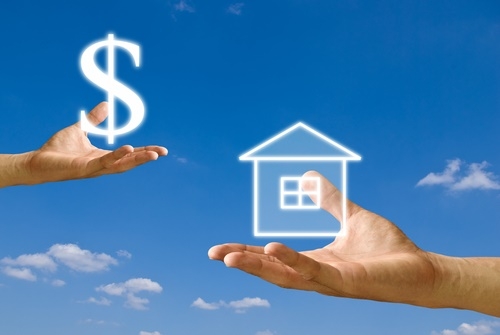 ANZ economists say consumer spending hasn't been as strong as it was during previous economic growth cycles - and they point to high house prices and associated high debt levels as key reasons.
In their weekly Market Focus publication the economists say since 2014, consumption growth has been more subdued than could have been the case.
"...And we think this will continue to be a theme going forward. We expect households will strengthen their savings buffers and that consumption growth will moderate from here. Income growth is expected to remain solid, with conditions in place for a pick-up in real wage growth."
The economists say that over the current cycle, net worth has increased relative to incomes (inverted in the chart below), driven by strength in the housing market. But the saving rate has not deteriorated as much as capital gains suggest it could have.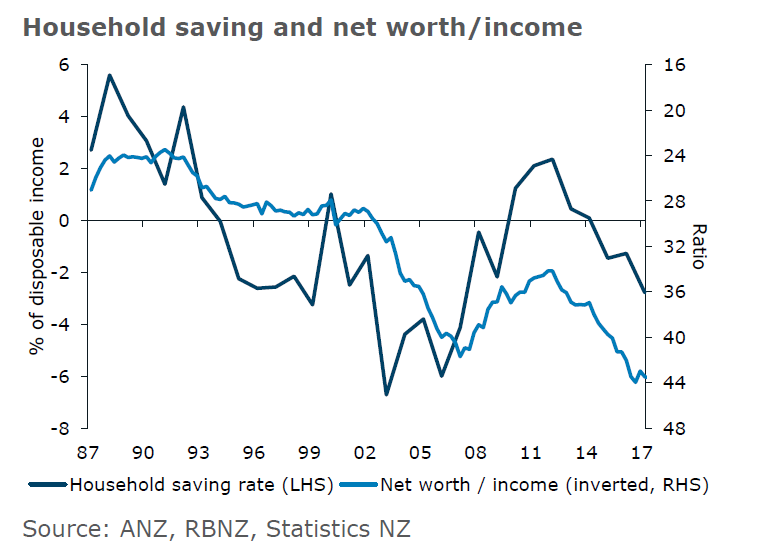 The economists say that a simple chart of house price inflation versus consumption per capita (see below) tells the same story.  "Consumption did pick up when the housing market strengthened, but not to the extent it might have. All up, it's a picture of a more cautious household sector than the housing market cycle would have normally implied," they say.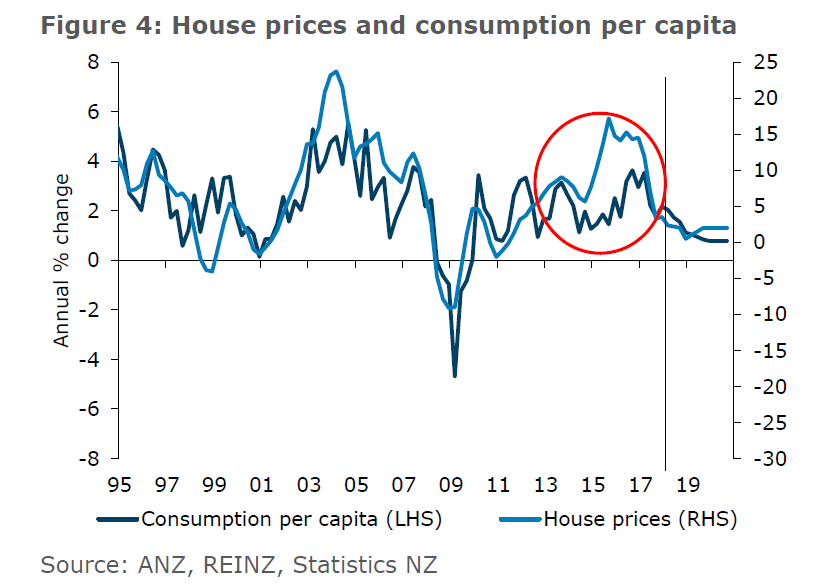 "The fact is: households have good reason to be saving more.
"House prices and household debt levels are already very high.
"For those who already own houses, average debt burdens are significant – household debt is currently 92% of annual GDP and 167% of household disposable incomes."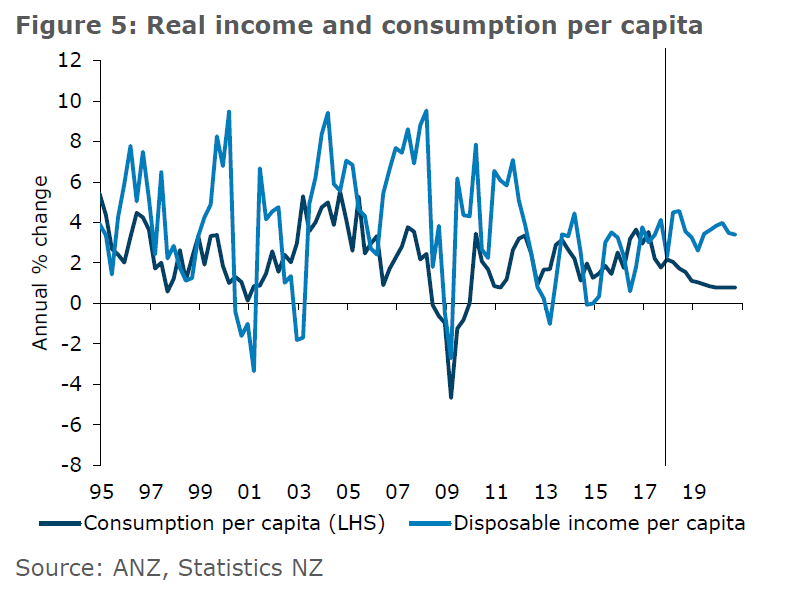 The economists say the recent cooling in the housing market will have made that debt feel a lot more "real" for a number of households.
"...And we expect consumption will be dampened as a result – for all that debt serviceability remains around historically average levels.
"For the median-priced house bought with a 20% deposit, mortgage repayments are 33% of average household income. And this would rise quickly if interest rates increased.
"While we don't think that will happen any time soon, it is likely to be on the cards eventually – and households will be mindful of that."
The economists point out that would-be home buyers need to save a lot.
"Houses are unaffordable for many, at six times the average national income, and closer to nine times in Auckland.
"This means that to purchase the median house with an 80% loan-to-value ratio one would need $110,000 in savings – 120% of the average annual household income.
"In Auckland, one would be looking at 170% of annual household income – no small sum." 
Credit availability has also been a constraint on some would-be home buyers' ability to take on debt, they say.
"Again, this reflects high levels of house prices and existing debt levels, with restrictions on high loan-to-value ratio mortgages playing a role and the Reserve Bank treading carefully when it comes to loosening these restrictions.
"Indeed, as a consequence of these constraints, new debt associated with housing market turnover has been lower this cycle.
"More recently, banks have also worked hard to close their funding gap, with reduced credit availability contributing to recent cooling in the housing market.
"While we think this dampening influence has stabilised, credit availability will remain a constraint for some."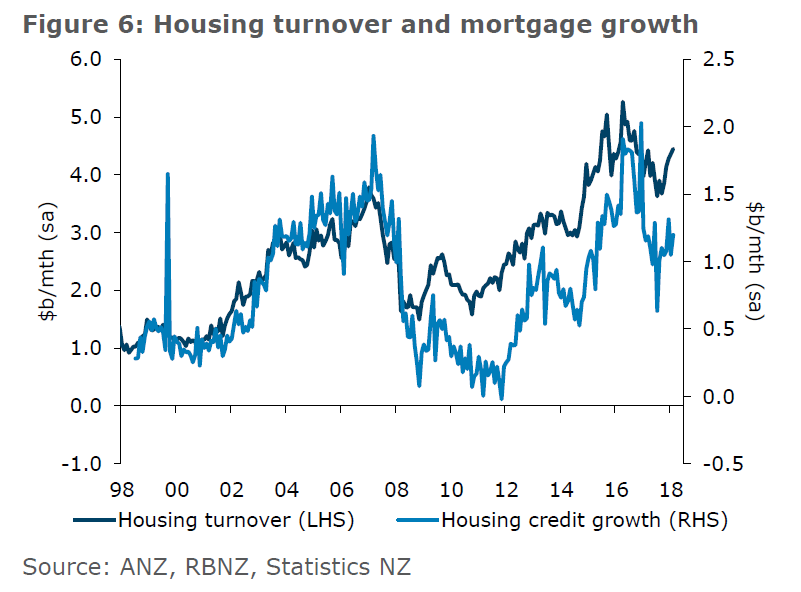 So, in light of these constraints and a cooling housing market, the ANZ economists believe that households will need to improve their savings buffers.
"We expect both house price inflation and consumption growth will moderate from here. In fact, we are already hearing from our discussions around the country that retailers and businesses in discretionary services are experiencing softer demand. But while consumption looks set to slow, we think income growth will remain solid – implying the household saving rate will increase. 
"Incomes are expected to continue growing around their current, moderate pace – supported by robust, but slowing, GDP growth and a pick-up in real wages. Conditions are in place for real wage growth to improve. The labour market is tight and expected to tighten further. Firms say it is difficult to find skilled labour and these capacity pressures should eventually lead to higher wage inflation."