Dairy prices eke out a small gain; economists see an extended period of consolidation as 'possible'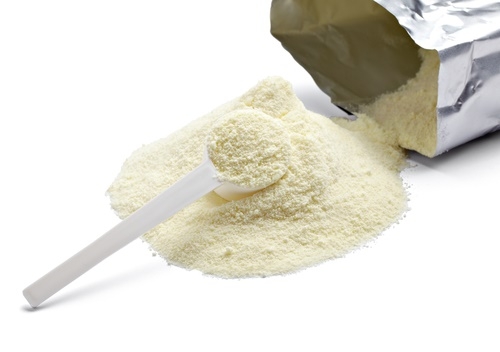 By David Hargreaves
Results at the overnight GlobalDairyTrade auction surpassed expectations, with overall prices as measured by the GDT Index pushing up 1.3%, and an average price of $3,537 per metric tonne achieved.
In the lead up to the auction, market expectation - bolstered by lower Whole Milk Powder futures prices - had been for a drop in overall prices.
The key WMP managed a 1% gain to an average US$3,314/t.
This means that WMP prices are still around 7% lower than they were at the end of 2016, but the prices have levelled off in the past three auctions. Additionally, WMP prices are about 75% ahead of where they were at the same time a year ago.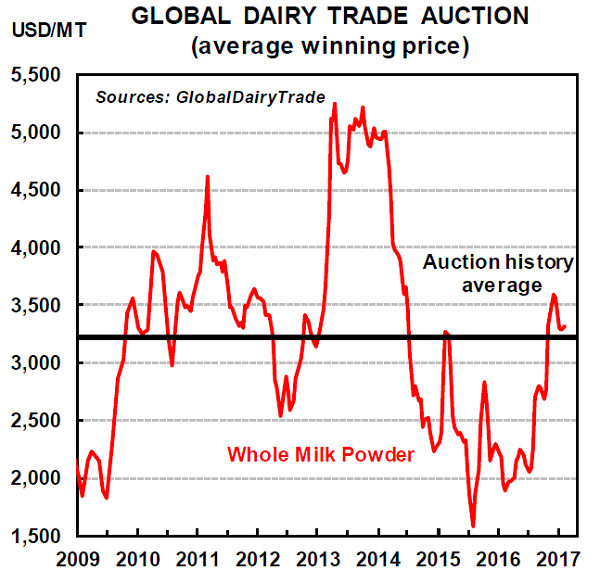 Fonterra initially forecast a milk price for farmers this season of just $4.25, but has been increasing this as prices globally have rallied. The last increase - to the current $6 - was made on November 18. 
The current prices still suggest Fonterra should be able to achieve that payout price or even a bit better.
Among the bank economists Westpac have been forecasting a $6.20 price, ANZ economists have  a current expected milk price this season of $6.25,  BNZ economists recently raised their forecast to $6.40, while ASB economists who had stood alone in forecasting a $6 price much earlier in the season when the average consensus was for a much lower price, lifted their pick shortly before Christmas to their current $6.50 price.
ASB senior rural economist Nathan Penny said he was expecting dairy prices to remain firm at or near the levels seen in the latest auction over coming months.
"Looking over recent months, dairy market fundamentals have not changed much. Supply remains tight, although NZ summer production so far has fared better than the very weak spring. Meanwhile, demand is firm, although risks remain in play. Dairy, like other markets, will continue to fret over the 'Trump factor' and the potential for protectionism impacting on dairy trade.
"However at this juncture, no news is good news. For dairy markets 'no news' is likely to translate into one of those rare periods where prices hold steady at or near current levels. Of course given that this level is a relatively healthy one by historical standards, this is 'good news' for this year's milk price.
"As a result, we reconfirm our 2016/17 milk price forecast of $6.50/kg. Also, the current market dynamics bode well for a relatively strong start to the 2017/18 season. With that in mind, we note our 2017/18 forecast remains $6.75/kg."
ANZ senior economist Philip Borkin said while the lift in overall dairy prices at the latest auction was only modest "it should be seen for what it is; a positive result", when put against market expectations of lower prices.
"...After some large gains over the second half of 2016, prices have effectively been unchanged now since the start of December," Borkin said.
"The market will continue to take its lead from European, Chinese and local supply developments, and it may mean that an extended period of consolidation is possible.
"However, we are becoming a little more mindful of some forces that could weigh modestly on prices going forward, especially improved local volumes, large European intervention stocks and the increased political tensions between the US and Mexico (a large skim milk powder importer)."
See here for the full dairy payout history.