ANZ economists now pick an opening forecast milk price of $6.75 per kilogram of milk solids following the fifth consecutive rise of prices at the GlobalDairyTrade auction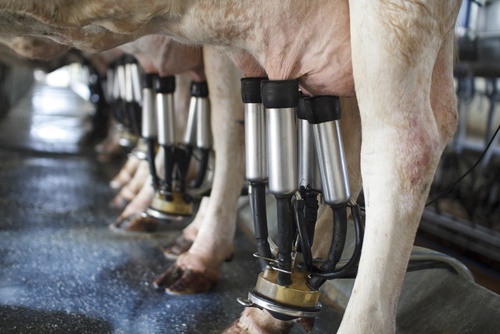 By David Hargreaves
A fifth consecutive gain in prices at the overnight GlobalDairyTrade auction has economists scrambling to upgrade their picks of what the opening forecast milk price for farmers might be for the forthcoming new season.
ANZ economists, who as recently as last month were picking an opening milk price forecast for the new season of in the "high $5" per kilogram of milk solids range, have now come out with a pick of an opening price of $6.75.
Additionally, ANZ rural economist Con Williams says following the run of auction price rises there's now "further upside of up to $0.20/kg MS for 2016/17", the season just ending.
For the current season Fonterra's forecasting a $6 price, so, anything more than this will be a welcome surprise for farmers - coming as it will following a couple of very lean seasons, with the price last season only $3.90.
"...It portends of an improved cash-flow outlook, although any increase will trigger Fonterra loan repayments from the deferred component to be repaid in 2017/18 providing some offset," Williams said. 
ASB senior economist Chris Tennent-Brown said the lift in auction prices at the tail end of the season "provides a possibility of a slightly higher milk price this season" than the currently forecast $6.
"Turning to the year ahead, we expect prices to remain firm. Current whole milk powder prices in the early $3,000s level, in our opinion, point to a market that is fairly well balanced. In terms of next season's milk price, this means we are comfortable to stick with our $6.75/kg forecast."
At the overnight GDT auction, overall prices as measured by the GDT Index climbed 3.2%, with a surge in milkfat prices - to all-time highs on the GDT platform - leading the way.
Despite expectations of a weaker performance in this auction for the key Whole Milk Powder, WMP prices in fact eked out a 1.3% gain, which was also a fifth consecutive gain.
Since prices hit a bit of a trough in early March, the WMP price has risen by 19.1%, while overall prices have firmed 14%.
This means in fact that after the latest auction both the WMP and overall prices are now sitting at their highest points for this year so far - bearing in mind there was quite a slump earlier in the year following extremely strong gains in the latter half of 2016.
In comparison with a year ago, the WMP price is 47.1% higher, while the overall prices are 61.6% higher.
ANZ's Williams said cash flow for the average fully-shared Fonterra supplier looks to be $5.75/kg MS in 2016/17 and this is set to improve into the mid- $6.00/kg MS in 2017/18 (using ANZ forecasts, a similar dividend and excluding loan repayments).
"With breakeven for the sector in the low-$5s, the sector is moving back into the black and spare cash should start to emerge later this year."
Williams said a big focus for farmers will be debt repayment from the poor 2015/16 season.
"The sector accumulated circa $1.50/kg MS of debt during this period and this will need to be reduced to improve financial resilience back to where it was prior to the downturn, particular with interest rates moving up. However, there will be some natural uplift in spending related to cyclical costs that swing with the milk price (supplementary feed, grazing, repairs & maintenance etc) and capital expenditure that was trimmed to unsustainably low levels during 2014/15 and 2015/16."