ANZ NZ CEO Antonia Watson says some government working capital support in response to coronavirus outbreak might be useful, bank in a very good position from a liquidity and funding sense
By Gareth Vaughan
ANZ New Zealand has not sought any form of government guarantee for loans in response to the economic impact of the coronavirus outbreak, but CEO Antonia Watson says she is keen to hear details of a working capital partnership between banks and the Government floated by Finance Minister Grant Robertson.
Speaking to interest.co.nz in a Double Shot interview, Watson said there was no specific message from major bank CEOs for Robertson as to what banks want from the Government at a meeting on Monday.
"The Minister mentioned that they are looking at some sort of working capital partnership. We will be hearing the details over the next couple of days so will be really interested in what that looks like. Because one concern that we have is that overlay of responsible lending and at what stage is a small business far enough down that track that it's not going to help. And having some government support with that might be useful," said Watson.
Asked whether this meant some form of government guarantee Watson said; "I think we'll find out over the next couple of days."
"We haven't asked for anything like that. That's something the Minister suggested and we're really open to hearing what he's thinking."
Cabinet agreed on Monday to the development of a "business continuity package" in response to the coronavirus outbreak. Included in this is a targeted wage subsidy scheme, training and redeployment options for employees affected by coronavirus, and options around how the Government could work with banks to support companies that face temporary credit constraints. Details are still being worked through. Robertson said it was important to get the timing and criteria right. He wouldn't comment on the size of the package, saying this would depend on the criteria.
Watson said the bank bosses had assured Robertson they are "really concerned" to work with customers to get them through this period of market dislocation. She said banks are united around the message Robertson has helped emphasise being; "Contact us soon and early if you're feeling any stresses and strains because of the impact on your business of the virus."
"We're really willing to work with our customers to help them and there's a range of things that we can do like we do with a drought or anything else around loan restructuring and term deposits and those sorts of things," said Watson.
In terms of what ANZ NZ's hearing from customers, Watson said it's reasonably early days so it still feels very anecdotal. ANZ NZ is NZ's biggest bank with $170 billion of total assets as of December 31.
"Individual customers are coming to us. They are tending to be in the expected sectors, maybe forestry, retail, tourism. There's certainly no systemic themes that are coming through to us. I think that's the thing with this particular issue, with the virus, [is] that it will be horses for courses, there won't be one overall response. And I think that the Minister was very clear on that as well. That they're looking at very targeted responses because it depends on who you are and where you are what the impacts might be," said Watson.
'We're in a very good position from a liquidity and funding sense'
In terms of the strength of ANZ NZ against the backdrop of the international coronavirus outbreak and turmoil in financial markets, Watson said it's in a good position from a liquidity sense, which was one of the big issues for banks when the Global Financial Crisis (GFC) hit in 2008. Liquidity risk is the risk that an entity can't meet its financial obligations as they fall due. Banks can be vulnerable to liquidity risk as a result of what the Reserve Bank terms the maturity transformation role they play in the financial system. Retail banks borrow shorter-term or on-call deposits, while the major part of their lending is via long-term residential mortgages.
"Certainly from our bank's perspective we're in a good position from a liquidity sense, and that was one of the big issues in 2008. The availability of credit I guess there's two things. One is that you still want to lend responsibly. And the second one is we've had an interesting scenario this year appearing again where we've seen more confidence in borrowing. And I guess in the low interest rate environment we've seen lower deposit growth. So that could have an impact on credit ultimately [see more on this here]," Watson said.
She said there could also potentially be "a flight to the perceived security or the actual security of bank deposits."
"So we'll just watch that play out. But at the moment we're in a very good position from a liquidity and funding sense, which is great going into something like this when you are seeing market dislocation," said Watson.
Asked whether the strong liquidity position could hold up over several months if the economic situation worsens, she said we'll have to watch how it plays out but banks are much better prepared than they were pre-GFC.
"We are very well prepared for liquidity issues now. The new rules that came in after the GFC have put us in a really strong position. We've got enough liquidity to cover all of our offshore borrowings and/or all of our [funding] maturities for I think it's something like 18 months," Watson said. 
"So I think that's something that people should take a lot of confidence in."
In 2010, in response to the GFC, the Reserve Bank imposed minimum prudential standards on banks aimed at addressing the degree of liquidity risk they take on, and their approach to managing that risk. These include minimum ratio requirements calculated from banks' financial data, rules and guidance on the risk management processes that banks should have in place to manage liquidity risk, and requirements for regular reporting to the Reserve Bank of data on their liquidity positions.
These include minimum one-week and one-month mismatch ratios, and the core funding ratio (CFR). The CFR is a comparison between an estimate of a bank's funding that is stable and can be assumed to stay in place for at least one year, and the core lending business of the bank that needs to be funded on a continuing basis. The minimum CFR has been set at 75% for banks.
"Our liquidity group meets regularly and they look at a range of things and decide how we are placed against them... And the value of those ratios is really playing out," Watson said.
"From a capital sense, a funding sense, a liquidity sense we learnt a lot from the Global Financial Crisis and we're in a very, very strong position on all of those now."
'New Zealand has got options'
In terms of NZ, she said the country is in a good position compared to many other countries because it has got options. These are due to relatively low net government debt, a little Official Cash Rate capacity with it currently at 1%, economic stimulus from a government infrastructure programme, being an exporter of food when people will still need to eat, and being a long way away from other countries and having control over our borders.
Asked whether she thinks New Zealand can avoid recession Watson said; "I think there's a wide range of parties that are very interested in doing that and they're working really well together and that's probably all we could ask for." 
*The charts below come from the Reserve Bank.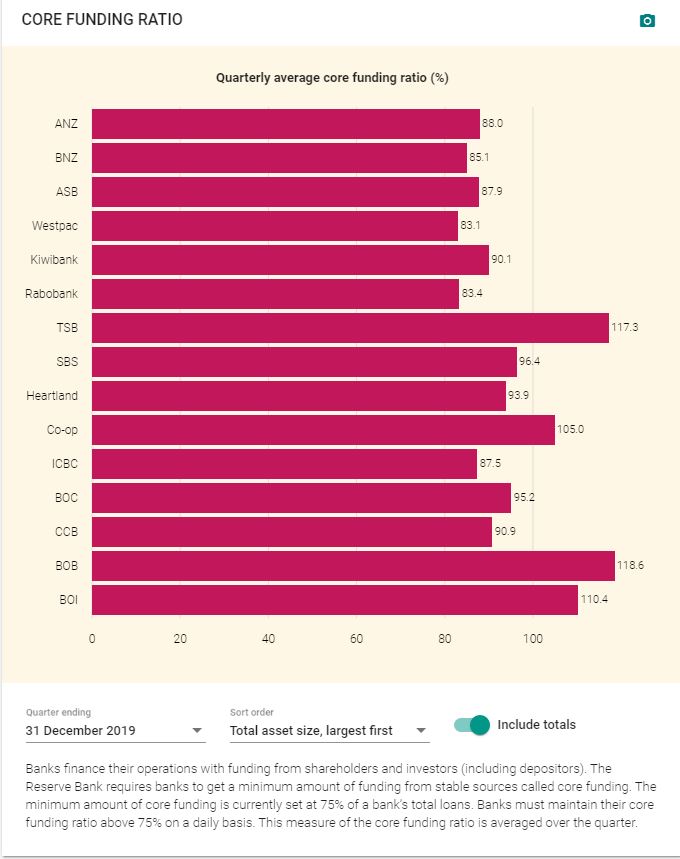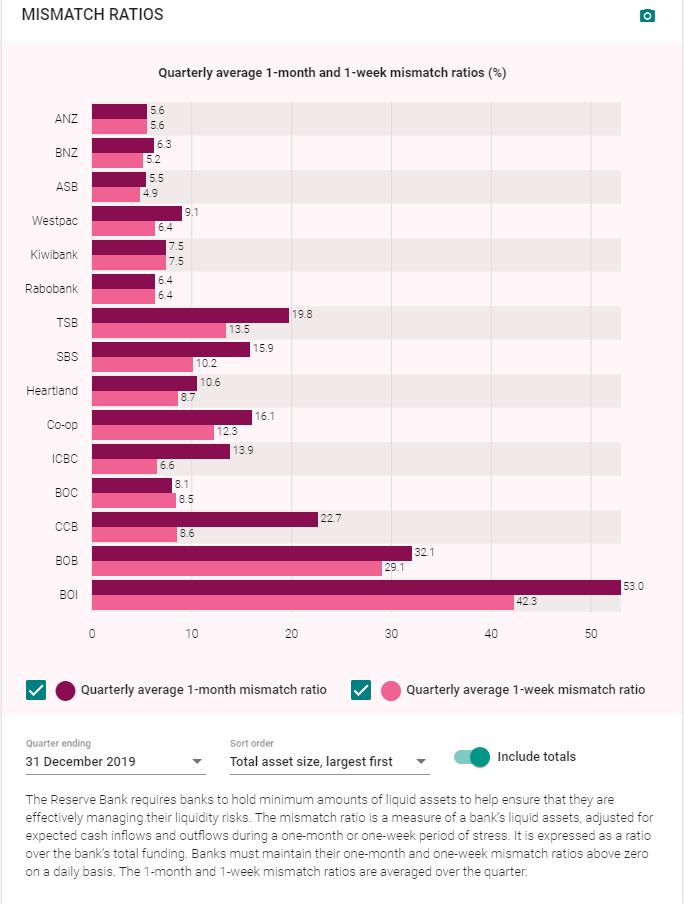 *This article was first published in our email for paying subscribers. See here for more details and how to subscribe.