International independent research firm Capital Economics says the risks are 'skewed' to the RBNZ making more cuts, possibly into negative interest rates - 'if the Government doesn't step up it's game soon'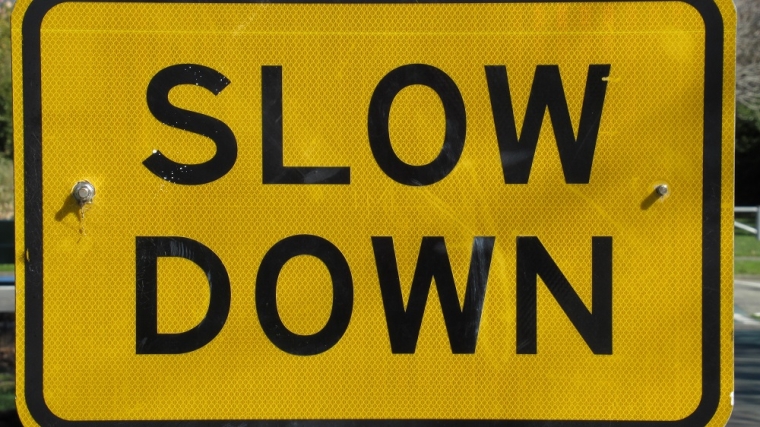 Economic growth slumping to just 1.5% by next year, unemployment surging and the Reserve Bank being forced to cut interest rates further are all on the menu ahead, according to international independent research company Capital Economics.
In an 'update' on New Zealand, Capital's Australia and New Zealand economist Ben Udy sees the RBNZ cutting the OCR to 0.5% (it's currently 1%) before the middle of next year, but he says the New Zealand Government needs to provide stimulus.
"...If the government doesn't step up its game soon, the risks are clearly skewed towards the [Reserve] Bank cutting [the OCR] more, perhaps even into negative territory," he said.
Udy points out that the global economy has "not yet reached its trough".
"We expect trade-weighted growth in New Zealand's largest export partners to slow from 3.0% in 2019 to 2.6% in 2020. That will hamper demand for New Zealand's exports. We forecast export growth to slow from 2.7% this year to 0.7% in 2020. What's more, slower global growth and concerns about the trade war seem to be weighing on business sentiment. We think business investment growth will fall from 0.5% this year to -2.5% in 2020. 
Udy says Capital Economics believes GDP growth in New Zealand will slump to just 1.5% in 2020 from 2.2% this year.
"That's the weakest pace of growth since the GFC and much weaker than the RBNZ expects.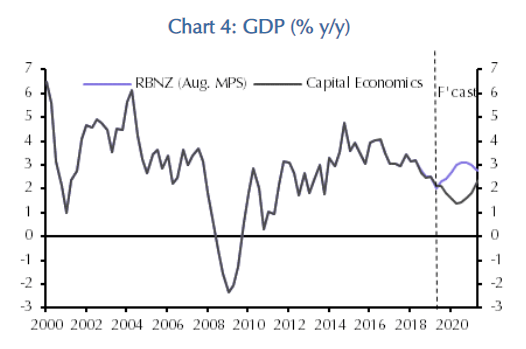 "And businesses surveys already point to falling employment before long. We expect the combination of subdued business sentiment and falling GDP growth to cause the unemployment rate to surge from 3.9% in Q2 to 4.7% by mid-2020," Udy said.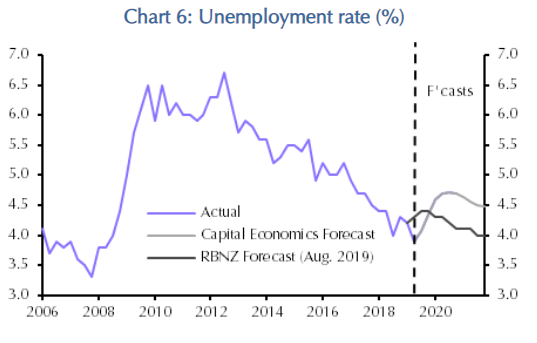 Capital Economics also believes that with the largest percentage increases in the minimum wage now behind us, wage growth in New Zealand has probably peaked, which should cause non-tradeable inflation to ease.
"That's a key reason why we expect underlying inflation to fall from 1.7% in Q2 to 1.5% by the end of next year." 
Udy says the implications are clear: the New Zealand economy needs additional stimulus.
"Admittedly, the government may provide a bit of a boost. At the May Budget, the government significantly increased expenditure on social services. And it may now boost spending even further given the 2018/19 surplus was $7.5 billion, more than double the forecast in May.
"But the RBNZ has expressed doubt on whether the government will actually be able to spend as quickly as it claims given mounting capacity constraints.
"Indeed, the government recently called off its KiwiBuild target to build 100,000 houses in 10 years as it was 'overly ambitious'."
Udy says to boost the economy the government needs to allocate some portion of its spending to achievable, growth-focused policies, such as tax cuts.
"We doubt that will happen until after next year's election, which needs to take place by mid-November."
He says therefore if the RBNZ wants to ensure the economy gets the supports it needs it will therefore "have to do the heavy lifting by itself".
"We don't think there will be enough negative news by the time of their next meeting in November to prompt the RBNZ to cut again. But by early next year, it will be clear that economic activity deteriorated further in the second half of 2019 and will continue to ease in 2020."