ASB and BNZ tip imminent interest rate rise after NZIER latest Quarterly Survey of Business Opinion shows worst ever shortage of labour, while inflation pressures are continuing to mount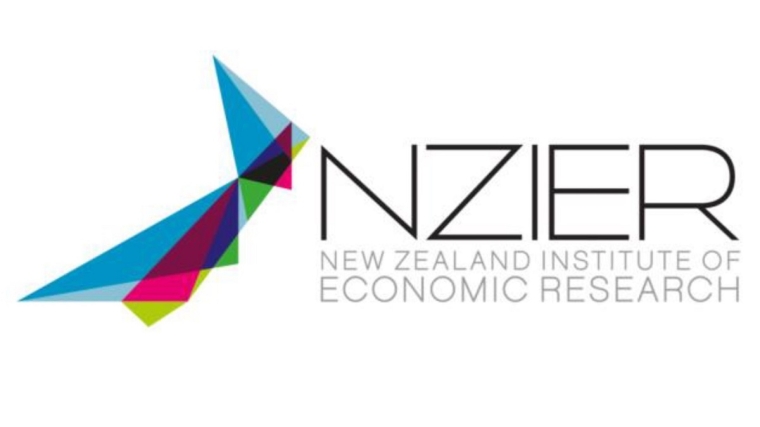 ASB economists have abruptly changed their call and now say the Reserve Bank (RBNZ) will be forced to start hiking interest rates from as soon as November.
And they have quickly been joined in a November pick by the BNZ economists.
At the moment, the Official Cash Rate (OCR), set by the RBNZ, is at just 0.25%. The RBNZ's next Monetary Policy Review is on Wednesday of next week (July 14).
The change in call from the ASB economists (from their earlier pick of May next year for rate rises) comes hot on the heels of the release of the latest NZIER Quarterly Survey of Business Opinion (QSBO).
This survey is much watched by economists - and the RBNZ - and the results of the latest survey show an economy that is rapidly overheating.
Specifically the survey shows that labour shortages are now the worst they've been in the history of the survey - going back to 1976, while cost and pricing pressures are rising.
In a short email directly after release of the QSBO, the ASB's chief economist Nick Tuffley said the inflation and demand gauges in the survey are "so strong that it is increasingly clear that the RBNZ cannot afford to wait much longer before starting to reduce the amount of monetary stimulus currently in place".
Red flag
In ASB's subsequent detailed review of the survey, ASB senior economist Jane Turner said the key "red flag" in the QSBO was the extent of tightening in labour market pressures.
"Difficulty of finding labour and labour as a limiting factor are at record highs. Labour turnover surged in Q2, evidence that firms are now poaching staff off each other. NZ's domestic demand is strong, fuelled by a strong fiscal and monetary policy response to Covid-19 pandemic, and subsequently resulting in resilient household income growth and household demand.
"However, the supply of labour is constrained by necessary border restrictions, and labour supply cannot easily grow to meet strong economic demand in the short term.
"As a result, we expect wage inflation to lift strongly over the coming year," Turner said.
"The heady mix of strong household income growth, underpinned by stronger wage inflation, coupled with generalised and broad-based CPI price increases is a wage-inflation spiral waiting to happen.
"Inflation expectations have started to creep higher and will likely continue to lift over the coming year.
"Against a backdrop of higher inflation expectations, the RBNZ is likely to become increasingly uncomfortable leaving the OCR at emergency settings. We now expect the RBNZ to start lifting the OCR from November this year (previously May 2022)," Turner said.
'The straw that broke the camel's back'
BNZ's economists - who actually think "conditions are ripe" for RBNZ hikes now - have also switched to a November forecast of when the RBNZ will move.
"For us, the QSBO is the straw that broke the camel's back," BNZ head of research Stephen Toplis said.
"It's not the only straw by any means with multiple other indicators suggesting the economy is currently on fire."
Toplis said while the BNZ economists have moved their "central projection" to November "there clearly remain risks around this".
"It's not inconceivable the RBNZ feels the need to go earlier, especially if it starts to ponder the fact that it might currently be as much as 200 basis points behind the curve. Alternatively, if the RBNZ just doesn't want to risk being so far ahead of other central banks, or it fears the ongoing threat of Covid it could easily hang tight for a while longer."
Toplis says the decision on what the RBNZ says at next week's review of interest rates "has just got that much more difficult".
"Surely, the Bank must now formally acknowledge a tightening bias. And, just maybe, it will need to also formally announce when it might cease purchasing government bonds. Any such announcement might more clearly indicate when the tightening cycle might begin in the absence of a published interest rate track. Whatever the case, least regrets must surely mean tighter monetary conditions sooner rather than later."
'A rapid rise in inflation'
Kiwibank economists said what was clear to see in the NZIER survey was that firms are "bumping up against capacity limits, facing marked increases in costs, finding it difficult to source both materials and staff needed to meet rising demand".
"All these factors combined point to a rapid rise in inflation," they said.
"A net 39% of firms hiked prices in the June quarter, and a net 52% expect to do so in the next quarter – both well above survey averages. We are expecting to see annual CPI inflation to come in at around 2.5% yoy [year-on-year] in the June quarter when the numbers are released next Friday [July 16]. But as today's numbers show we could easily see inflation come in ahead of our forecasts both in the June and September quarters."
The Kiwibank economists said if the economic data flow continues on the current path, "an earlier lift off than May next year in the OCR by the RBNZ is on the cards".
ANZ economist Finn Robinson and senior economist Miles Workman said indicators from the QBSO show that capacity pressures in the economy "have only continued to increase", as strong demand runs into supply constraints.
'Strong signals'
"The labour market is giving off very strong signals, and we think it's well on the way to maximum sustainable employment.
"And, firms are finally starting to pass on higher costs to consumers (something that they struggled to do pre-Covid), which has helped see a recovery in profitability.
"These developments are important for the monetary policy outlook – it's easy to look at supply disruptions and say that these are persistent, but not permanent, sources of inflation pressure.
"But with the labour market tightening and firms starting to pass on cost increases to consumers (a significant behavioural change), that speaks to a more sustained source of underlying inflationary pressure that will require a tightening in monetary policy, and sooner rather than later," the economists say.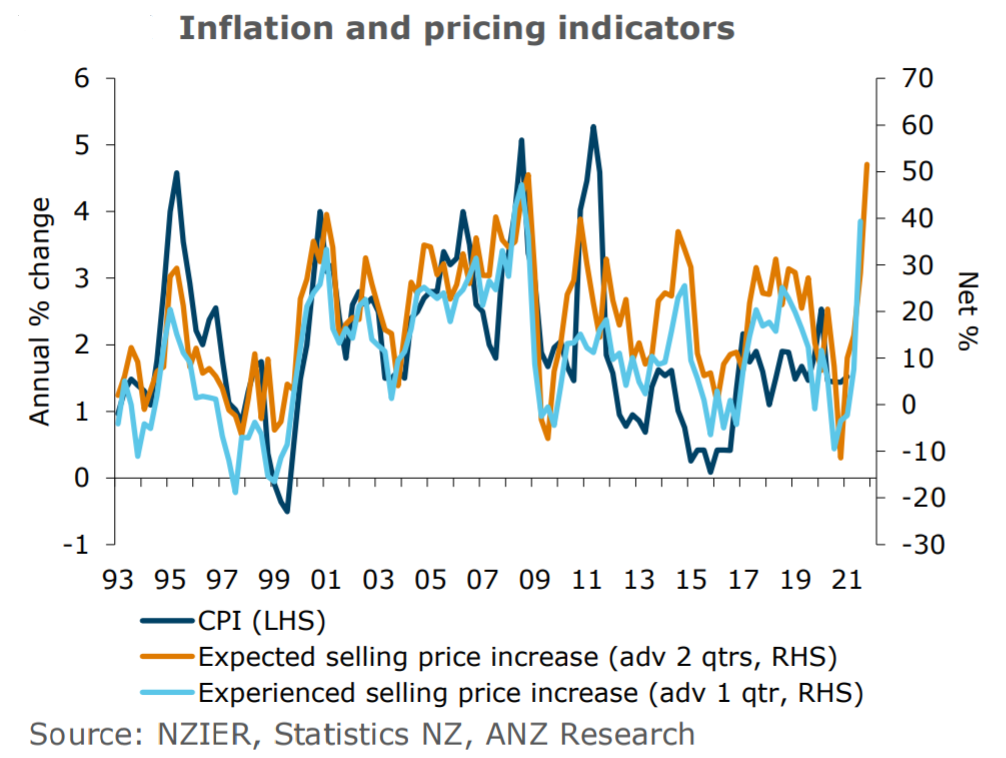 NZIER's principal economist Christina Leung said inflation pressures are intensifying.
"These labour shortages and supply chain disruptions are leading to a further build-up of capacity pressures across the New Zealand economy.
"The increase in both costs and prices points to rising inflation pressures, which is underpinning expectations of interest rate increases from the Reserve Bank over the coming year."
The survey highlighted the very heated situation in the construction sector.
A strong pipeline of work
"Strong construction demand is boosting confidence in the building sector, with a strong pipeline of residential, commercial and government construction work over the coming year.
"The pipeline of residential construction work is particularly strong, in line with annual dwelling consent issuance rising to record highs.
"Against this backdrop of solid demand, capacity pressures are becoming more acute in the construction sector.
"These pressures reflect Covid-related supply chain disruptions and labour shortages, with building construction firms' difficulty finding skilled labour at the highest for the survey's history (going back to 1976). Nonetheless, profitability in the building sector is the strongest since December 2002, reflecting the greater ease with which firms are passing on the increased costs by raising prices," Leung said.
In expansion mode
She said that generally firms are looking to expand further through hiring and investment.
"In particular, a net 15% of firms increased headcount in the June quarter, while a net 20% of firms are looking to increase investment in plant and machinery over the coming year.
"This increased focus on investment in plant and machinery likely reflects the labour shortages that firms are facing, which is encouraging firms to consider the use of labour-saving technology.
"The scarcity of skilled and unskilled labour is at the most acute on record over the history of the survey, with firms finding it particularly difficult to hire skilled labour."