NZIER Quarterly Survey of Business Opinion shows the building sector has gone from being the most optimistic to the most pessimistic sectors surveyed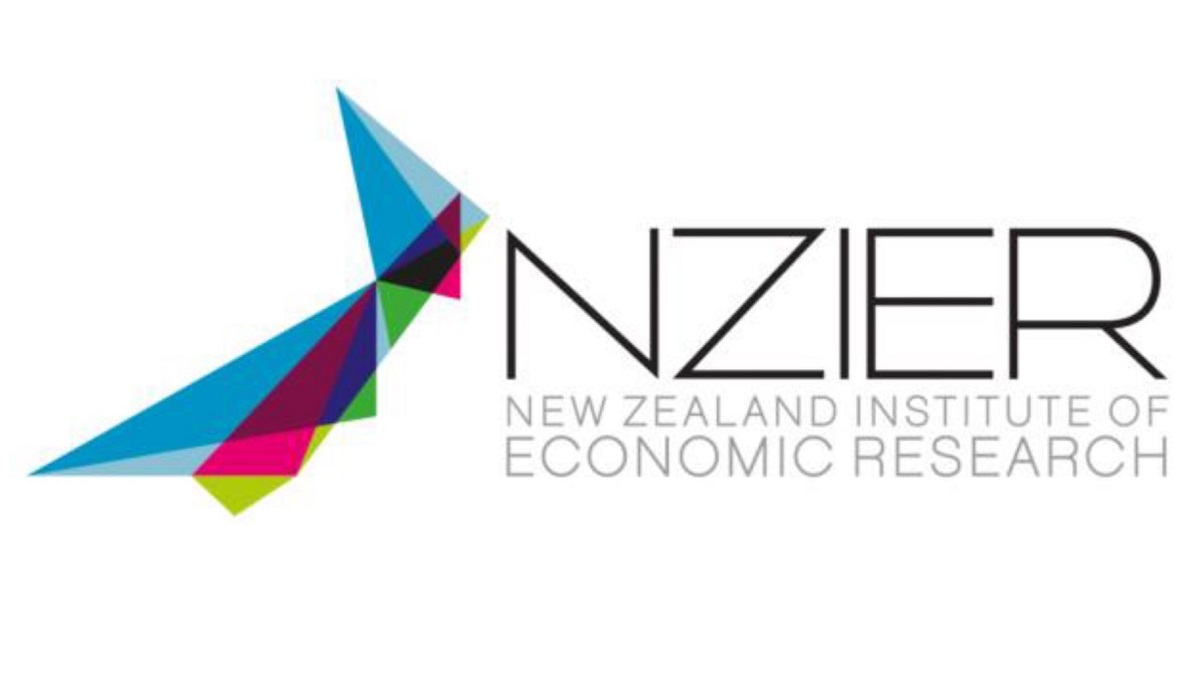 Confidence in the business sector has taken a big dip, but shortages of skilled labour have hit a new high, according to the latest NZIER Quarterly Survey of Business Opinion (QSBO).
NZIER principal economist Christina Leung said a net 8% of businesses expect a deterioration in general economic conditions over the coming months – a turnaround from the net 9% expecting an improvement in the previous quarter.
"This weakening in sentiment was despite demand remaining solid, with a net 29% of businesses reporting an increase in their own trading activity in the September quarter."
Leung said while demand for unskilled labour had eased slightly, a record high (in a survey going back to 1976) 72% of respondents reported shortages of skilled labour. Shortgage of labour is now seen by businesses as the biggest constraint on them.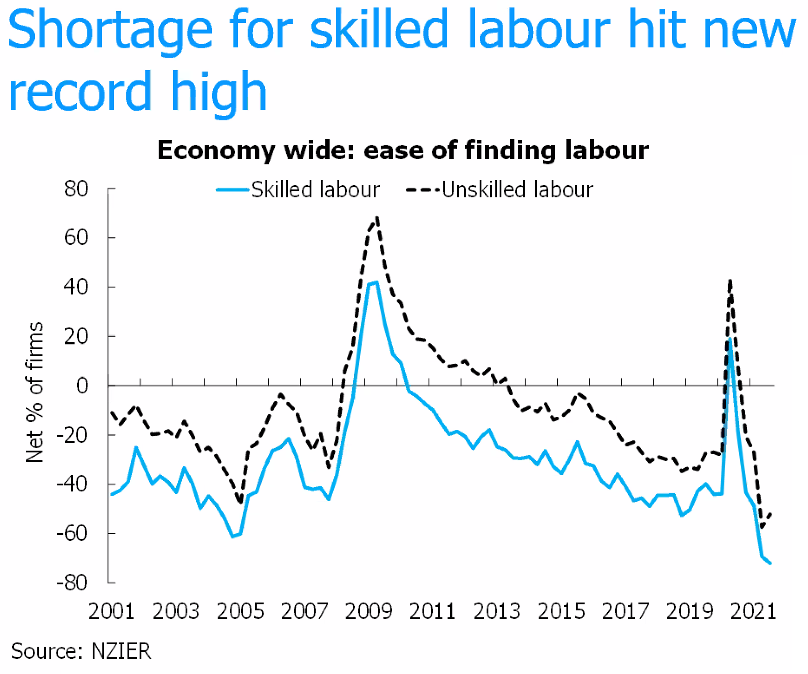 The results from the NZIER survey come just a day before the Reserve Bank (RBNZ) is set to decide whether or not to lift the Official Cash Rate from the emergency setting of 0.25% it has been on since March 2020.
The previous QSBO survey results were red hot and had economists quickly moving to bring forward the timing of expected OCR rate hikes.
But the previous survey was prior to the outbreak of Covid Delta.
The latest QSBO survey was taken over the period  August 2 to September 27, 2021. Hence, it captures some of the impacts from the latest Covid-19 community transmission and lockdown on businesses in New Zealand.
It suggests that while capacity constraints remain for businesses, cost pressures are decreasing, so inflation, while likely to remain elevated could moderate over the next year.
Leung says the building sector has gone from being the most optimistic to the most pessimistic of the sectors surveyed, with a net 43% of building sector firms expecting a deterioration in general economic conditions ahead.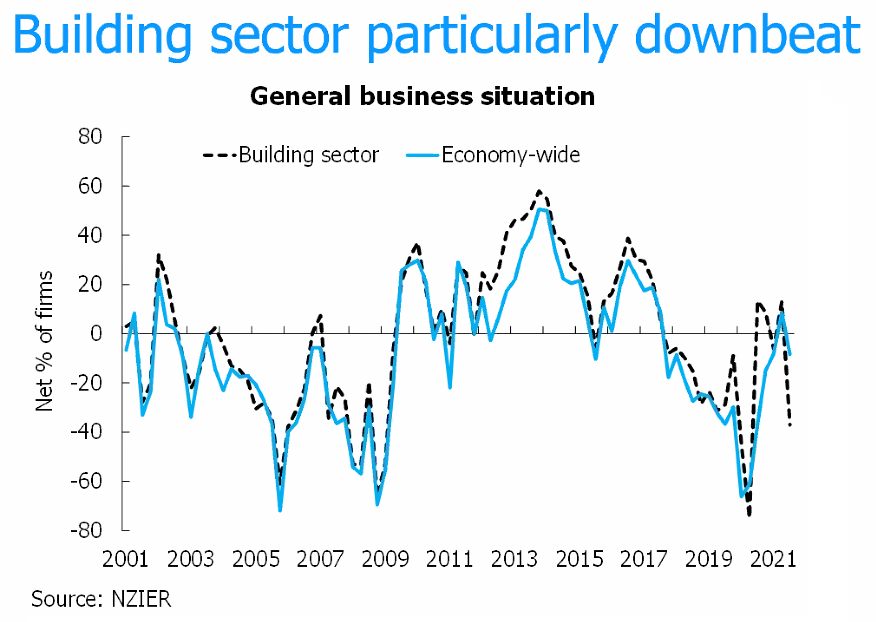 "Confidence in the building sector weakened despite continued solid demand, particularly when it comes to the pipeline of Government construction work. Capacity pressures remain very acute in the building sector, but building sector firms are finding it easier to pass on higher costs by raising prices."
Leung said across the other sectors, the manufacturing sector is also feeling downbeat despite solid demand. Retailers report some easing in demand, costs and the pricing environment. Services sector firms are also feeling downbeat despite stronger demand.
"Uncertainty over how the latest COVID-19 community outbreak will evolve has led to more caution amongst businesses towards investment in buildings, and plant and machinery. However, firms are feeling more positive about increasing headcount in the next quarter, particularly amongst retailers. This suggests that businesses are planning for a rebound in demand when alert level restrictions are relaxed."
Leung said despite capacity pressures becoming more acute, businesses report a softening in costs and pricing in the September quarter.
"Firms report the shortage of skilled labour becoming even more acute, but there was a slight easing in the shortage of unskilled labour. Nonetheless, these developments suggest that while supply-side constraints are likely to keep inflation elevated, overall, there should be a moderation in inflation pressures over the coming year."