Roger J Kerr says that without rising interest rates to bolster it, the NZD direction will take its cues from commodity prices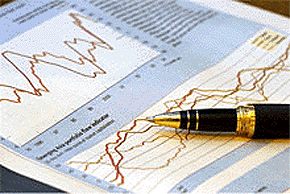 By Roger J Kerr
There are two good reasons why the NZ dollar has depreciated to 0.8340, well below the previous support line at 0.8450 over the last week:-
- A stronger US dollar on global FX markets. The Euro has weakened again to below $1.3200 against the USD as the deep chasm between US and Euroland economic prospects (thus interest rate levels) was highlighted at last weekend's monetary policy pow-wow between central bankers at Jackson Hole, Wyoming.
- A belated realisation by all and sundry as to what a sub-$6 milksolids payout to dairy farmers might mean for the New Zealand economy. The weakness of forward prices in the last Fonterra GDT auction does not indicate much of a recovery in international dairy prices anytime soon. The overall import/export price index (Terms of Trade Index) is due for release for the June quarter on Monday 1 September and it should plunge at least 5% and hit the newswires as a major NZ dollar negative.
I am anticipating more a currency market reaction to tumbling NZ commodity prices over coming months as we no longer have a spectre of immediate interest rate increases holding the Kiwi dollar up and dislocating the exchange rate/export commodity price correlation
Over the last six months the NZ dollar defied the falling dairy and forestry prices for quite some time due the four successive OCR increases from March to June.
The chart below plots the overall NZ dollar Trade Weighted Index (TWI) against the official Terms of Trade Index.
The historical correlation is a close one and based on the extent of the dairy price reductions the Terms of Trade Index is projected to decrease 5% in the June quarter and further 5% drops in each of the September and December quarters i.e. decrease from the current 1400 level to at least 1200.
It is not a pretty picture for the future exchange rate level and points to an 18% depreciation of the TWI from the current 79 level to 65.
I do not think the NZD/USD rate will depreciate the equivalent 15 cents, however we have already dropped five cents from 0.8840 to 0.8340 and another five to seven cents looks very plausible.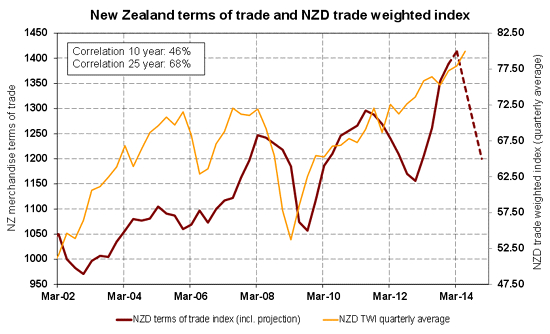 -----------------------------------------------------------
To subscribe to our daily Currency Rate Sheet email, enter your email address here.
Roger J Kerr is a partner at PwC. He specialises in fixed interest securities and is a commentator on economics and markets. More commentary and useful information on fixed interest investing can be found at rogeradvice.com