Risk appetite ticks up; resumed USD strength leaves AUD struggling; EUR weighed down by Greece (again); support for NZD/USD at 74c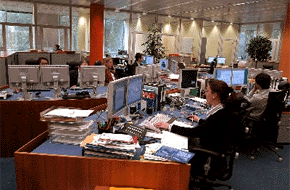 By Kymberly Martin
Resumed USD strength was the key theme overnight, with the AUD the standout worst performer.
It was a night of positive returns for global equity markets. The Euro Stoxx 50 was led higher by the Materials sector and the S&P500 by the Energy sector, despite further falls in underlying commodity prices. Our global risk appetite index has ticked up from 54% to 57%.
The USD also resumed its upward path. The Euro was weighed down by headlines claiming that Greece's proposals to boost its finances, in order to gain further bailout funds, still need a lot of work. The EUR remained on the back foot for most of the night, despite regional data that was close to expectation and also showed German annual CPI inflation back in positive territory. The EUR/USD trades at 1.0820 this morning.
But the weakest performing currency against the USD by quite a wide margin has been the AUD. Prowess on the cricket pitch has done little to improve sentiment toward the AUD at the start of the week. As iron ore prices have fallen a further 0.85%, the AUD has continued to slump. The downward move overnight was likely also assisted by a journalist's report that an April RBA rate cut now looks more likely.
The market now prices almost a 70% chance of an RBA cut next week and a total of 62bps of cuts by this time next year. The AUD/USD now trades at 0.7650. Near-term support for the AUD/USD is seen at early-March lows of 0.7560.
This evening, the spotlight will be back on Eurozone as the region's CPI data is released. The market will be keen to see if core inflation can remain at 0.7%, even as headline inflation is expected to be negative. In the US, the focus will mostly be on a good smattering of Fed speakers.
The NZD also continued on a fairly steady, if bumpy path lower overnight, to trade at 0.7500 this morning, an area of support for the currency. Below this, support will be encountered around 0.7420. Resistance is eyed at 0.7610.
As the market has moved to factor in greater prospect of an RBA rate cut next week, the NZD/AUD cross has pushed up to new highs. It found resistance above 0.9840 overnight, before returning to trade around 0.9810 currently. This move has been consistent with the push out in NZ-AU 2-year swap spreads toward 160bps, their widest level since August 2007.
Today the domestic focus will be on the ANZ business confidence survey.
---
To subscribe to our free daily Currency Rate Sheet and News email, enter your email address here.
---