GBP only currency to hold its own against USD; NZD follows AUD lower as expectations of RBNZ rate cut increases; deflation a real risk for eurozone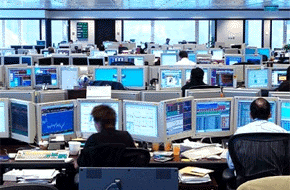 By Kymberly Martin
In the backdrop of a stronger USD overnight, the GBP was one of the only currencies to outperform.
The USD was on the front foot overnight as the EUR resumed its slump. Though German data was on the better side of expectation, Eurozone data was not. Annual core CPI has dipped back to its January lows of just 0.6%, keeping the risk or deflation well in sight.
The Greek 'issue' also continues to lurk in the wings as Germany's Merkel suggests time is short for Greece to come up with an acceptable proposal. But EZ leaders also downplayed Greece's plans to imminently visit Russia. The EUR/USD trades at 1.0720 this morning.
The GBP was almost the only major currency to have strengthened against the USD over the past 24-hours. The GBP/USD had been gently slumping early in the evening but found a base after the upside surprise on the final reading of UK Q4 GDP. From 1.4760 the GBP/USD now trades around 1.4850.
The CAD had been declining for most of the evening but gapped higher against the USD after a better-than-expected Jan GDP release. From 1.2780 the USD/CAD returned to trade at 1.2680 currently.
There was little relief for the AUD/USD, as iron ore prices continue their slump and the market increases its expectation for a rate cut at next week's meeting (now priced at 75% chance). The AUD/USD now trades just above its early-March lows, at 0.7620. In the day ahead the release of the China March PMI will likely influence sentiment toward the AUD.
Tonight, along with a plethora of global PMI releases the US ADP employment report, will draw attention from those looking to get a steer on Friday's all important US payrolls data.
The NZD also suffered some contagion from the AUD moves, as the market has increased expectations for an RBNZ cut. This weighed on the NZD/USD that trades at 0.7480 currently. Support remains just above the 0.7400 level. However, the NZD/AUD again failed to break higher overnight, once again finding resistance above 0.9840. It currently trades at 0.9810.
Whilst the NZD has strengthened overnight relative to a weaker EUR, it has declined against both the JPY and GBP. From highs above 0.5160 last week the NZD/GBP now trades at 0.5030. However, with the uncertainty inherent in the run-up to the UK General Elections we believe it will be difficult for the GBP to make too much further headway. This should keep the NZD/GBP supported near-term.
While there are no domestic data releases today, it will be all eyes on the latest GDT dairy auction in the early hours of tomorrow morning.
To subscribe to our free daily Currency Rate Sheet and News email, enter your email address here.
---