The rise in the oil price juices currency movements. The fall in the dairy price is ignored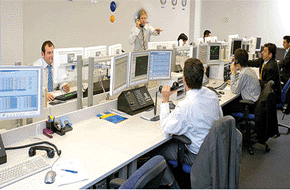 By Kymberly Martin
The USD was broadly weaker overnight after a disappointing ADP employment report.
'Oil-linked' currencies were amongst the best performers.
The USD index poked its nose above 98.60 late last evening before falling victim to a below-expectation US ADP employment report, followed by a disappointing US ISM manufacturing index.
The latter showed signs of being held back by a stronger USD and soft overseas demand.
The former increases downside risk to tomorrow night's US payrolls report, though the two employment reports are by no means reliably correlated. The USD index has returned to trade at 98.00. A toll was also taken on US equities and bond yields.
The best performing currencies over the past 24-hours have been the CAD and NOK, buoyed by a notable rebound in the global oil price. The WTI price is up 5.0%, back over US$50/barrel.
The move appears to be assisted by a US government. report showing US crude production has dropped from its highest level in more than three decades.
The JPY was softer early in the evening. Following yesterday's disappointing Japan Tankan survey, last evening Abe's aide Yamamoto was then quoted as saying the BoJ must ease again at the end of the month. "To do nothing isn't an option", he said, adding "Further monetary policy easing is absolutely essential to ensure that the Japanese don't slip back to a deflationary mindset".
However, from late evening highs above 120.30, the USD/JPY then succumbed to the disappointing US data. It now trades at 119.60.
The NZD has experienced a choppy 24-hours, but has returned to trade at similar levels to yesterday morning.
In the early hours of this morning, the further fall at the GDT dairy auction appeared to instigate a knee-jerk fall in the NZD/USD. But it proved short-lived, given the fairly subdued USD sentiment at the time.
The NZD/AUD bobbed lower yesterday and appeared to bottom around the time of the GDT dairy auction. Thereafter the NZD/AUD has rebounded to trade just above 0.9800 currently. Resistance remains at the turn-of-month highs, at 0.9845.
Heading toward the Easter break there are only 2nd tier data scheduled on either side of the Tasman.
The next catalyst for a break higher, or lower, in the cross will likely come with Tuesday's RBA meeting, where the market is increasing priced for a rate cut.
---
To subscribe to our free daily Currency Rate Sheet and News email, enter your email address here.
---