Gareth Vaughan taps into the thoughts of MMT economist Steven Hail, ex-RBNZ assistant governor John McDermott, and ANZ's head of research Richard Yetsenga on monetary policy and other COVID era economic issues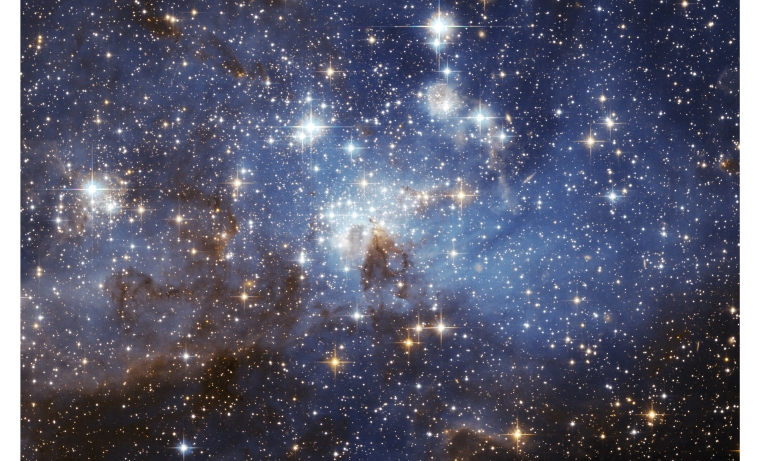 By Gareth Vaughan
"Work was my identity, my purpose. Without that, I found myself quickly spiralling into a serious depression ... I've never felt so hopeless in all my life."
"After the initial shock, the anxieties began to set in. It's a weird feeling when you've been in a top role and are thriving in your career, then suddenly you're nothing."
These comments were made to Business Insider by two of the tens of millions of Americans who've lost their jobs this year as the COVID-19 pandemic swept into their country.
Here in New Zealand the COVID crisis has also seen unemployment increase. 
As the Ministry of Social Development chart below shows, at the end of September the number of working-age people on Jobseeker Support was up 43% year-on-year, with 204,116, or 6.5%, of working-age people receiving Jobseeker Support. This comes as COVID-19 appears to be ending an era of relatively low unemployment, with Treasury expecting official unemployment to reach 7.8% in the March 2022 quarter.
A job guarantee
As detailed in part one of this series, maximum sustainable employment is one of the moving "stars" inflation targeting central banks, such as the Reserve Bank of New Zealand (RBNZ), use to help them determine how tight or how loose monetary policy is and should be, thus how hot the economy is running, and whether the Official Cash Rate ought to be lowered, left unchanged or increased. In February the RBNZ said in its estimate employment was "around or slightly above its maximum sustainable level," at a time when the latest Statistics NZ figures had 112,000 people unemployed, giving an unemployment rate of 4%.
Even before COVID-19 took an iron grip on the world, concern was growing over future work opportunities against a backdrop of advancing technology, such as artificial intelligence, over running human labour. This has led to the promotion of a universal basic income (UBI), whose most vocal NZ proponent is probably The Opportunities Party leader Geoff Simmons. Another concept being touted overseas, that hasn't had as high a profile in NZ as a UBI, is a government job guarantee.
In nearby Tasmania the Greens successfully moved a motion last month calling on the state government to investigate how a jobs guarantee might be implemented in Tasmania during the COVID-19 recovery.
"The impacts of the pandemic on Australians and Tasmanians is devastating and it will have generational impacts. The power of having employment, of having a job and the dignity of work, cannot be overstated," Cassy O'Connor, the leader of Tasmania's Greens, said.
O'Connor's speech drew heavily on the work of Steven Hail, lecturer at the University of Adelaide School of Economics and a Modern Monetary Theory economist who spoke to interest.co.nz in a Zoom interview in August.
Hail describes a job guarantee as offering a government job to everyone who would like to take such a job.
"They could work from one to 35 hours a week, and receive a full-time equivalent wage of about $40,000 a year, plus super and other benefits. If about 700,000 took you up on such an offer, the number currently unemployed, in an economy with only 200,000 job vacancies, the net cost would start at 2% of GDP (or less) and fall over time, including capital and administrative costs," Hail wrote in a 2018 article.
"It would stabilise the economy across the economic cycle, as it would expand in scale during a downturn and shrink in a boom. It would set an effective minimum wage and working conditions across the economy and empower low-paid workers and people in insecure employment. It would help sustain and invigorate rural and remote communities. It would involve spending government money when, where and on who it ought to be spent. It would, if well-designed, eliminate many of the non-pecuniary costs of unemployment and the adverse social consequences of underemployment and poverty. It should nourish self-respect, give people a sense of purpose, contribute to social inclusion and end economic insecurity for many."
A job bank
Hail describes the concept of a job bank, through which jobs are available for people to draw on in local communities, depending on each community's needs.
"It's not a 'one-size-fits-all' package. It is important that most of the jobs are not dependent on prior learning, that they do not involve direct competition with local private sector businesses, that they contribute to the well-being of participants, and that they contribute towards the well-being of non-participants."
He suggests a local job bank could include:
Environmental and ecological repair
Small-scale infrastructure
Small-scale solar
Working in charities/not-for-profits
Assistants for teachers
Transport (in some areas)
Help for the aged
Art, drama, writing, research
Services currently not provided
Optional training
"Over time, it may be that the security of an available job will encourage people to move to a shorter working life and shorter working hours, but this must be done equitably. It is not desirable to allow a separation of the population into two parts - 'haves' with respected jobs and earned income and 'have-nots' who are out of work or insecurely employed and considered consumption machines rather than fully rounded contributors to social well-being," Hail said.
'A reliance on private credit growth to drive demand builds up a private debt burden, which then acts to restrain demand'
So what does Hail make of the stars outlined in part one of this series, or estimates of the neutral interest rate, the level and growth rate of potential output in the economy, maximum sustainable employment, and the equilibrium real exchange rate, serving as benchmarks that the setting of monetary policy can be measured against?
"As for the central banks of the world using stars to guide monetary policy, I like this notion, because it makes me think of astrology. Anyone with a stock-flow consistent approach to modelling the economy understands that conventional monetary policy, defined broadly to include even Quantitative Easing and negative interest rates, is always unreliable as a mechanism for managing aggregate demand and inflation, and breaks down and can even have perverse effects in the long run," Hail said.
"Among the reasons for this is the fact that a reliance on private credit growth to drive demand builds up a private debt burden, which then acts to restrain demand and to blunt the effectiveness of future monetary policy. Central bankers have missed their inflation targets for years now, and in so far as they were ever able to achieve them, this was in part due to factors outside their control and in part the result of an approach to policy which is unsustainable. Only [government] fiscal policy changes the net financial assets of the non-government sector, so only fiscal policy can reliably manage aggregate demand. Effective policy making involves the construction of more effective automatic fiscal stabilisers, among much else. The most effective available stabiliser would be a federal [government] job guarantee."
Time to take a more holistic view
And what does someone who has been at the coalface of setting monetary policy, and using the stars for guidance, think of the challenges of doing so in a COVID-ridden world?
John McDermott, is a former RBNZ assistant governor and head of economics who is now executive director of public policy researcher Motu. In terms of the maximum sustainable employment "star," McDermott said he expects this will be ignored at the moment.
"There's no specific number to it. [And] it will be impossible in this changing environment to pin it down. In that calm period between 1990 and 2007 it was feasible to get a close estimate to what it might be, recognising it's going to vary over time a little bit. But right now it could move big time. That becomes a very poor guide to run policy. And what if it doesn't move when you've assumed it has moved big time? That means you will allow lots of people to be unemployed unnecessarily. That could be as big a mistake as assuming that it hasn't moved when it really has," McDermott said.
COVID-19 has "been layered on" existing challenges around the setting of monetary policy, McDermott said.
"From about 1992 till about 2007 for New Zealand the world was kind of calm, [a period known as the Great Moderation]. There wasn't much disturbance going on. So what we could do when running monetary policy through those periods is get a reasonably good handle on where exactly all these star variables were because there was very little disturbance. This approach worked really well for about a 20-odd year period and we might have fooled ourselves that it will always work that well. [But] in history it hasn't been the case." 
If you always knew where the stars were, using them would be a brilliant way to run monetary policy, McDermott said.
"But if you're in periods of great disturbance it's just not going to work very well. And I think what we saw after the Global Financial Crisis, there was potentially quite a lot of movement in these underlying variables. I suspect the whole framework is just not going to work as well as it did."
Policymakers setting monetary policy currently will have to work harder than previously and look more holistically, McDermott suggested.
"The economic environment has had these massive shocks that are going to change the underlying trends. They're going to change the underlying star variables. And because the way you estimate those is like taking trains [through the data], we're not going to know for a few years where they have settled back to. And along the way we'll simply make mistakes."
"So you could carry on using that theory, but what you should do is put alongside it other theories that we have ignored for many years. The fiscal theory of the price level and the quantitative theory of money have been ignored because they're only long run theories. They work in the long run, they don't work in the short run." 
"How do you integrate information that helps you manage the short run while knowing your long run positions have completely altered? So that's why I say use a multitude of different models rather than this reliance on this one framework [the stars] that we've had. Running monetary policy will be hard and mistakes will be made. The way to minimise those mistakes is to start thinking more holistically about how the economy works," McDermott said.
The quantity theory of money is a theory that variations in price relate to variations in the money supply. And the fiscal theory of the price level describes fiscal and monetary policy rules such that the price level is determined by government debt and fiscal policy alone, with monetary policy playing at best an indirect role.
'We should create an ensemble of frameworks'
 In an August speech RBNZ assistant governor Christian Hawkesby noted the central bank's balance sheet had more than doubled since January to about $60 billion thanks to its Large Scale Asset Purchase Programme, or quantitative easing, through which the RBNZ is buying up to $100 billion worth of government bonds in the secondary market with new money in order to push interest rates down. At the same time Treasury forecasts government debt will rise 249% between June 2019 and June 2024 to $201.1 billion, largely due to the cost of combatting the COVID-19 pandemic as the Government strives to save both lives and livelihoods.
"The fact that the central bank balance sheets are ballooning out probably brings back [that] we should rethink about using the quantity theory of money as a guideline. So my approach would be don't throw the existing framework out, but we should add to it. We should create an ensemble of frameworks because the one we have been using heavily is going to fail us," McDermott said.
"Governments need to do what they do [through fiscal policy], the economy needed rescuing. But somehow down the line we need to pay for this. If you start pulling back fiscal support too early you'll send all our economies into recession. Wait too late and you'll build up an incredible debt burden for future generations that will crush productivity. So there are big questions here. I'm not saying I have the answers, it will be challenging."
Even before COVID-19 McDermott notes there was a shift in how prices were being set through advances in technology, ongoing globalisation and the rise of e-commerce. This was driving inflation down with new ways of doing things, such as Uber, emerging.
"The willingness of consumers to buy stuff off the likes of Amazon or a multitude of online shopping [websites], it changes the way prices are set. And we hadn't got to the bottom of that and then another big shock comes along... Nearly every advanced economy had missed its inflation target," McDermott said.
"Now with what has gone on you've got concerns about joblessness, you've got worries about people being sick and not being able to earn money because of the pandemic, so the precautionary savings rate has gone through the roof. How people are spending money and what they're doing has changed quite significantly. And that's going to reinforce weak demand on top of an ongoing downward trend in inflation."
"Increasingly as we hit interest rates near zero, they talk about negative [and] negative rates don't work. They send a really bad signal," said McDermott.
'The environment is really problematic'
Monetary policy, he suggests, works in two ways. Either you move interest rates or you tell people you're moving interest rates and you give confidence as to what will happen in the future.
"Nobody has confidence the central banks can make it happen anymore. So monetary policy's effectiveness is really dimmed and that leads to people thinking we're going to get even more deflation in the future," said McDermott.
"On the flip side to that some people say 'look at the size of fiscal policy, fiscal deficit, the debt building up, we can't possibly ever pay that back. It's going to be monetised and that's going to create inflation.' We haven't been this uncertain about where inflation would head over the next decade perhaps for 30 or 40 years. There are a lot of structural forces that are going to push it down. You look at fiscal policy, you scratch your head and say 'that looks like we're going to get very high rates of inflation.' The environment is really problematic."
"The Reserve Bank will be able to do something. But it's whether it has recognised how things have changed sufficiently in advance that it's on top of it [that matters], otherwise we could easily get into a position like central banks got in the 70s, [when they] just misunderstand the environment and make a massive mistake [pushing up inflation]. We haven't had the potential for that since the 70s," McDermott said.
He said that in the 1970s the US Federal Reserve assumed economic output would be much stronger than it was, leading to bad monetary policy and high inflation.
According to Claudio Borio, head of the monetary and economic department of the Bank for International Settlements, the central banks' bank, deflationary forces are likely to prevail in the near term. But at some point inflation could become a problem again. 
"if underlying economic conditions and policy regimes came to resemble more those in the 1970s: a deglobalised world; high public debt; financial repression; highly constrained central bank autonomy; and a larger role of the state in the economy. If so, the winter of hibernation will have been quite long, but just a winter nonetheless," Borio said.
 NZ CPI inflation since 1977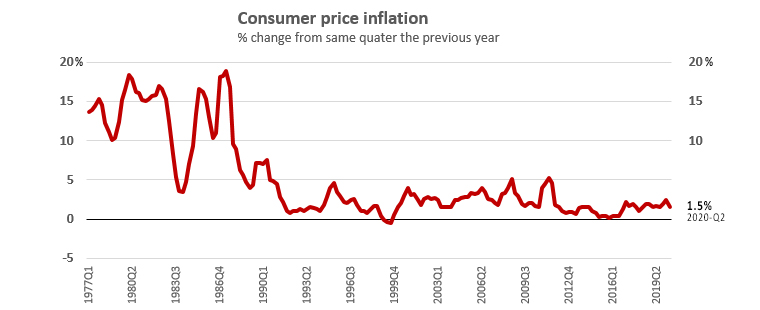 'Nobody even raised the issue about what happens if monetary policy can't get inflation to rise'
Richard Yetsenga, chief economist and head of research at the ANZ Banking Group, has a simple way of thinking about the stars.
"The simple matter is if you want to conduct policy preemptively you are making a bet on your ability to predict the future. And sometimes that won't workout. In fact there isn't a forecasting system around that's likely to cope well with structural change. So I think the stars are telling us what in a sense we already knew from the history of inflation forecasts for instance in the last 10 years, that there were things going on that were different from the average of the past few decades," Yetsenga said.
Whilst the huge volume of fiscal stimulus being pumped into economies by governments around the world in response to COVID-19, US$12 trillion according to the International Monetary Fund (IMF), has bought monetary policy some time, it faces serious questions, according to Yetsenga. 
"I think conventionally applied inflation targeting seems to suffer from two fundamental problems. One is it doesn't cope well with economic outcomes whether they're structural or cyclical that take the implied interest rate below zero. You can still do things below zero, but clearly policy's much more complicated and less effective."
"And the second issue is it doesn't cope well with the money side of the economy. We've discovered that credit has an incredibly skewed distribution. We like it when it's rising or flat, we're kind of okay. When we start to suffer a contraction in credit we don't like what that gives us in terms of economic outcomes," Yetsenga said.
"And both of those flaws I think have come together in the last 10 or 12 years across almost every economy you want to name. And probably the pudding proof is that when we adopted conventionally applied inflation targeting three decades ago, nobody even raised the issue about what happens if monetary policy can't get inflation to rise. It wasn't even a question. And clearly we've discovered it's a really important question," Yetsenga said.
So where to from here?
"I think the first step is to confront the questions we have in open, transparent and thoughtful ways. Not to pretend it's just business unusual. Not to pretend that the system still fundamentally works but it's just suffering a few creaks and groans."
"I think we need to ask some much more fundamental questions. And I don't have the answers to that. But it seems like as we sit here today, I'd like to see us consider systems that are less rigid, probably less transparent and less arithmetic," said Yetsenga. 
"It might be neat to be able to say that the central bank has one instrument and so we need to give it one target that's clearly defined to make it all transparent and easy. It may be that the world is just too complicated to be made easy. In fact if we look at how central banks have started to behave, and let's not pretend we're still operating under 'the old regime,' clearly central banks are operating more in concert with other arms of [government] policy, and clearly most of them can't really reach their inflation targets. "
"Their mandates have shifted to be something more holistic and broader around stabilising the economy where they can, ensuring the flow of credit, contributing to reducing unemployment where they can. This whole range of secondary objectives has arisen. So we've already shifted out of the old regime at least temporarily. I suspect it's more permanent than that, but at least temporarily. So I think we need to first confront this is not just business unusual, there are some very serious questions about our policy frameworks we need to investigate," Yetsenga added.
'A mixing bowl of objectives'
Asked where monetary policy might end up, Yetsenga suggests probably about where it is now.
"Something of a mixing bowl of objectives around inflation, unemployment and financial stability. Because of course those things we know are all related and simply hiving off one of those to give it to the monetary authority doesn't seem to have actually served us well at the end of the day. I think conceptually it was and remains an attractive idea, but the practice of it over several decades has turned out to be different from that."
Yetsenga also sees questions about how central banks conduct their forecasts, and whether that methodology means they weren't as quick as they could've been to make changes.
"Most central banks forecast the real economy but don't forecast the level of debt and don't forecast their own interest rates. And so over time if you are constantly forced to ease [monetary policy] to deliver your real economic outcome, it may be that some of these issues have been around for quite a long period of time, but we've just kept treating them as transitory."
He suggests the limits are being tested on fiscal policy as well as monetary policy, with the path of least resistance being major government stimulus.
"I have some fundamental reservations about things like Modern Monetary Theory or MMT. But I think that discussion around MMT is certainly not hurting the case for having fiscal policy being quite active, even despite many economies having very high debt levels," Yetsenga said.
"...It's difficult to see governments stepping away from fiscal support towards austerity in a particularly aggressive fashion. It wasn't that long ago you would look at a range of economies around the world and say they needed to emphasise debt consolidation today. And if you think back to the post financial crisis period, certainly in Europe, there was significant steps taken towards fiscal consolidation with debt levels well below where they are in Europe today. And yet the IMF is supporting a more permissive stance at the moment. So we've all become a bit; 'give me fiscal consolidation but just not yet'," Yetsenga said.
(This article is part two of a two part series. Part one is here).
*This article was first published in our email for paying subscribers early on Friday morning. See here for more details and how to subscribe.