RBNZ makes hawkish tilt, warning mortgage holders to be wary of debt serviceability while keeping monetary conditions loose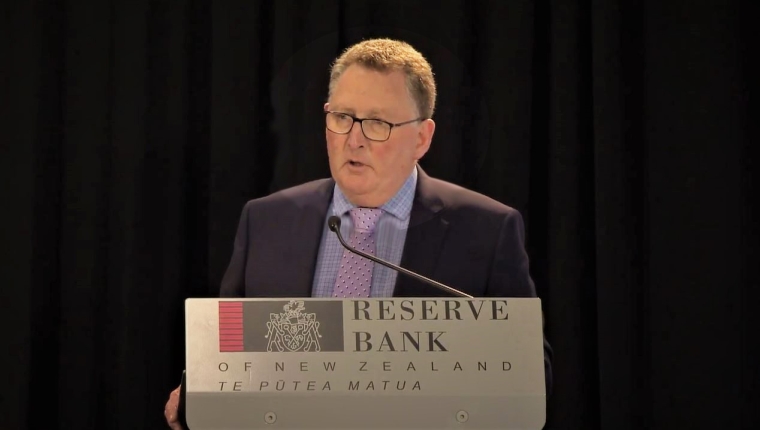 The Reserve Bank's (RBNZ) seemingly hawkish decision to pencil in interest rate hikes from as early as September next year has sent the New Zealand dollar almost a cent higher against the US, and caused swap rates to rise.
ANZ senior strategist David Croy believes this is where rates will stay, while BNZ head of research Stephen Toplis says the strong market reaction isn't "excessive".
Toplis acknowledged the RBNZ was always going to have to walk a tightrope in its quarterly Monetary Policy Statement (MPS) released on Wednesday; recognising inflationary pressures without prompting a premature tightening of financial conditions.
"What the Bank has done should be seen in the context of positioning to remove the emergency stimulus that was provided to protect the economy as it was clobbered by COVID," Toplis said.
"It should not yet be perceived as representing any urgency to normalise monetary conditions."
Orr warns mortgage holders
RBNZ Governor Adrian Orr was conscious of striking the right balance in the press conference following the release of the MPS.
On the one hand, he stressed projected Official Cash Rate (OCR) hikes were "highly conditional" and a lot could happen before mid-next year.
On the other hand, he issued existing and prospective mortgage holders with a stark warning: "Think in a long-term sense when you're considering mortgages; when you're considering buying.
"Don't get excited about the current mortgage rate. Think about what mortgage rates might look like on average through time…
"Interest rates are very low and certainly below what we would consider a neutral interest rate globally… Be wary around your ability to service a mortgage."
Dovish language splattered between hawkish projections
The RBNZ walked this tightrope in its Statement too.
Notably, it reinstated its OCR outlook. While economists were betting on it lifting the OCR from 0.25% next year, they didn't expect it to project 150 basis points of rises through to 2024.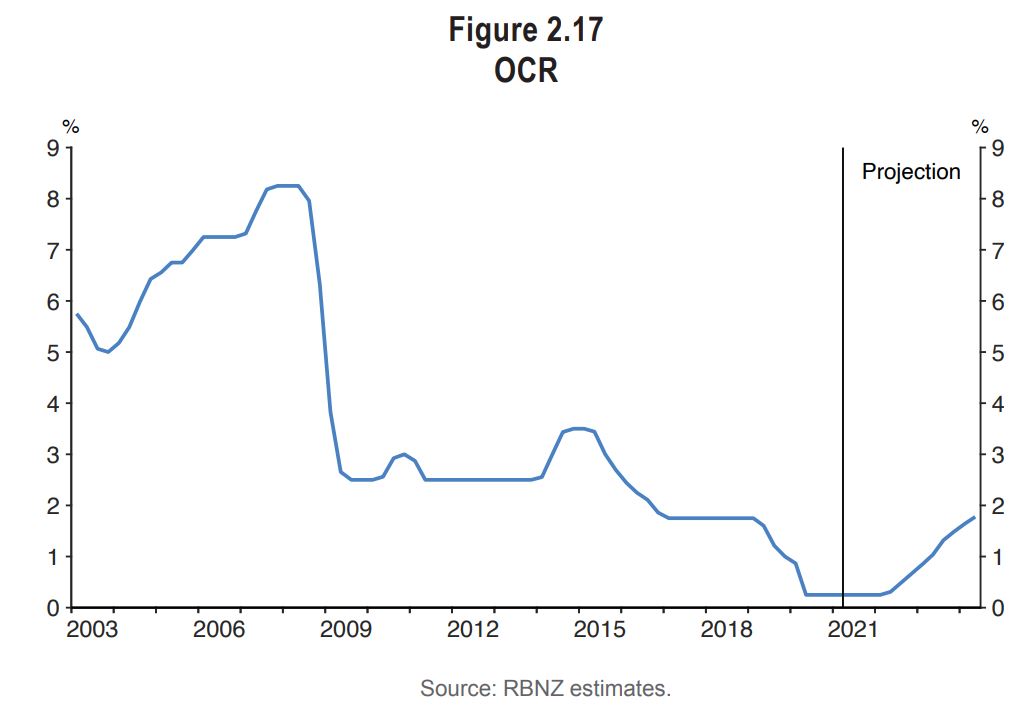 The RBNZ also revised up its near-term inflation expectations from its February MPS, recognising higher commodity prices, the strength of the construction and housing sectors, capacity constraints, high oil prices and disruptions to global supply chains.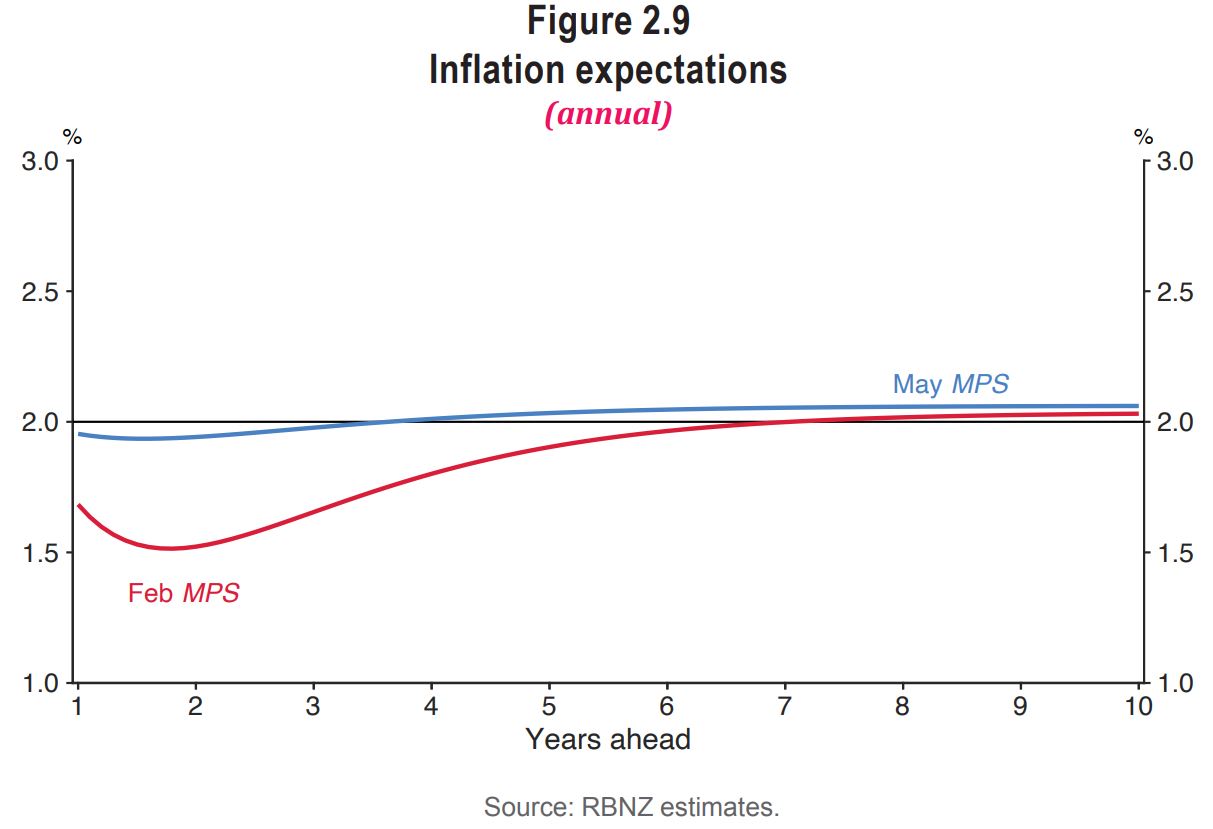 As for its other target - employment - it pointed to the "maximum sustainable" level possibly being lower than during normal times.
"The skills of those who lost their jobs in industries such as tourism are not necessarily well matched to sectors demanding more workers," the RBNZ said.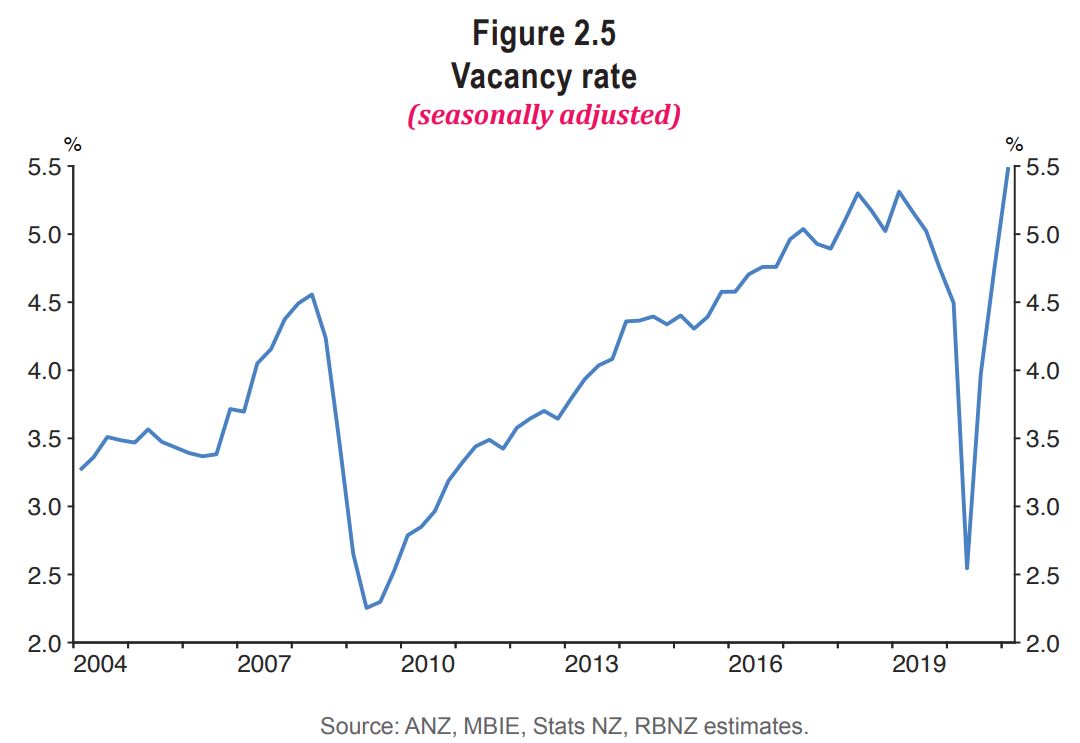 "Until demand returns in tourism-related industries, the level of employment that is sustainable without generating inflationary pressures is likely to be lower.
"It is unclear whether, or how quickly, maximum sustainable employment will return to its pre-COVID-19 level."
While markets focussed on the RBNZ's hawkish projections, its introductory comments repeated dovish phrases used through the COVID-19 crisis around it taking a "least regrets" approach towards loosening monetary policy, and requiring "considerable time and patience" for inflation to be "sustained" at the 2% midpoint of its target.  
The RBNZ also coined some inflationary pressures "temporary" and "expected to abate over the course of the year".
Some economists bring forward OCR hike forecasts to May
The MPS prompted ASB and Kiwibank economists to bring forward their projections for an OCR hike to May. Meanwhile BNZ economists maintained their projection for a hike in May, and ANZ economists upheld theirs for August.
Westpac economists took a completely different view. They believed the RBNZ was overstating the tightness in the labour market in the face of uncertainty around border and immigration settings. They held their view the OCR will only be hiked in 2024.  
Economists generally believe the RBNZ won't be able to start hiking the OCR until it winds down its Large-Scale-Asset Purchase (LSAP) programme.
By most of them forecasting hikes before the LSAP programme is due to end in June next year, they're suggesting it could be wound down early.
Orr reiterated both the LSAP programme and Funding for Lending Programme will remain in place until June 2022, as planned.
The RBNZ did however acknowledge it won't reach the $100 billion limit on the LSAP programme, as Treasury isn't issuing as many New Zealand Government Bonds for it to buy, as forecast last year.
To date, the RBNZ has figuratively printed about $53 billion to buy bonds on the secondary market via the LSAP programme.
Market reaction
Coming back to the market reaction, Croy believed the New Zealand dollar and wholesale interest rates would remain elevated on the back of the MPS.
Pricing is all about relativity and the RBNZ's hawkish position is a stand-out globally.
However, Croy suggested "the tail may wag the dog". In other words, the RBNZ may cause markets to bet more on other central banks following its hawkish turn.