The 2.8% June quarter GDP rise beat market expectations of 1.2% and was up from a revised 1.4% in March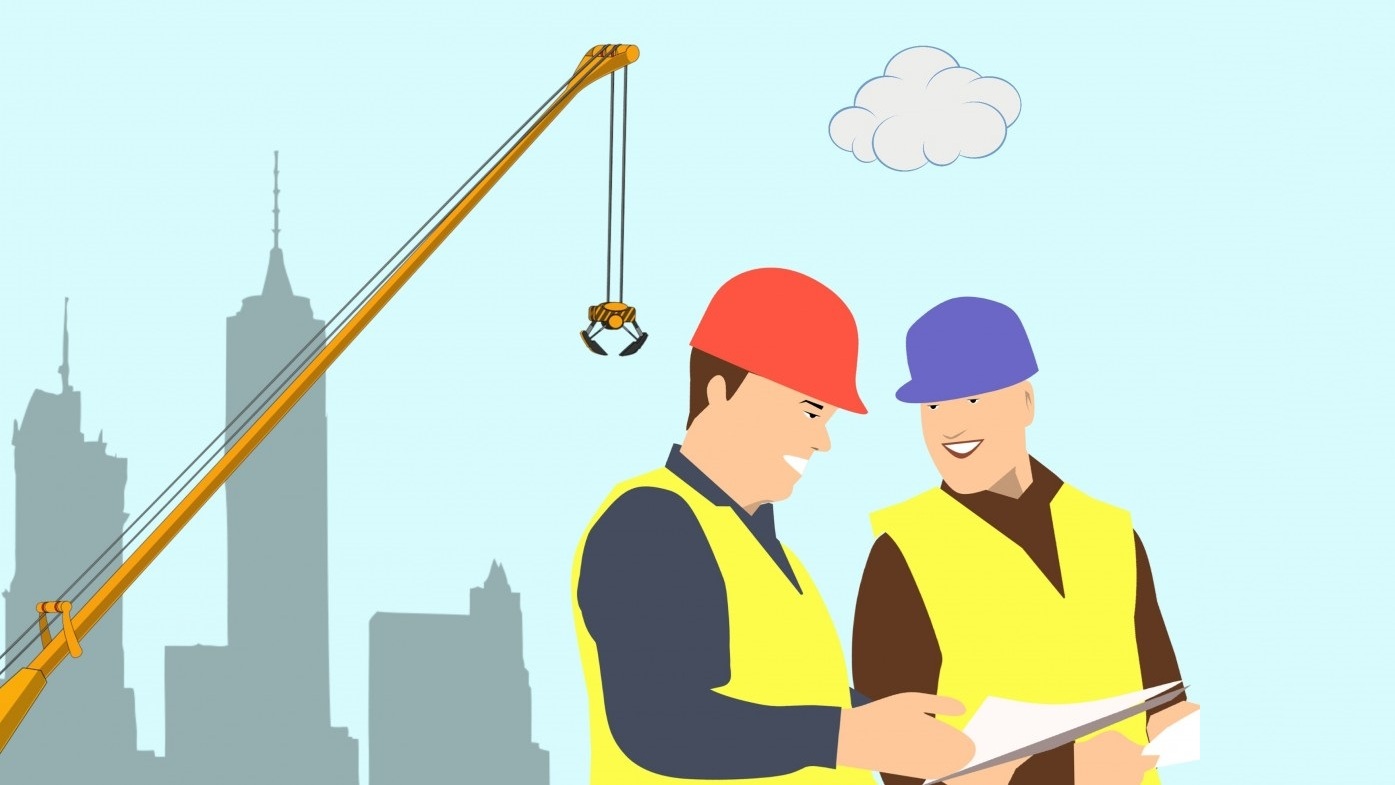 Oops it did it again. The New Zealand economy blew all expectations out of the water once more, with GDP rising by 2.8% in the June quarter.
The figures were released by Statistics New Zealand on Thursday.
That smashed market expectations of 1.2% and obliterated the Reserve Bank's pick of 0.7%.
The latest quarterly rise compared with a revised figure of +1.4% for the March quarter.
The hot state of the economy prior to the latest Level 4 lockdown will back up the belief that the Reserve Bank will soon - probably next month - hike interest rates through raising the Official Cash Rate (OCR), which is still at the emergency setting of 0.25% it has been on since March 2020 .
ASB chief economist Nick Tuffley and senior economist Mark Smith said the most recent lockdown is set to add further volatility to GDP figures through the remainder of the year.
"Uncertainty is high, but we expect the sharp Q3 dip to be short-lived and followed by a strong Q4 rebound.
"We expect the RBNZ to 'look through' near-term volatility and reduce monetary stimulus, with a series of 25bp hikes starting from next month. We envisage a gradual path of OCR hikes and a low 1.50% OCR endpoint."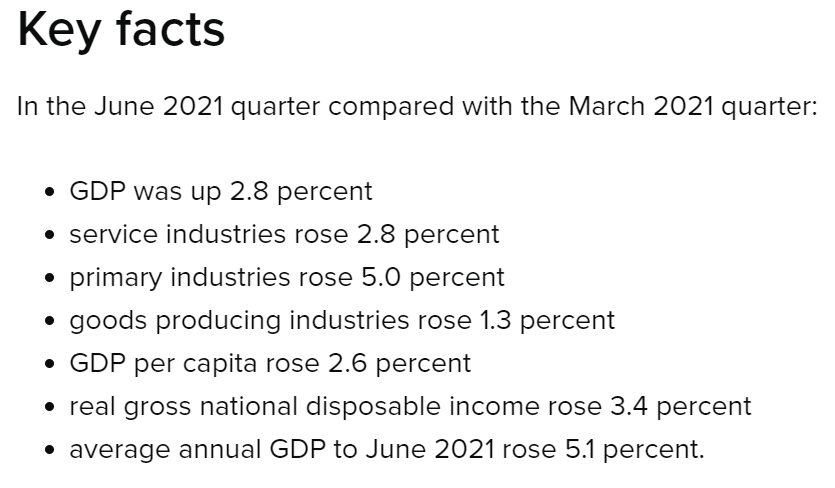 This was the Stats NZ release:
Stats NZ said the 2.8% rise in June 2021 quarter GDP was led by the services industries. The primary and goods-producing industries also contributed to growth in the quarter.
Retail trade and accommodation was the largest contributor to GDP growth in the June 2021 quarter, driven by higher activity in accommodation and food services.
The transport, postal, and warehousing industry was boosted by rises in air transport and transport support services. This industry has been significantly affected by restrictions on international travel in response to the Covid-19 pandemic, as well as continued disruptions to the international transport of goods.
Despite the increase in activity this quarter, transport, postal, and warehousing has fallen 7.0% since the pre-Covid -19 December 2019 quarter.
Business services also contributed to the growth in services and total GDP in the June 2021 quarter, rising by 4.8% due to higher activity in engineering, architectural and consulting services.
Exports of services also increased in the June 2021 quarter, rising by 63.0%. This was driven by rises in exports of travel services, transport services, other business services, and also film exports. However, exports of services remain significantly affected by international travel restrictions due to Covid-19 and are still 43.0% below the levels of the December 2019 quarter. 

"The June 2021 quarter experienced fewer Covid-19 restrictions than previous quarters affected by Covid-19. Many industries experienced activity at or above pre-Covid-19 levels, while some remained below," Stats NZ's national accounts senior manager Paul Pascoe said.
Most of New Zealand was in alert level 1 for the entire June 2021 quarter, apart from Wellington, which spent six days in alert level 2 at the end of June.
"Prior to the Covid-19 pandemic, the June quarter traditionally showed a large decrease in international travel related activity, following the peak summer season in the March quarter," Pascoe said.
"However, Covid-19 has interrupted that seasonal pattern markedly."
Covid-19 restrictions have caused significant changes to typical patterns of activity, with international travel and related expenditure currently at very low levels and not showing the normal large decline from the March quarter peaks. This has muted overall GDP growth in the March 2021 quarter, and contributed to growth in the June 2021 quarter, when we account for the usual seasonal effects.
"Opening the trans-Tasman travel bubble with Australia in the June 2021 quarter also contributed to services industries with links to tourism, such as retail and accommodation, and transport," Pascoe said.
Household consumption expenditure fell 1.4% in the June 2021 quarter, due to a 1.9% decline in household spending on services.  This was partly offset by increases in spending on durable goods (such as electronics and furniture), which were similarly reflected in growth in the retail trade subindustry (up 2.6%).
When compared with the pre-COVID-19 December 2019 quarter, household spending increased by 6.0% with spending on durable goods 19.7% higher.