Kiwibank accounts for 40% of new mortgages by value in June quarter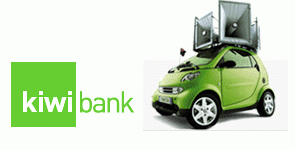 Kiwibank accounted for 40% of new residential mortgages written by the major banks in the June quarter even though its quarterly housing lending growth was the state owned bank's slowest for two years.
Based on calculations using retail mortgage loan to value ratio data released in the banks June quarter general disclosure statements, Kiwibank grew its mortgage book by about NZ$307 million out of a total NZ$767.85 million of growth across the country's seven main banks.
Second was BNZ with growth of NZ$221 million, followed by ANZ with NZ$121 million, Westpac at NZ$101 million, TSB NZ$33.1 million and SBS Bank at NZ$3.75 million. ASB's mortgage book fell by NZ$19 million. HSBC is yet to release its general disclosure statement.
At NZ$307 million, Government owned Kiwibank recorded its slowest residential mortgage lending growth since the June 2008 quarter when it wrote about NZ$262 million of new housing loans. Since the June 2008 quarter, Kiwibank's residential mortgage book has grown by about NZ$4.7 billion with the bank competing with its bigger, Australian owned rivals by offering discounted fixed mortgage rates and variable rates.
Overall the country's biggest bank, ANZ, held NZ$54.48 billion worth of mortgages at June 30, second was ASB at NZ$42.3 billion, third was Westpac at NZ$33.7 billion, BNZ fourth at NZ$27.4 billion and Kiwibank fifth with NZ$9.6 billion.
In contrast to its lending growth, Kiwibank's profitability has been slipping. Its June year profit fell 13% to NZ$45.8 million with the bank's net interest to average total assets margin down to 1.2% from 1.9% in the previous year.
Outgoing CEO Sam Knowles said the profit drop was almost entirely driven by increased funding costs with net interest income down 18% to NZ$133.39 million. For this Knowles blamed the Reserve Bank's core funding ratio (CFR), introduced on April 1 which forces banks to source more of their funding from retail deposits. On top of the increased cost the Australian owned banks now face when raising funding in international wholesale funding markets following the European sovereign debt crisis and Global Financial Crisis (GFC), Kiwibank's bigger rivals are competing vigorously for domestic retail funding.
ANZ CFO Nick Freeman recently told interest.co.nz wholesale funding costs were driven between 100 and 125 basis points higher by the GFC. This year's Greek debt crisis then drove them another 50 basis points higher.
Knowles said the higher offshore funding costs and CFR had changed the funding landscape with "the Aussie banks" coming onshore and "competing very, very strongly" for the term deposit market, Kiwibank's main funding source.
This means Kiwibank will look to raise money overseas to help continue its lending growth after the Government last month agreed to provide an uncalled capital facility to Kiwibank's parent NZ Post valued in the "low hundreds of millions" of dollars. This is designed to help maintain the group's AA- credit rating and enable Kiwibank to continue its lending growth. The Government will also continue not taking dividends from the bank.