Stephen Forbes takes a look at what the Government has achieved and where it's heading after 18 months in office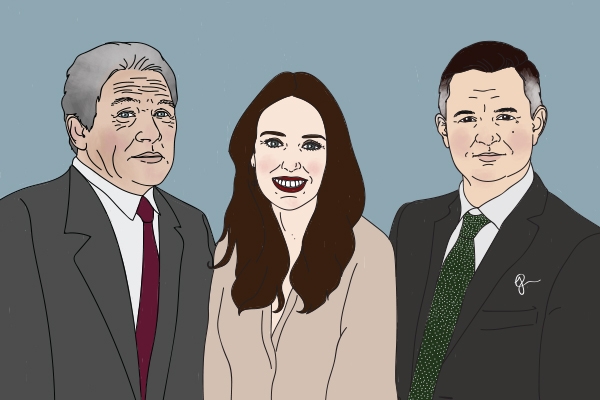 By Stephen Forbes
The Labour-led Government has now been in power for 18 months and is now half way through its first term in charge.
So how is it doing and has it lived up to expectations? In terms of popularity it seems to be doing okay.
In last month's Colmar Brunton political poll the Labour Party was sitting at 48% support, up 3% on the previous survey in February. NZ First was sitting at 4% (up 1%) and the Green Party, which has a confidence and supply agreement with Labour, was sitting steady on 6%. Prime Minister Jacinda Ardern received 51% support as preferred Prime Minister, well ahead of her National Party rivals Simon Bridges and Judith Collins who were both on 5%.
In her weekly post cabinet press conference on Monday Prime Minister Jacinda Ardern recognised the mid-term milestone.
"This is a busy week for the Government in which we will also be marking, really, the 18 month anniversary of the Government. We are about half-way through our term, so it's a good chance for us to do a little bit of a check on what we've managed to do in the period of time that we've had the privilege of holding office. Over the last 18 months we have started to tackle the long term challenges that New Zealand faces and delivered important improvements to New Zealanders' lives."
The economy and business
"On the economy we are delivering budget surpluses, record low unemployment and solid growth rates in the face of global head winds. The average wage is up $65 per week since we took office, while 70,000 new jobs have been created and unemployment is down to 4.2%, the second lowest rate in a decade. GDP growth is at 2.8 % per annum, better than many of our key trading partners."
She then proceeded to outline the various polices and changes the Government has introduced since it came to power in October 2017.
From the introduction of new tax measures for multinationals and research and development tax credits, to the establishment of a Green Investment Fund to help business tackle climate change to the decision to end all new offshore oil and gas exploration permits.
Social policy
"Our families' package saw over 380,000 families get an income boost, once fully rolled [this] would average $75 per week. The biggest boost in incomes to low paid New Zealanders in a significant time. The package over time will lift between 42,000 and 73,000 children out of poverty based on the best estimates that we have," Ardern says.
"Access to affordable healthcare is important to us, 540,000 people are now eligible for cheaper doctors' visits and also 56,000 13 year olds now get free primary care. We've funded 1500 extra teaching places in budget 2018 and a further 2500 teacher trainee places in budget 2019, and we've rebuilt or built 200 school classrooms."
Housing also remains a priority.
"We're building more houses than any government since the 1970s, including more than 1,000 state houses."
And Ardern also mentioned changes to [benefit] abatement rates, extending paid parental leave to 22 weeks, lifting the refugee quota to 1,500 a year, and the proposed ban on military semi-automatic weapons.
Budget time
"Those are some of the initiatives we have introduced in the last 18 months and with our wellbeing budget coming up there will be a lot more delivered with our focus on mental health and children in particular."    
But she admitted the Government still has a long way to go.
"Have we done everything we wanted? Of course not and I will always be impatient for us to move as quickly as we can, but we have made significant improvements. Are the most vulnerable in our communities better off? Yes. Are we committed to addressing the long-term challenges our country faces? Yes we are. We are doing what we were elected to do and this week and with our well-being budget we will continue to provide evidence of that."
Outside looking in
New Zealand Initiative chief economist Eric Crampton says he thinks the Government has been doing pretty well to date.
"If you look back to the 2017 election I think the biggest things they promised were housing affordability and fresh water management reform," Crampton says.
"On housing they have, in the background, been working on the affordability issue and [Housing and Urban Development Minister] Phil Twyford has been putting in place a lot of the changes needed to assist that."
Crampton says there are a number of issues affecting the supply of housing, ranging from the financing of infrastructure and the consenting of new housing, through to the cost and provision of housing materials and the apportioning of legal liability.
"Twyford is making some progress on that in terms of financing infrastructure through special purpose vehicles to get ahead of the problems councils are facing."
He also refers to the Government's creation of a Housing and Urban Development Authority which it says will allow for the construction of more homes on a larger scale and cut down on red tape.
While Crampton says Building and Construction Minister Jenny Salesa has been looking at changes to the Building Act to improve regulation in the industry, address building material supply issues and the ongoing problems around legal liability.
"But KiwiBuild has been a distraction. They overpromised on that because I don't think they expected to form a government."
He says he thinks the Government could have done more to date to address housing affordability if it hadn't been so focused on meeting the arbitrary targets of KiwiBuild.
"So they should be getting some ticks for their progress to date, but it would have developed quicker if Twyford wasn't distracted by KiwiBuild," Crampton says.
"I'm pretty optimistic overall. I'm happier on this front under this government than the previous government. It took National a long-time to even admit there was a problem and they did too little too late."
While he says on the issue of freshwater management he thinks it too early to assess the performance of Environment Minister David Parker. Crampton says addressing that will be a monumental task, but it has to be dealt with.
He says Parker will have his work cut out looking at everything from freshwater use by bottlers, irrigators and other commercial users, through to nutrient management, river sustainability and iwi rights.
Midterm assessment
Crampton says he thinks the Government should get a pass mark in its midterm report.
"There's been some haphazard stuff in other policy areas like the Taranaki [new future oil and gas permit] ban. That came out of nowhere with little consultation," he says. "But if we judge them on the key issues from the 2017 election of housing and freshwater management, I think they are doing pretty well."
And he says if the Government is willing to use a rigorous cost-benefit analysis system in its wellbeing budget on May 30, he's optimistic about good future public policy decisions.
Arthur Grimes is a senior fellow at the Motu economic research institute and adjunct professor of economics at Victoria University. 
He says he doesn't want to comment on the Government's performance until after Finance Minister Grant Robertson has rolled out his first wellbeing budget on May 30.
"I'll hold off on that one until after I've seen the budget. I don't think I can comment until I've seen it as a lot of their policies will be included in that at the end of the month."
Radical incrementalism
Max Rashbrooke is an author and senior associate at Victoria University's Institute for Governance and Policy Studies.
"I think the approach to power that Ardern and her colleagues have taken makes it hard to judge them."    
Rashbrooke says the Government is driven by what he calls radical incrementalism. Making smaller changes in policy over time in a bid to create the basis for more fundamental transformations. 
"I think in some cases it's deliberate and in some cases it's been forced on Labour and the Greens by NZ First because most of the time they don't want radical change," Rashbrooke says.
And it's also the by-product of the country's electoral system.
"It's partly what MMP was designed to do. It was introduced to prevent what happened in the 1980s happening again, when radical change was pushed through in an anti-democratic fashion."
But he says the result is both Labour and the Greens have at times been limited in terms of their policy options. Rashbrooke says this is reflected in the back down on capital gains tax and the Government's cautious response to last week's Welfare Expert Advisory Group report.
"In some ways I think it's too early to judge the Government. I'm sure it's frustrating for voters because they heard the promises and thought things were going to change quickly. But when you hear ministers speak they have always said it would be incremental change."
Rashbrooke says he doesn't think there is an appetite for radical change in New Zealand.
"I think Jacinda Ardern is someone who wants to look for consensus. And I don't think most of the country is in the mood for radical change."
But he says if the Government can meet some of its own goals, such as halving child poverty in the next 10 years and help create a zero carbon economy by 2050, that would be transformational change.
Independent economist and commentator and economist Shamubeel Eaqub says for him the Government's most notable public policy achievements to date have been the amendments to the Reserve Bank Act, the Residential Tenancies Act and its decision to end all new permits for oil and gas exploration. While it's work on the Zero Carbon Bill is still a work in progress. (The interview with Eaqub took place before Wednesday's Zero Carbon Act announcement).
"It has put in train a lot of changes," Eaqub says.
But he says he's now waiting for this month's budget to see what's next.
"They have talked a big game, but whether they deliver in terms of investing in health, education and welfare is yet to be seen," Eaqub says. "That's what they talked about when they were campaigning. I'm very concerned that pressures in the health sector are in fact growing and not diminishing. So the May budget will be their big test.
"Everybody talks a big game, but most of the time the changes are at the margins."
*This article was first published in our email for paying subscribers. See here for more details and how to subscribe.