GDP figures out this week for the March quarter will show a fall in economic activity - but this will just be a taste of what is to come in the June quarter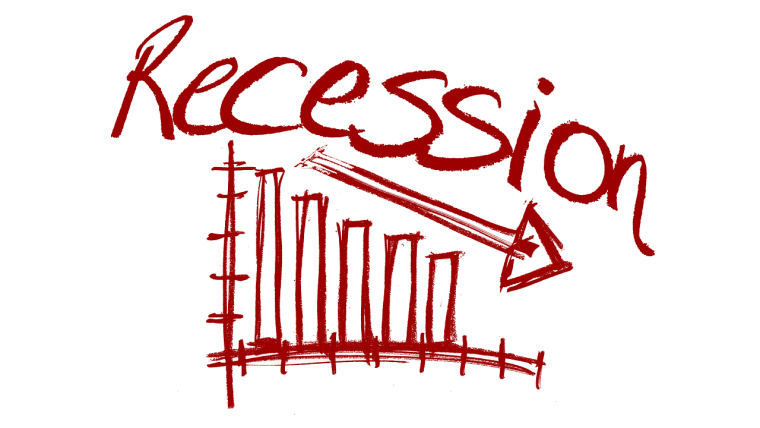 Well, we've been talking about it for a while now - but the recession can officially get started this week. It's our first one in nine years.
Economists are expecting that March quarter GDP figures out on Thursday (June 18) will show the economy contracted over the three months by in excess of 1%.
Technically, of course, an economy is not in recession till two quarters of negative growth are recorded. But since most of us spent the early part of the current quarter cooling our heels at home - and therefore not making the economic wheels turn - we know the recession is already locked in and it's going to be a biggie.
And in that sense the March quarter figures out this week will provide us with just the entree (given these will include about two 'good' months of activity), while the 'broken' lockdown economy of the current quarter will be the main course. That one should be horrible.
How bad it got will be very interesting to see - coupled with how sharp (or not) the recovery becomes after our move to the almost-normal Level 1. And remembering also that we got to Level 1 a lot earlier than most people would have expected.
Indeed, Westpac economists say with the earlier than expected opening up of the economy, they have revised up their GDP forecasts and now expect that when the economy emerges from the lockdown in the September quarter, GDP will be -2.8% lower than in the December 2019 quarter, before the virus arrived on our shores.
"We now forecast annual GDP growth for 2020 compared to 2019 will be -4% (previously -6%)," they say. 
They also say while there has been a sharp increase in unemployment, the earlier than expected rolling back of Covid-19 related restrictions on activity has meant that the extent of job losses had actually been more modest than they expected - having been braced for the loss of more than 100,000 jobs in the early part of this year.
"Furthermore, the opening up of the economy has meant that the weekly pace of job losses has slowed considerably, from more than 6,000 each week through April to around 1,000 currently. As a result, we have revised our forecast for the peak in unemployment to 8% (down from our earlier estimate of 9.5%), with that peak expected to occur in the September quarter."
But back on the GDP, and the March quarter, Westpac senior economist Michael Gordon's picking a drop of -1%.
"Our best guess is that without the lockdown period, we would have been forecasting a small positive for GDP growth for the quarter," he says.
"But gauging the impact of the lockdown itself is difficult, in terms of both its true impact and of how it will be captured in the official series. Stats NZ has identified a number of issues for the measurement of GDP – for instance, some surveys are held before quarter-end, so will have missed the crucial lockdown period. They note that they have reviewed alternative data sources, and will adjust the activity figures where they feel it's appropriate (as they did with the building work survey earlier this week).
"Consequently, the range of forecasts will vary widely. For example, the Treasury's Budget forecasts assumed a 0.7% decline, while the Reserve Bank's May Monetary Policy Statement projected a 2.4% drop. We suspect that our forecast of -1% will be around the middle of the range." 
ASB senior economist Jane Turner, in picking a 1.1% fall in March quarter GDP figures, also referenced the difficulties Statistics New Zealand will have had in pulling the figures together and she says the figures "should be taken with a huge grain of salt".
"StatsNZ has acknowledged methodology limitations and notes that we should expect revisions to its initial estimates of Q1 and Q2 GDP growth. Furthermore, from a policy standpoint, it's not so much the size of the fall, but the size of the bounce back which really matters. As a result, it won't be until we receive the Q3 GDP estimates (not released until the end of December) that we will know how much economic recovery really took place following the lockdown and what further support the economy will need over 2021," she says.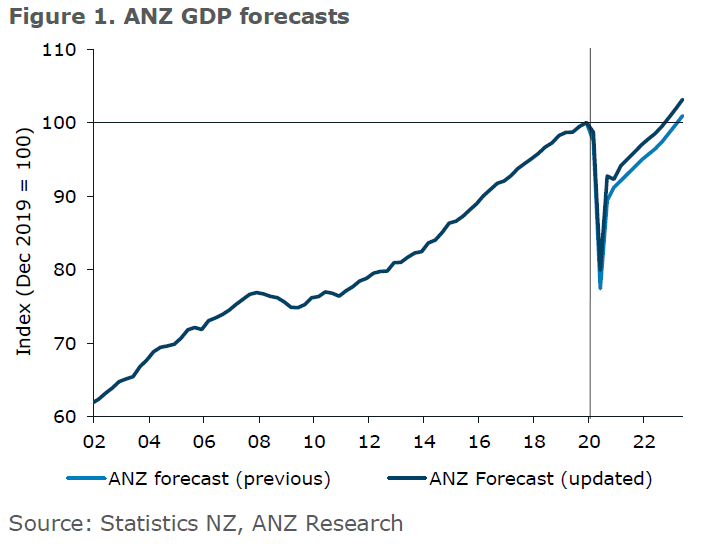 ANZ senior economist Liz Kendall is expecting first-quarter GDP to have contracted by -1.3%.
"Significant economic weakness will become clear in coming quarters and it's going to be ugly, but the recovery will now occur a little faster," she says.
"We have revised our forecasts up slightly We now expect that GDP contracted 20-21% over [the first half of the year] as a result of the Covid-19 pandemic and associated economic restrictions. This is less than the 22-23% fall previously estimated. The upward revision reflects that we have been able to move out of alert levels faster than previously expected."
For the year as a whole, Kendall says she now expects that GDP will contract 7-9% (previously 8-10%) this year.
"The recovery will still be slow, but it won't take quite as long for GDP to return to pre-Covid levels (end-2022 based on current forecasts, versus mid-2023 previously). We expect unemployment to peak at 10%, rather than 11%."