Time and again we've heard banks may be heading the way of the dinosaurs but they continue to thrive. Gareth Vaughan doesn't expect this to change anytime soon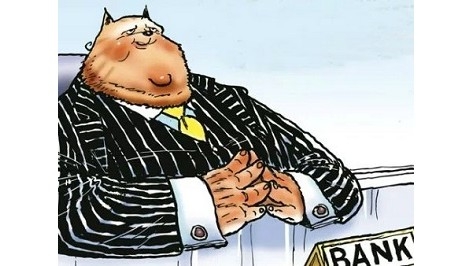 By Gareth Vaughan
Much as reports of the demise of American writer Mark Twain turned out to be wrong, so too have predictions of the demise of banks.
As long ago as 1994 Microsoft founder Bill Gates described banks as "dinosaurs" that could be bypassed.
More recently similar views have been espoused following the emergence of competition from peer-to-peer (P2P) lending, buy now pay later (BNPL) services, open banking, big technology companies moving into payments, and cryptocurrencies.
Of course there was also the reputational battering banks took through the Global Financial Crisis (GFC) when bankers blew up financial markets taking some of their own banks down with them and, Lehman Brothers aside, were bailed out with huge quantities of public money yet somehow avoided jail. There was also Australia's Royal Commission revealing damning conduct by the parents of New Zealand's major banks, including charging dead ex-customers fees.
Yet as we sit here in NZ in the middle of 2021, our banks are sailing serenely on. They're posting record profits against the backdrop of a global pandemic. In the March quarter alone the NZ banking sector recorded a 21% surge in net profit after tax to $1.643 billion. Does this seem like an industry under pressure?
Banks' cornerstone role in our credit/debt centric economy means with the onset of COVID-19, mortgage deferrals, the Government's wage subsidiary scheme, a record low Official Cash Rate, the removal of loan-to-value ratio restrictions, and quantitative easing, all combined not to merely keep the lights on, but to send housing lending growth into the stratosphere. For anyone who has been living under a rock, housing lending very much dominates overall lending in NZ, and banks led by ANZ, ASB, BNZ and Westpac, dominate housing lending.
Over the past few years various emerging competitors have been touted as having the potential to eat banks' lunch.
Emerging hot on the heels of the GFC, P2P lending appeared to have the potential, in time, to do to banks' consumer and SME lending what Trade Me did to second hand sales and newspapers' classified advertising, as well as posing a threat to banks' deposit gathering. Remember P2P sees companies licensed by the Financial Markets Authority run websites as intermediaries matching borrowers with lenders and charge fees for doing so.
But thus far it has only scratched out a miniscule niche in the NZ financial system.
We've also had the emergence of open banking. The idea behind open banking is it will give customers greater access to and control over their own banking data, and require banks to give competing third parties access to their systems. However, open banking's development in NZ, being overseen by Payments NZ - which is majority owned by ANZ, ASB, BNZ and Westpac - is proving to be very slow.
BNPL services, which allow consumers to purchase and obtain goods and services in-store or online immediately, but pay through installments over time, are certainly making an impression on banks' personal lending and credit card business as highlighted recently by credit bureau Centrix. Banks are certainly taking notice of BNPL, as are regulators who are likely being encouraged by banks. Commerce and Consumer Affairs Minister David Clark said in June a discussion paper on potential regulation of the unregulated BNPL sector will be issued later this year.
Last year I wrote about Visa and Mastercard and how they are adept at embracing new threats to their business. This enables them to clip the ticket when new payments technologies and services emerge. Visa calls this its "open partnership model." Banks are doing something similar. Just this week it emerged that Westpac is to be Humm Group's exclusive NZ partner for its Bundll BNPL service potentially taking up to a 49% shareholding.
The partnership with Bundll, which will use the Mastercard network, saw Lewis Billinghurst, Westpac NZ's head of digital ventures, gush that the "reinvention of consumer lending" by BNPL services appeals to Westpac. And Humm's deputy CEO Chris Lamers was equally excited, saying Humm "loves the idea of getting together with such a well known New Zealand company [as Westpac] to make sure as many kiwis as possible can get access to this product."
ASB also has a relationship with a BNPL service, Klarna, in which its parent Commonwealth Bank of Australia has invested. Klarna launched in NZ in May.
Back to Westpac, it has had a relationship with fintech Moven since 2014, with Moven today powering Westpac's CashNav app. Moven's founder Brett King hosted a show on Voice America radio called Breaking Banks and then partnered with one. And Westpac also took a 32% stake in open banking fintech Akahu last year. Even in P2P lending we've seen Heartland Bank take a shareholding in Harmoney, and both Heartland and TSB lending money through Harmoney.
All this reinforces the embracing of the Visa and Mastercard business model of partnering with threats to your business. This could be seen as a case of if you can't beat 'em join 'em, or perhaps keeping potential enemies close. And for newcomers partnering with banks, they are salivating at the prospect of gaining access to big bank customer bases and their rivers of gold revenue streams.
The threat technology giants such as Google, Apple and Facebook pose to banks has been well documented. But remember when Apple Pay first launched in NZ? It was via ANZ-issued Visa credit and debit cards before expanding to include the customers of ASB, BNZ, Westpac, plus the Flight Centre and Q mastercards.  And Google Pay? Yep, users also require ANZ, ASB and BNZ issued Visa cards.
Bloomberg reported this week that Apple is working on a new BNPL service that would let consumers pay for any Apple Pay purchase in installments over time. Guess what? There's a bank partner. It will reportedly use Goldman Sachs as lender for the loans needed for the installment offerings. 
Big tech certainly has huge potential in banking services. The Bank for International Settlements (BIS), the central bank's bank, last year estimated big tech companies peddled as much as US$572 billion of debt globally in 2019. And Facebook's push to develop the stablecoin Libra certainly lit a fire under central banks' moves towards central bank digital currencies (CBDCs). A stable coin is a type of cryptocurrency backed by a reserve asset, such as fiat currency or gold.
Announced amid much fanfare in 2019, the Libra project initially counted PayPal, Mastercard, Vodafone and eBay among its backers. However all quit. Last November the Financial Times reported Libra will likely launch this year, via a single coin backed one-for-one by the US dollar. It requires approval to operate as a payments service from the Swiss Financial Market Supervisory Authority. After its 2019 unveiling, Libra received a sceptical reception from global regulators, who warned it could threaten monetary stability and become a hotbed for money laundering.
In terms of big tech and banking services, a factor to watch I believe is the extent to which tech companies strive to avoid being regulated like banks. I expect they'll bend over backwards to avoid this.
CBDCs certainly have the potential to be very disruptive indeed for banks. These could be complementary to cash, and/or serve as digital fiat money. As I recently reported they could be used to cut out intermediaries such as banks, thus giving the public a much more direct relationship with their central bank. However, this scenario is not on the BIS agenda, with CBDCs being touted as a means of shoring up the status quo, private sector bank intermediaries, and all, in a world of big tech companies and cryptocurrencies. (The Reserve Bank is planning public consultation on the pros and cons of a CBDC).
In terms of cryptocurrencies, none of the country's big five banks (ANZ, ASB, BNZ, Westpac and Kiwibank) currently have any direct exposure to them. For now these banks are doubtless wary of the extreme volatility in cryptocurrency values in a wild west environment, and Anti-Money Laundering and Countering Financing of Terrorism Act requirements with cryptos receiving plenty of bad publicity.
NZ banks do need to keep their eye on the ball as we live in a fast moving world.The salutary lesson of Nokia is worth remembering. Things can change fast. Nokia was once the world's biggest and most successful mobile phone maker. But the Finnish company missed the smartphone boat and its cellphone business was sold to Microsoft.
In the foreseeable future no one appears set to eat NZ banks' lunch, but the banks may have to share more of it. Anything's possible in the long-term. But given the dominance of property in our financial system, and banks near total dominance of property lending, making decent inroads into bank lunches will require some major muscling in on the housing market.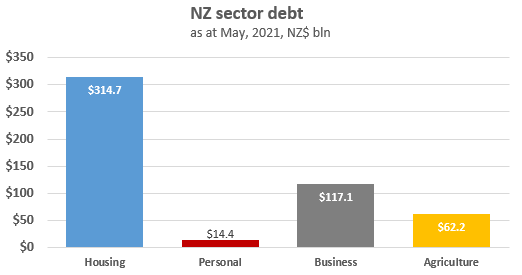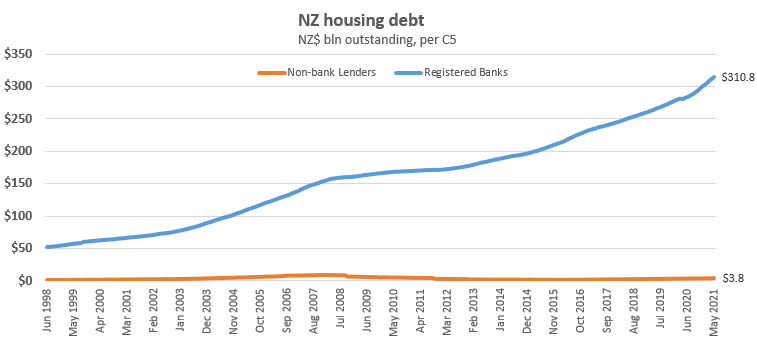 *This article was first published in our email for paying subscribers early on Friday morning. See here for more details and how to subscribe.