David Hargreaves looks at some of the options in the long-running saga that has been the Reserve Bank's quest for a debt-to-income measure for the housing market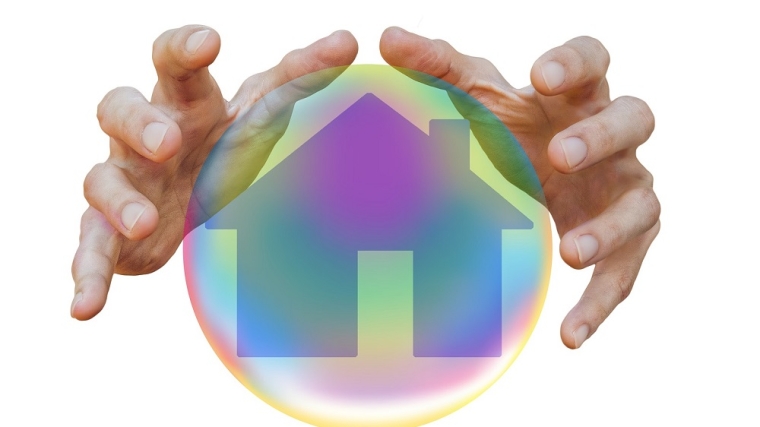 Time can be a very deceptive beast.
In looking back through the interest.co.nz archives to find information on the Reserve Bank's, I would say, embattled efforts to get itself a debt-to-income (DTI) tool to aim against the housing market, I discovered, somewhat to my horror, that I've spent about six years of my life following this increasingly tortuous quest. 
The RBNZ's battle for a DTI measure to slip into its 'macro-prudential toolkit' has simply been running for even longer than I thought. 
In fact, clearly our central bank was starting to have regrets and beginning to think DTIs were a good idea not so very long after it had signed off on the creation of the macro-prudential toolkit with then Finance Minister Bill English in 2013. Why on earth the RBNZ did not seek to have a DTI measure at the time the original macro-pru kit was being put together remains one of the great mysteries. The RBNZ could have saved itself a lot of time and anguish if it had simply sought the inclusion of DTIs then - because it most definitely would have got Ministerial sign-off for them.
By 2015 it was clear the RBNZ was regretting the omission, as it was starting to compile a lot of info on debt-to-income ratios, whilst at that stage not admitting to coveting them. But then in May 2016 after releasing one of the most unremarkable Financial Stability Reports ever, there was a most remarkable media conference at which, first the then Deputy Governor Grant Spencer revealed the RBNZ's enthusiasm for DTIs, and then this was confirmed and further commented on by then Governor Graeme Wheeler. This apparently unscripted reveal was very untypical of the RBNZ, certainly in pre-Adrian Orr-days.
But then again, It was not obvious at that stage just how political the whole issue was becoming around the housing market and RBNZ efforts to control lending. Loan to value ratio (LVR) limits had been included in the original macro-pru kit and of course they had been in use since 2013. And with the initial iteration of those LVR measures having clearly disadvantaged the first home buyers, it seems politicians across the house had become very leery of these macro-pru measures. For some reason politicians appear to develop an aversion to anything that might be toxic for them in the ballot box.
So, the short version of what happened subsequently is that in 2017 then Finance Minister Steven Joyce neatly pushed back at the RBNZ's efforts by getting it to undertake public consultation - which delayed/got us through to the 2017 election, after which the whole issue then got swept up in the incoming Labour-led Government's moves to review and overhaul the RBNZ.
And now it's getting towards the end of 2021 and the RBNZ will get its DTIs but issues remain, not least the vexed (from a political perspective) question of what treatment the FHBs get.
All of which helps to complicate a complicated picture. 
While people might think they know what they will get with imposition of a DTI measure, the reality is it has never been spelt out exactly what might be applied. And given all that's happened, I don't think we can make any sweeping generalisations about what we will get, or when.
I guess the general assumption has been that a DTI limit when applied here would be some kind of limit that relates to the number of times the size of mortgage exceeds the annual household income. So, in very basic terms a DTI limit of five would mean someone on an annual household income of $100,000 could borrow up to $500,000. 
But in its desire to get get Finance Minister Grant Robertson to sign off on the DTI measure, the RBNZ came fairly close to promising it wouldn't set a limit of under six and maybe even seven.
It's worth at this point dropping in (chart is from the RBNZ) details of what some countries that have DTI measures actually apply. A DTI limit of six or seven would certainly put us well above what some other places are doing: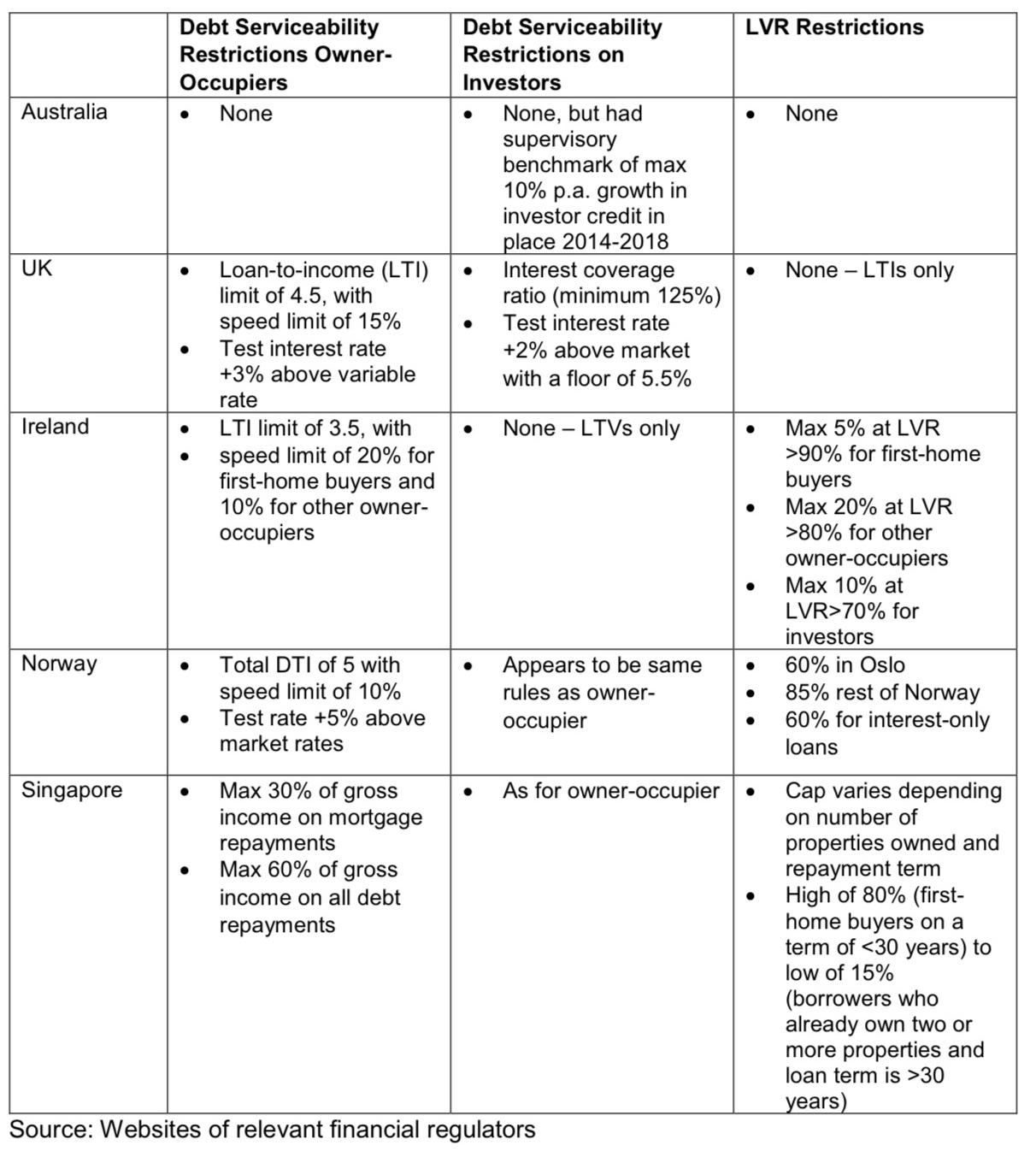 The Singapore one looks interesting.
And it's worth refreshing recent memories of what the RBNZ is considering - because clearly the straight out DTI limit as we've imagined might not be what we end up with.
This is three potential options as canvassed in the rejigged Memorandum of Understanding between Finance Minister Grant Robertson and RBNZ Governor Adrian Orr:
Debt-to-income ratio restrictions – cap on mortgage debt (or total debt of a borrower including mortgage debt) as a multiple of income;
Debt-servicing-to-income ratio restrictions – cap on the percentage of a borrower's income that can be allocated to servicing debt payments;
Interest rate floors – floor on test interest rates used by banks in their serviceability assessments.
So, option one is the DTI limit as we've imagined it.
Option two is more the Singapore style - and I do wonder whether we might be better to go down this path. Somehow I reckon an absolute limit in this way might be less ambiguous. 
The other thing is - if the RBNZ really would be forced for the sake of FHBs/Finance Minister to make an overall DTI limit as high as say seven, then this could be pretty meaningless. Applying a more specific case by case, more direct style of limit could work better. And it might focus the minds of folk on such limits a bit better.
I hope this second option is carefully considered. Yes, I do see potential problems with it (what happens if your mortgage payments go up to the point you suddenly exceed your income ceiling) - but arguably that also makes it a more responsive way of operating a debt-to-income control than simply saying at the outset you can borrow seven times what you earn. It would better capture the ups and downs of interest rates. It just looks more hands on and much clearer. It would also possibly allow for some differentiation, if wanted between buyer groups, IE say an FHB could have an income-to-mortgage limit a few percentage points higher.
All this of course is going to take time. The RBNZ is not planning to begin consultation till October.
Before we get a DTI 'proper' we'll very likely end up with the third option on that list above, the 'interest rate floors'. These are something the banks themselves have stated a preference for and could be implemented at short notice. Basically it would involve the RBNZ applying a standard 'test' interest rate for the banks with new mortgage applications. 
The banks of course all apply their own test interest rates (set above prevailing rates) to check that would-be borrowers have the flexibility to meet changed payment requirements. As real interest rates have fallen, then so the rates applied by banks in their tests have fallen too. As can be seen in this graph from the RBNZ's May 2021 Financial Stability Report: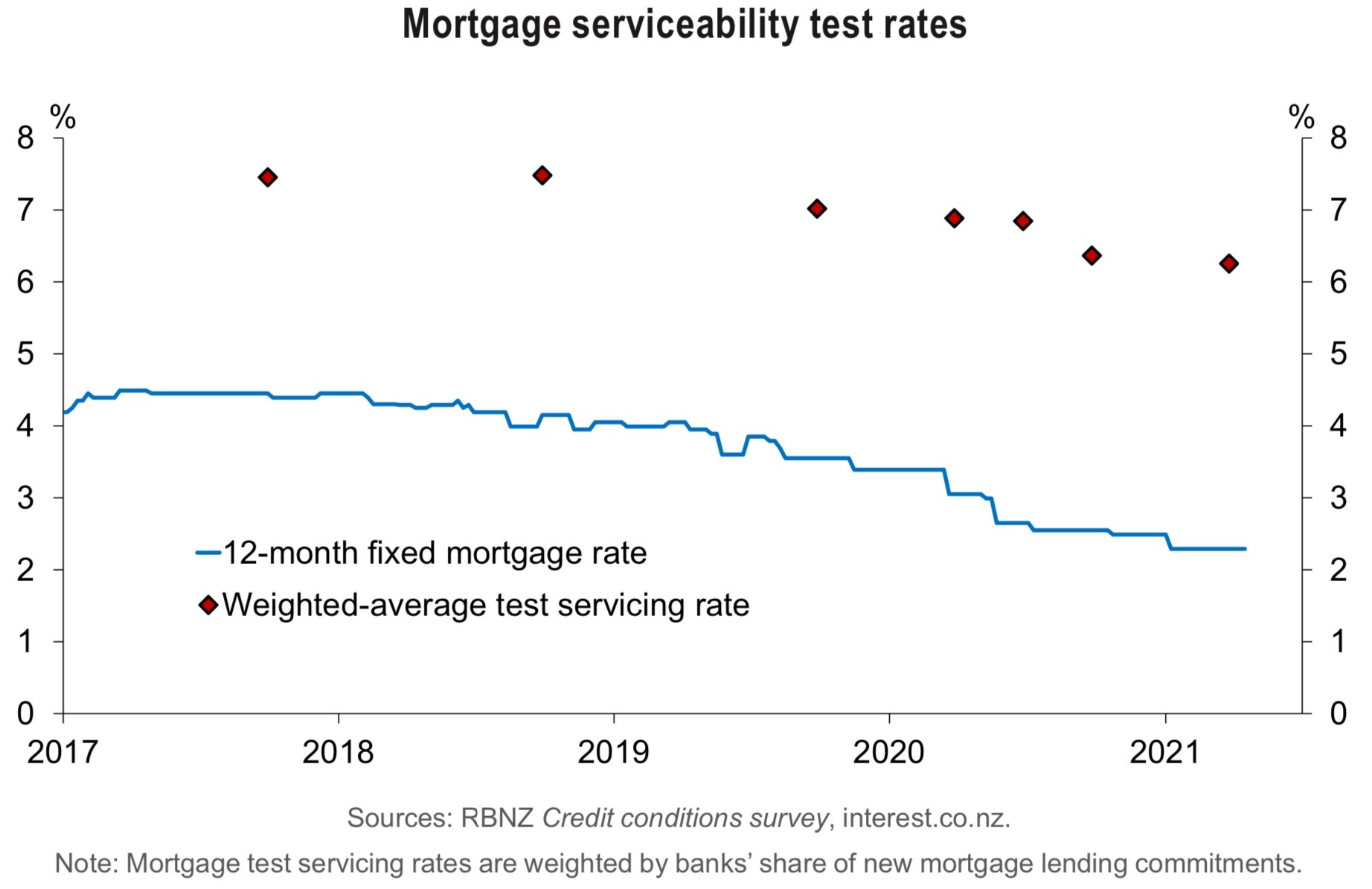 It is to be imagined that a standardised interest rate floor would work quite well as an interim measure. Indeed, I can well imagine the banks might yet be pushing for this measure to be implemented instead of a DTI measure.
Actually I don't see why you couldn't have both. 
But there's clearly a lot to be resolved here. Not least of the issues also is how any DTI regime would fit in with the LVR limits. Would it replace them, or could they be complementary?
Given what's happened in the housing market, and the number of measures that have already been thrown at it, from the Government's March tax moves to the new RBNZ tighter LVR rules, there's arguably now no point in trying to urgently put these DTI measures in place.
Better to get them right. And having waited so long, too long, for them, there's probably no point rushing them now. 
It is going to be very interesting to see how it all evolves though.
*This article was first published in our email for paying subscribers. See here for more details and how to subscribe.