Rising interest rates will be a very new challenge for many to face this year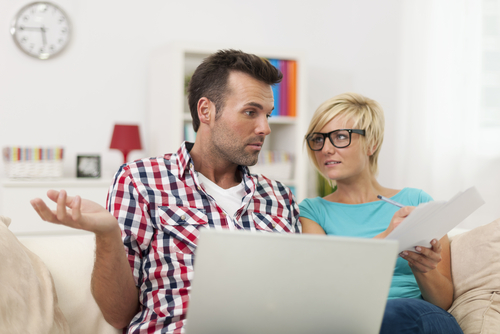 By David Hargreaves
Thousands of Kiwis will one day very soon face something completely new to them - an increase in mortgage payments.
Yes, for the first time since 2010, floating mortgage rates are set to rise.
And for recent first-time homeowners this will be completely fresh terrain. For the more seasoned it will bring back unwelcome memories.
The Reserve Bank is set to make its latest call on interest rates on January 30. The RBNZ's Official Cash Rate was lowered to the current 2.5% level as long ago as March 2011.
Since then there has not been one subsequent review in which there has been a serious chance that rates may rise (although further falls were speculated for a while).
But now with the January 30 review there really is a real chance that rates may be increased.
It is still just a chance, mind. The greater probability remains that our central bank will await its next full Monetary Policy Statement in March before unholstering its guns and raising rates. That way it will be able to fully explain its actions in the documentation and accompanying press conference.
But whether it is January 30, or March 13 (the next review date, possibly unlucky for some) a rate rise is virtually certain. That is, unless there is some untoward external intervention, such as a massive global financial crisis or a natural disaster. And nobody needs reminding that we've had both things within the past six years, so nothing in life is certain.
25 basis points
All things being equal though, a rise, presumably of 25 basis points, will be made, lifting the OCR to at least 2.75% by the end of March.  As things stand at the moment the rise will be the first of at least a few this year. Some economists are now tipping the OCR may be as high as 3.75% by the end of the year. 
The Reserve Bank itself is currently indicating that it sees the OCR peaking at 4.75% in early 2016, following what it expects to be a series of rises to rein in inflation that is expected to be generated by New Zealand's now strongly recovering economy.
All very well, but what does this mean to the homeowner/mortgage holder?
As suggested at the top of this story it means that thousands of Kiwis who have taken up mortgages for the first time in the past few years will not have faced an increase in their monthly mortgage payments before. It will be a novelty. But it's a novelty that might wear off pretty quickly.
The last time the RBNZ increased the OCR was in 2010. Floating rates on new mortgages, according to RBNZ figures, rose at that time on average to 6.36%. Since the drop in the OCR to 2.5% in March 2011, following the second Christchurch earthquake, the average effective rate on new floating mortgages has settled at around 5.87%.
According to RBNZ figures again, the average size of floating mortgage - bearing in mind this includes all existing mortgages, even those that might be close to full repayment - is a touch under $100,000. Interest.co.nz's mortgage calculator gives a current monthly repayment on a standard $100,000, 25-year, mortgage of $636.
Not breaking the bank
If it were to be presumed that the banks simply pass on the expected 25-basis point rise - and the ifs and whats of that particular topic are discussed further down here - then our imaginary mortgage holder's monthly payment would rise to $652. That's a $16, or 2.5%, rise. This is hardly something that would break the bank, or at least, the person paying the bank.
But what about those who are pushing out the boat a little more with the size of mortgage? Anybody who might have borrowed 80% of the value of a house priced at the current national median of $427,000 would have a hefty $340,000 mortgage and be currently paying $2164 a month. Adding 25 basis points to this would push the payments up by $52 a month to $2216 a month, according to the interest.co.nz calculator.
And if we push the boat out even further and go with the example of somebody borrowing 80% on the Auckland median-priced house (a snip at $600,000), this would give a $480,000 mortgage costing $3055 a month now and $73 more at $3128 after the rate rise.
The figures suggest that, at least initially, the rate rises are not going to cause unbearable hardship.
Don't grumble
Anybody inclined to grumble should consider the fact that as relatively recently as mid-2008, floating mortgage rates were about 10.9%. And there are grey-haired people around (assuming they didn't lose it all through worry) who can recount what it was like to be paying 20.5% in mid-1987.
But after that has been said, this year may yet prove to be a considerable challenge for the homeowners.
There are a couple of things that suggest Kiwis may not be as physically or mentally prepared for rate rises as they perhaps might and should be.
It's clear from some of the comments we see on the interest.co.nz website that some people don't see a case for interest rate rises and are not inclined to believe the rates will rise. While, as indicated earlier, nothing is certain, its is fair to say we've been living in an environment of unusually low rates. They will go up. And the economic evidence, including a now less than benign inflation picture, is continuing to point to the need for rate rises this year.
Are you ready?
Nevertheless some people may not be mentally prepared for higher mortgage payments. It's surprising how quickly an unusual situation (low rates) becomes a comfortable status quo that we don't expect to change.
And how physically prepared - that is, financially, are kiwis?
One thing the RBNZ keeps a close eye on is the indebtedness of people. If you go back before 2000, the RBNZ statistics show that the household financial liabilities of Kiwis represented on average less than 100% of their disposable income. In 2000 the 100% threshold was crossed. Incredibly the percentage figure kept on soaring, hitting the 150% mark in March 2007, before topping out at 153% That's right, New Zealand households on average had financial commitments one-and-a-half times the size of their disposable income.
In the more austere days after the global financial crisis, greater numbers of Kiwis were saving their pennies and reducing debt levels, with the indebtedness figure dropping to 142% by March 2012. But since then it has been on the surge again as credit growth has resumed more strongly. As at September, the latest figure available, the percentage had risen to 148%.
It is worth bearing those figures in mind, and putting them up against previous times when the Reserve Bank has pushed the button on interest rates, which you can see in graphic form here.
When it goes, it goes
Another thing to bear in mind is that when the RBNZ decides to push that interest rate button, it can do so pretty decisively. All those who doubt that the RBNZ could raise rates by perhaps 125 basis points this year need to consider the fact that in the past the RBNZ has hiked the OCR by as much as 200 basis points - in as short a period as just seven months (November 1999 to May 2000).
So could the RBNZ lift rates 125 basis points this year? If it feels it needs to, you bet. And it won't be swayed by any amount of carping from homeowners. If inflation needs taming, then that's what the RBNZ will do.
But back on those interest rate cycles and referencing them to the relative indebtedness of Kiwi households. That very stringent 200 basis-point hiking push that occurred in 1999-2000 did so when the financial liabilities ratio to household disposable income was hovering around 100%. When the OCR was lifted 150 basis points during 2004, which was the trigger for a whole series of rises over the next few years, the ratio was up to about 125%.
Remember the figure is now 148%, which suggests that we are starting this round of rate hikes with the financial position of households looking much more vulnerable.
So, with that in mind, it is worth getting back to painting some scenarios. Using the mortgage examples given higher up the article, if the RBNZ was to lift the OCR to 3.75% this year - a level I think it will hit - then if the increases were fully passed on by banks, floating mortgage rates would be around 7% by the end of the year.
That means that someone with a $100,000 mortgage, currently paying $636, would then be paying $707 a month. If the RBNZ's right about where it will end this cycle of rate rises - that is an OCR of 4.75% by early 2016 - then the monthly mortgage payment, assuming an interest rate of 8%, would be $772 a month - which is 21.4% more than is being paid at the moment. 
Higher still?
What if the RBNZ is wrong and it will need to raise rates higher? Sad to say that in the past the central bank has been forced to raise rates higher than it and others may have expected at the time it started increasing the rates.
For slightly playful comparison purposes, it's worth adding into our scenario how much a 10.9% interest rate (the peak of the last housing boom in 2008) would cost. Well, it would be $973 a month, which is over 50% more than current payments. Unbelievably, a 20.5% rate (surely such rates could never be reached again!?) would give a $1719 a month payment. How did they do it?
Returning to the (hopefully more likely!) interest rate scenarios, and applying them to the bigger mortgage examples quoted earlier, that $340,000 mortgage currently costing $2164 a month would zoom up to $2403 at a 7% mortgage rate and $2624 at 8%.
Our brave Auckland buyer with the $480,000 mortgage, currently being charged $3055, would face bills of $3393 at 7% and $3705 at 8%.
The 10.9% and 20.5% scenarios are not included on these examples as the figures may cause some people to have to go for a lie down! Don't let me stop you working them out yourselves, however.
But the point is, depending on what happens this year, people may have to be very conscious of a need to give their finances some "wiggle room" for if the worst, or even the generally anticipated path, of interest rates materialises.
One thing that can obviously be done to insulate yourself is fixing your mortgage rate.
A dynamic situation
There is an interesting dynamic around that.
In the early 2000s, amid the housing boom occurring then, there was a massive move by homeowners to fixed mortgage rates - which the banks were able to increasingly offer due to the presence of vast amounts of cheap money available offshore.
RBNZ figures show that as of March 2007 at the height of the housing boom only about 14% of mortgages by value were floating - the rest were at fixed rates.
This of course made the RBNZ's job very tricky. Our central bank raises the OCR expressly so that people will have to pay more on their mortgages and thus be spending less elsewhere, so dampening demand in the economy and taking the heat out of inflation.
But if large numbers of people are impervious to the effects of rising mortgage rates - because they have a locked in rate - then their behaviour is not affected and the desired dampening impact doesn't occur.
Problems, problems
And this was the problem the RBNZ had once it started seriously pushing up the OCR in the mid-2000s. There was a very long lag in terms of impact on inflation and so interest rates ended up being higher than would arguably have been needed if more people had been on floating mortgages.
Of course once the bubble was burst after the global financial crisis and low interest rates were here to stay (for a while), then so people jumped out of fixed mortgages and back into floating.
By March 2011 the proportion of mortgages by value on floating rates had exceeded those on fixed and by April 2012 the proportion on floating was up to as high as 63%.
But as it has become apparent that low rates will not prevail forever, then so the trend has reversed again. In May last year the value of fixed rate mortgages passed those on floating again and as of November 2013, the latest available figures, the proportion on floating was just 42.5%.
In a better place
But while you would expect that proportion to shrink further in coming months, the RBNZ is actually in a much better position at the start of this cycle than it was last time - remembering that in the mid 2000s the proportion of floating mortgages was very low (around 14%). 
With something over 40% of mortgage money on floating rates then any moves by the RBNZ to jack up the rates will quickly hit pockets.
Those looking to fix their rates now will find that already, in anticipation of rate rises, they are being asked to pay more on fixed rates than they were before Christmas. 
With bank swap rates having moved up something like 50 basis points (the one-year rates) since the end of October, the effective fixed mortgage rates as measured by interest.co.nz have increased by 23 basis points since the end of last year to a new effective average rate of 5.45% for one year.
On the move
So rates are already on the move as our efficient financial markets anticipate what will happen.
The only real question is how much of any increases in the OCR from the RBNZ will be fed directly into mortgage rates. The banks themselves, perhaps a little glibly, are currently talking as though all of them will.
But competition for banking business is very tight and it only takes one bank to hold out against the tide for the full cost of RBNZ increases to not end up in mortgage rates. Obviously if one bank holds out with lower rates they will tend to attract a lot of new customers away from their competitors.
Therefore while banks may technically see the need to increase their rates in line with OCR moves they will first and foremost have to consider their competitive positions - so they may well hold rates down if competitors do that.
So, while this writer's best guess would be that certainly the first OCR hike will be fed directly into new higher mortgage rates, it cannot be concluded with any certainty that all the future rises we see this year will be.
But unfortunately, nobody should be ruling out 7% rates by next Christmas either.
"Be prepared" needs to be the motto for the homeowner in 2014.