Roger J Kerr says because mortgage holders aren't fixing long, OCR increases this year and next will bite the retail and housing sectors earlier and harder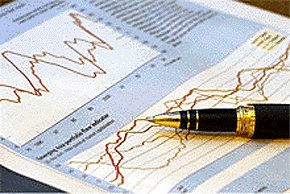 By Roger J Kerr
The next six months, up until the general election in September, in both the housing and retail sectors in the NZ economy is going to be a very interesting period to observe.
Interest rate increases for mortgage borrowers after five years of very low and stable borrowing rates are going to have an adverse impact on consumer confidence, spending and the residential property market sentiment.
Just how far discretionary spending is pulled back by households with mortgages remains to be seen.
While the current and future interest rate increases have been very well signaled and signposted in advance by everyone from Graeme Wheeler to Mike Pero, the gut feeling is that the vast majority of home mortgage borrowers have not adjusted their spending habits to the new interest rate reality.
The closing of wallets may well be more pronounced than what most expect.
The counter-argument is that there is super confidence in job security and thus the ability to leverage the boss for a larger pay increase to meet the monthly mortgage payments.
Depending on the industry sector, I would not be so sure about that.
Anecdotal reports from the banks is that more and more mortgage borrowers are now fixing, however there is no apparent mad rush that in the past would have pushed two-year swap rates up in the wholesale interest rate swap market.
Many borrowers will be examining the 0.50% gap between variable mortgage rates now at 6.00% and two-year fixed rates at 6.50% and deciding to stay at the lower variable rates for a few more months yet.
How much the two-year swap rates increase following the April and June OCR increases will be interesting, my bet is no more than 0.25% higher to 4.25% and thus the two-year mortgage borrowing rate will be 6.75% by June/July.
Looking further ahead, on the assumption the economy and currency are in line with RBNZ forecasts and assumption over the next 18-24 months, successive OCR increases to 5% will have variable mortgage rates at 8% by the end of 2015.
Therefore, borrowing four years fixed today at 7%-7.2% is comparable to the likely average variable mortgage rate over the next two years of 7.2%, plus there is the advantage of being fixed at 7% against variable rates of 8% over the last two years of the fixing.
Thus, sensible and logical economics to fix for four years, right?
So the banks must be inundated with demand to fix for this term?
I doubt that they are.
Many borrowers cannot afford 7% today and most just borrow at the lowest available interest rate and have no view of the future risk.
The low level of mortgage fixing on this cycle means that the OCR increases this year and next will bite the retail and housing sectors earlier and harder than what most imagine.
Businesses dependent upon the retail and housing sectors need to be aware of this risk that most economic/market commentators appear to be underestimating.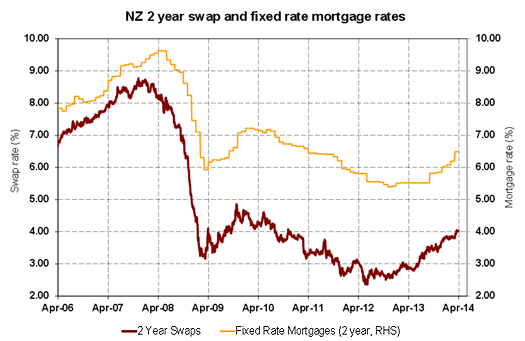 -----------------------------------------------------------
To subscribe to our daily Currency Rate Sheet email, enter your email address here.
Roger J Kerr is a partner at PwC. He specialises in fixed interest securities and is a commentator on economics and markets. More commentary and useful information on fixed interest investing can be found at rogeradvice.com