Jenée Tibshraeny on why you shouldn't believe what Wheeler has to say, whether millennials are really doing it tough, what middle-class China actually looks like, the CBA scandal & more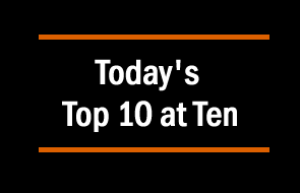 Here's a list of items from the internet that have caught the attention of interest.co.nz's Jenée Tibshraeny. 
We welcome your additions in the comments below or via email to david.chaston@interest.co.nz. If you're interested in contributing the occasional Top 10 yourself, contact gareth.vaughan@interest.co.nz.
See all previous Top 10s here.

1. "Be very careful taking any speech that Governor Wheeler might give at face value."
BNZ's head of research, Stephen Toplis, has hit-up the Reserve Bank Governor for changing tack on the course everyone thought he was on, by cutting the Official Cash Rate to a record low of 2.25% yesterday. Toplis has been brazen in his commentary, saying:
This is the second time in two years that we have listened to a speech by Graeme Wheeler and been stupid enough to pay attention to it. For example: 

In Wheeler's February speech a lot was made of the Bank's factor model showing core inflation to be at 1.6%. A level which was seen as "encouraging" and "well within the target range". Now this core measure has been seemingly ditched and instead we are told we have "subdued core inflation relative to history across a number of measures". 

Wheeler also said that "the Bank would avoid taking a mechanistic approach to interpreting the PTA. Some commentators see a low headline inflation number and immediately advocate interest rate cuts". Looks like some central bankers now fall into the same category. 

Concerns over "creating serious distortions in the financial system, housing market, and broader economy" seem to have dissipated. 

As has the desire to look through movements in oil prices... 

Where to now becomes a very interesting question? Is the "new" way of looking at things by the RBNZ here to stay or will its approach be upended again? 
2. How concerned should we be about foul play allegations at CBA?
Fairfax journalists in Australia have this week published a series of stories exposing how Commonwealth Bank's insurance arm, CommInsure, has allegedly used unethical tactics to get out of paying people's claims. CommInsure is accused of manipulating medical reports so that claims that should be accepted are declined.
The bank's former chief medical officer has filed an unfair dismissal claim, as he says he was sacked for being a whistleblower, having gone to the media after his concerns about CommInsure's practises fell on deaf ears among the bank's board.
The Australian Shareholders' Association has also called for a royal commission into the insurance sector and urged the Commonwealth Bank, which is ASB's parent, to "start taking ethics seriously".
CommInsure has responded by promising to make a raft of changes to its systems, including appointing an independent expert to oversee a claim review program focused on declined claims.
Reflecting on the investigation, Fairfax journalist Adele Ferguson says, "Until the cases became a media threat, the bank had treated these people, its policyholders, with disdain. It had a system geared towards denial and delay."
Some Cantabrians still battling their insurers to have their quake claims paid undoubtedly have similar stories to tell as those Fairfax have profiled in their investigation. I would be interested to hear what experiences people have had with life insurers in New Zealand.
3. The cost of preventing money laundering and the financing of terrorism.  
A World Bank manager and economist, Dilip Ratha, highlights the magnitude of people in developing countries reliant on funds sent to them from family members in other parts of the world, during a time tough anti-money laundering laws are causing banks to stop doing business with money remitters.
In a TED talk he says that in 2013, international migrants sent US$413 billion home to families and friends — three times more than the total of global foreign aid. Of the 232 million international migrants around the world, 180 million from poor countries send money home regularly.
Ratha calls for regulations on small remittances under US$1000 to be relaxed. He also wants to see non-profit organisations create a remittance platform on a non-profit basis to serve the money transfer companies so that they can send money at a low cost, while complying with the law.
Ratha's comments are interesting in light of the fact money remitters and banks in New Zealand are awaiting a High Court judgement that will determine whether Kiwibank can choose to close a remittance firm's bank account due to money laundering risk. The ruling will be far-reaching and affect the way both industries do business. See this interest.co.nz story, and this one, for more.
4. An insight into the man who runs one of NZ's most successful companies.
Listener contributor Guyon Espiner has written an excellent personal profile on Christopher Luxon that makes you feel like you've just met the Air New Zealand CEO yourself.
Espiner explores how Luxon's financial and moral compass guides an airline that's just made a record profit and is key to New Zealand's economic success. He describes Luxon, saying:
There are similarities with John Key. Grew up in Christchurch. Married early and stayed married. Has a son and a daughter. Made it big in business overseas and returned to a top job. Wants the silver fern on the flag. He's relaxed and informal and doesn't try to assert his authority. He has a loose style of speech and comes across as an Everyman, but when the game face comes on he has a striking ability to marshal the data and has a child-like love of the pursuit.
I am always interested to find out what drives the movers and shakers in our community. I think there's room in New Zealand's media landscape for more of this kind of journalism.
5. You'll get a good job if you go to law school: Yeah right.
A US lawyer is suing the university she graduated from in 2008 for defrauding law school applicants by inflating its figures around the number of grads who get jobs and the salaries they earn.
With a US$170,000 student loan and having not had a full-time job as a lawyer since graduating, Anna Alaburda says she wouldn't have enrolled in the Thomas Jefferson School of Law if she'd known its statistics had been fudged.
Yet the Thomas Jefferson School of Law isn't the only university allegedly talking itself up. More than a dozen similar suits have been filed in the US in recent years, but this is the first one to approved by a judge and make it to court.
This chart shows just how dim prospects are in the US legal market, thanks in part to law firms trimming their numbers post-recession.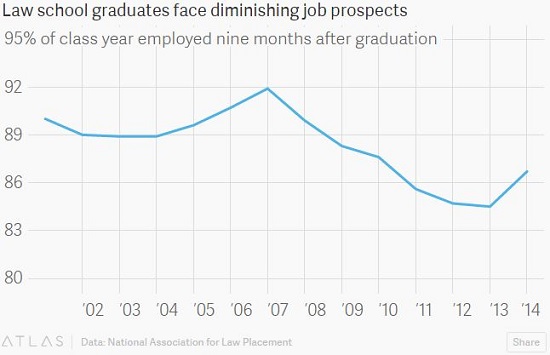 Anecdotal evidence suggests job prospects and salary levels for law grads in New Zealand aren't that rosy either.
6. How tough are millennials doing it?
Are millennials really that hard done by? NZ Initiative economist, Eric Crampton, has responded to a report in The Guardian detailing how young peoples' incomes have been declining in other developed countries, by saying we're doing ok.
Compare this graph from The Guardian…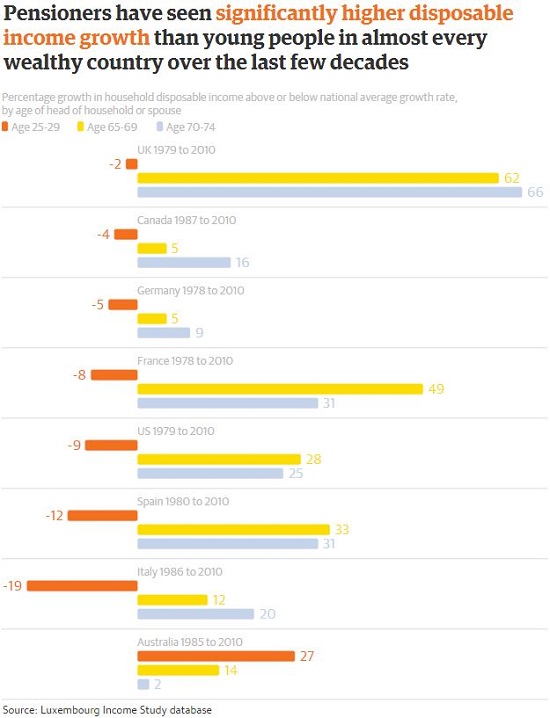 With this one Crampton made using Stats NZ data…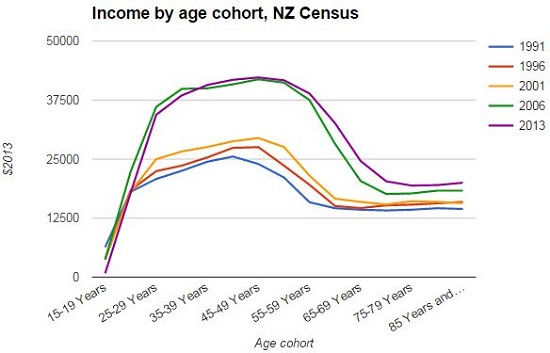 Crampton says, "New Zealand isn't doing too badly compared to the international experience. But the international experience isn't good. And New Zealand has a bad habit of just assuming that whatever's reported in the Guardian about the US or UK is also true here.

"Youths locked out of housing by the Auckland gerontocracy could be excused for not noticing their very real growth in real incomes as compared to the 1990s; it's all being eaten up by housing costs."
7. Reverse migration in China.
China's slowing growth is sparking a spate of de-urbanisation, as people laid off from their jobs in the city retreat back to the rural areas they grew up in.
This 5-minute long New York Times documentary humanises the economic speak we hear about China moving from a manufacturing to a services sector economy.
It follows a middle-aged worker who heads back to the countryside after the sudden closure of the shoe factory he worked at in Dongguan.
The video shows the desolate streets of the once 'sneaker capital' of the world, as factories are moving from China to parts of South East Asia.
8. How much money China's middle class really has – a bit of perspective.
Bloomberg reports:
Beijing recently overtook New York as the 'Billionaire Capital of the World' and country-to-city migration is at its highest level in recent history. But China's average annual wage was 56,360 yuan (US$8,655) in 2014, and Goldman Sachs estimates that 387 million rural workers — half the working population — earn about US$2,000 a year. 

The average Chinese consumer spends US$7 a day, according to Goldman Sachs. Food and clothing make up nearly half of all personal spending, with 9.2 percent allocated to recreational activities like travel, dining out, sports and video games.  The average American spends US$97 a day, 17.3 percent of it on recreation.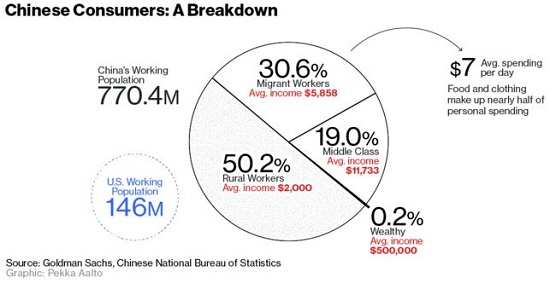 9. "The truth is like poetry and most people f***ing hate poetry."
This is a great line from The Big Short. It's a comment, author Michael Lewis heard in a Washington bar that was quoted in the Times and the Week.  An underlying theme in the story is truth, and how people do or do not accept it.
The Big Short is a black satire on the 2008 financial crisis, which brings us shoulder to shoulder with a small band of Wall Street "outsiders and weirdos" who spotted the worsening fault lines in the bedrock of the US economy three years early, and reacted by betting against it and crossing their fingers for disaster. 
The film is well worth a watch (or re-watch) if you haven't already seen it.
10. Behind the gloss of Silicon Valley.
What images come to mind when you think of Silicon Valley? Slick, industrial-looking open-plan offices? Scenes that could be mistaken for the set of a science fiction movie?
A New York Times photographer has taken a series of photos capturing how the tech geeks of Silicon Valley really live. She writes:
The tech boom has contributed to growing income inequality in the area. And many of the young transplants profiled below are not among the area's elite, at least not yet. They often live on the cheap while working on their companies, a process known as bootstrapping.

They work long hours with hopes to build empires. And their lives are intertwined: They live with each other, network with one another in co-working spaces, compete with everyone and party together.

Over the last few months, the headlines have changed, amid gyrating tech stocks and questions over the broader economy. For every success story, there will be many more failures. Yet most of these dreamers believe that the industry remains a true meritocracy: that those who deserve to succeed will do so.