Brian Fallow runs the ruler over Labour's fiscal plan and looks at what spending plans from Grant Robertson might look like compared to those from Steven Joyce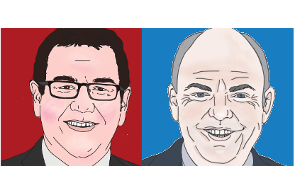 By Brian Fallow*
Chances are the next three budgets will be written either by Steven Joyce or Grant Robertson. 
With the release of Labour's fiscal plan last Wednesday we now have a clearer idea of how they would differ. 
Labour would spend more. The big ticket items are $4.7 billion more for health, $4 billion for the families income support package announced two weeks ago and $2.5 billion more on education. Altogether, including $500 million more in interest costs reflecting a slower reduction in debt, it has committed to a cumulative $13.2 billion more than National in core Crown expenditure over the three years to June 2021.
That does not include $2 billion to kick start KiwiBuild and $3 billion for an earlier resumption of contributions to the New Zealand Superannuation Fund, both of which count as capital spending rather than part of the operating budget.
So how would that $13.2 billion gap between Labour's spending commitments and National's be bridged? 
Only about half of it from a higher tax take. 
Robertson expects to have $6.8 billion more tax to play with over the three years. Scrapping Joyce's planned tax cuts next year – relief for seven and a half years of bracket creep – would save $5.8 billion.
Most of the other billion is supposed to become from brandishing a diverted profits tax at multinationals. Labour has pencilled in $200 million a year more than the Government from that source, with Robertson citing evidence from Inland Revenue to the finance select committee. 
Going after "property speculators" through ring-fencing negative gearing and pushing out the bright line test for capital gains is only expected to yield a total of $180 million over the three years.
But clearly the higher expected tax take still leaves a substantial funding gap. 
The biggest contribution to bridging it comes from allowing Robertson much less scope than Joyce for new initiatives in future budgets. 
It is standard and prudent practice for budget forecasts to include a line, the operating allowance in the jargon, that allows for new initiatives, whether on the spending or revenue side, to be announced in future budgets.
Joyce's Budget two months ago pencilled in a cumulative $11 billion of unallocated spending over three years to June 2021. 
The equivalent provision in Robertson's alternative budget, identified as the "spending allowance for unannounced policies" totals $5.8 billion over the same period. 
That would give him a bit under $1 billion of new (previously uncommitted) money in each of the next three budgets, compared with a bit more than $1.7 billion for Joyce. 
But the combined effect of the higher tax take and an operating allowance $5.2 billion less roomy than Budget 2017 provides allows Labour to forecast that it will run surpluses (in the operating balance excluding gains and losses) of $16.3 billion over the three years to June 2021 -- just $1 billion less than National's. 
By the same token the $5.2 billion smaller allocation for new money means that the net difference between core Crown expenses for National and Labour over the next three budgets would be just $8 billion or 3 per cent. 
You could call a 3 per cent increase in spending by Labour (again this excludes KiwiBuild and Cullen fund contributions) either reassuringly modest or disappointingly unambitious, depending on your point of view. 
It is only fair to say that the operating allowance is a number that moves around, depending on how fiscally constrained the Government of the day feels at Budget time. Under National it has gone from zero (remember those "zero Budgets"?) to $1 billion a year to $1.5 billion to $1.7 billion in the latest Budget.
But the obvious question raised by Labour's comparatively stringent $1 billion a year allowance for as-yet-uncommitted spending is how a Labour-led Government could accommodate fiscally expensive policies from its potential coalition or support partners, the Greens and New Zealand First.
The Greens have yet to deliver a full set of fiscals and New Zealand First tends not to quantify its promises – perhaps mindful, as Winston Peters uniquely is, of how little of them survive the Government-forming negotiation process. 
But for example the families package the Greens announced last Sunday put the cost of lifting the main benefits by 20 per cent and reducing the poverty-trapping abatement rates attached to them at around $900 million a year.
On the other hand their proposed changes to Working for Families tax credits would cost about $250 million a year less than Labour's. 
The Greens also propose a new top tax rate of 40c in the dollar on income above $150,000, about three-quarters of which would be required to lower the rate on the first $14,000 of income, resulting in a net revenue yield of around $200 million. 
In New Zealand First's case one policy they have put a price tag on is dropping the GST on food. Estimated cost $3 billion a year. 
In the end the fiscal capacity for Labour to accommodate other parties' fiscal bottom lines (whatever they might turn out to be) lies not in the operating allowance, but in the Budget Responsibility Rules agreed with the Greens. 
One of those rules notes that for the last 20 years, core Crown spending has been around 30 per cent of GDP. "We will manage our expenditure carefully to continue this trend."
The spending track in the alternative budget for the next three years averages 28.6 per cent of GDP. The difference between that and a 30 per cent of GDP cap would be about $4 billion a year. So there is a bit of fiscal headroom there. 
All of these forecasts could be rendered moot if the economy is sideswiped by a shock either from the other 99.8 per cent of the world economy or from Mother Nature.
The Treasury's forecasts inevitably rest on assumptions which surround them with a margin of forecast error. 
For example it aims to get its forecasts of tax revenue one year ahead accurate to within plus or minus 3 per cent, so when it forecasts a tax take of $77.4 billion for the financial year which has just begun, it is plus or minus $2.3 billion.
The May Budget assumes net migration inflows will decline from a peak of 72,500 a year in mid-2017 to Statistics New Zealand's long-run assumption of 15,000 a year in 2022.
But it sketches an alternative scenario in which it remains around its current level of 70,000 per annum through to the end of the forecast period in June 2021.That would generate $6.8 billion more tax than the central forecast.
The Budget also assumes labour productivity (output per hour worked) will improve by an average 1.4 per cent in the three years to June 2021. That would be in line with the average over the past 20 years, but significantly better than the past 10 years when labour productivity growth averaged 0.9 per cent a year. Who can say which is the more relevant trend?
------------
*Brian Fallow is a former long serving economics editor at The NZ Herald. This is the latest article in an election year issues-based analytical series on economic policies he's writing for interest.co.nz.

His first article is here. 
His second article is here. 
His third article is here.
His fourth article is here.
His fifth article is here.
His sixth article is here.
His seventh article is here.
His eighth article is here.
His ninth article is here.