Brian Fallow takes a look at what policies Winston Peters might want enacted in return for propping up a National or Labour led government, - and what they may cost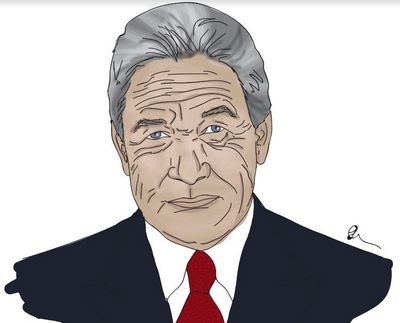 By Brian Fallow*
As the two major parties rev their engines for what Bill English is calling the drag race, it is time to play the four Ws game: What Will Winston Want?
Which way Winston Peters would go in exercising the balance of power he looks likely to hold is anyone's guess.
National might take comfort from the fact that the tap root of his politics goes back to that party. But it was Rob Muldoon's National Party and he remains vociferously opposed to the neo-liberal policies of the past 30 years.
"Decades of neoliberalism have split and divided this country and denied tens of thousands of New Zealanders opportunities and a standard of living which was once the norm", he said in a speech in Hamilton last month. That sounds more like Jacinda Ardern than Bill English.
On the other hand in backing Jim Bolger for a third term in 1996 and Helen Clark for a third term in 2005, he went with the party that had won the most seats. On current polling this time that looks more likely to be National.
But in case it comes to an auction, a contest about which of the major parties will give New Zealand First more of its policy agenda, let's look at some of those policies and – to the limited extent possible – what they would cost.
Quietly scaled back
One longstanding policy, dropping the GST on food, seems to have been quietly scaled back. In the past New Zealand First has costed the policy at $3 billion a year (to be funded by a crackdown on tax evasion and the black economy), which would be consistent with the only exemption being restaurant and takeaway meals.
But in a speech last Friday this had become dropping the GST on "basic, essential foods" and price tag cut to $600 million or $700 million.
The party also wants to drop the GST on local body rates on residential property – a tax on a tax – which would cost around $500 million a year.
And a consistent theme in Winston Peters's speeches in provincial centres in recent months has been to return to the regions (somehow) the GST paid by tourists visiting those regions to fund roads and other infrastructure. He puts this at $1.5 billion a year and rising.
This is starting to mount up: a $2.7 billion bite out of a GST take of around $20 billion a year.
Then there is the tertiary education policy, under which student allowances would no longer be means tested and people could clear their student loans by staying in New Zealand and working for the same number of years they were students. New Zealand First reckons this would only cost around $500 million a year more than the status quo – costing the Government disputes.
As for existing student debtors, "For every year they stay in New Zealand and pay off a dollar we will match this with a dollar writedown."
So there would be a hit both to the Government's operating statement and to its balance sheet.
Limited fiscal headroom
New Zealand First also wants to see the minimum wage raised to $20 an hour, from $15.75 now, over three years with the cost to employers "negated" by unspecified business tax reductions. A back-of-the-envelope estimate of that cost would be $600 million.
It proposes a corporate tax rate of 20 per cent for "new export net income" and the reintroduction of research and development tax credits.
Even with the Government's books back in surplus there is limited fiscal headroom to accommodate too much of this fiscal shopping list.
Peters says he is not interested in other parties' self-imposed and misguided spending limits. But the other parties cannot ignore them.
And New Zealand First does have to confront the fact that policies which increase the amount the Government would have to borrow runs up against the reality that the majority of its debt is held by foreign bondholders.
That will continue to be the case so long as the tax system tells New Zealanders that the best way to provide for their retirement is not to save money but to borrow money and bid up the price of residential real estate.
Policies which will increase the flow of interest payments to the foreign holders of New Zealand Government bonds are a bit hard to square with economic nationalism.
Monetary policy plans dead on arrival
Some of New Zealand First's policies are likely to be dead on arrival at the post-election negotiating table.
Its desire to rewrite the Reserve Bank Act so that monetary policy would target an exporter-friendly (and consumer-unfriendly) exchange rate got short shrift from both Steven Joyce and Grant Robertson on last Sunday's Q&A debate.
One would expect a similar fate for the proposal to renationalise the former SOE electricity generator/retailers and recombine them into a single entity. The price paid per share would be the price at which they were floated.
The confiscatory, reputationally ruinous and fiscally costly nature of that policy is likely to rule it out pretty swiftly.
Throttling back net immigration to 10,000 is a more drastic reduction than the "breather" levels Labour has foreshadowed and way below the levels the National Government is evidently comfortable with.  
New Zealand First wants caps on family reunification visas and on the older immigrants it sees as a burden on the health system.
Possible areas for some traction
Other policies might gain more traction, however.
Raising the minimum residency requirement for eligibility for New Zealand Superannuation from 10 to 25 years (after the age of 20) is also recommended by the Retirement Commissioner.
Labour went along with Jim Anderton's Kiwibank so it might not baulk at KiwiFund, a state-owned KiwiSaver provider.
A policy to "restrict ownership of houses… to New Zealand citizens and permanent residents who are exercising their right to residency" would at least overlap with Labour's policy of restricting purchases of existing houses to people who live here or are entitled to.
And New Zealand First's policy of a much more rigorous national interest tests for foreign purchases of farm land is not entirely without support, even within Federated Farmers, among those who worry about the future of the family farm.
How much of this would survive the Government-forming process remains to be seen.
------------------------------------
*Brian Fallow is a former long serving economics editor at The NZ Herald. This is the latest article in an election year issues-based analytical series on economic policies he's writing for interest.co.nz.

His first article is here. 
His second article is here. 
His third article is here.
His fourth article is here.
His fifth article is here.
His sixth article is here.
His seventh article is here.
His eighth article is here.
His ninth article is here.
His tenth article is here.
His eleventh is here.