I thought this was going to be the housing election but housing affordability has struggled for airtime. Gareth Vaughan is very disappointed about this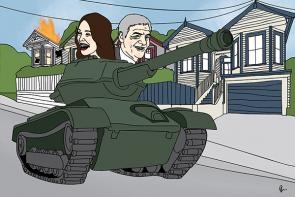 By Gareth Vaughan
I thought this was going to be the housing election. But it hasn't quite transpired that way.
Immediately after her ascent to Labour's leadership one of Jacinda Ardern's key messages was that we needed affordable housing. For someone living in Auckland this was encouraging and appeared to me the key area where the opposition should attack the government of nine years.
However, as the campaign unfolded housing has not received the airtime it deserved. In the final TVNZ leaders' debate on Wednesday night housing only got a mention in the context of what impact Labour's desire to ban foreign house buyers would have on free trade agreements.
A key factor in housing struggling for oxygen was Ardern's naive decision to suggest Labour might introduce unspecified tax changes recommended by a tax working group during a first term in government. This opened the door to attacks from a grateful National who kicked the door down with what was, at times, scare mongering Rob Muldoon would've been proud of. 
Thus National was setting the agenda and Ardern was forced on the defensive against a government seeking a fourth term. Ultimately she back flipped, farmers protested over water tax, and the issue of housing affordability struggled for attention.
Meanwhile as the chart from S&P Global Ratings below demonstrates, both NZ real house prices, and price to income ratios, remain very high by international standards.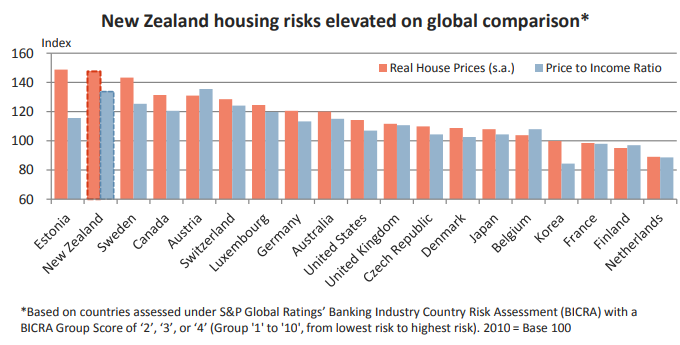 According to the Real Estate Institute of New Zealand, the median Auckland house price during August was $840,000. Thus based on the median Auckland household income for 25-29 year-olds, the Auckland median house price to median household income multiple for this age group is running at 10x. For 30-34 year-olds it's running at 9x. And for 35-39 year-olds it's running at 8x. 
As my colleague Greg Ninness recently pointed out, house prices have risen at nearly 10 times the pace of wages for typical first home buyers in Auckland over the last four years. Our latest interest.co.nz Home Loan Affordability Report shows in August mortgage payments would have eaten up 42.6% of a typical Auckland first home buyer's take home pay. 
English & Ardern grilled on Radio NZ
Radio NZ and its Nine to Noon host Kathryn Ryan deserve credit for keeping the housing conversation going. As written up by Alex Tarrant here and here, Ryan grilled both English and Ardern on housing this week. The two interviews demonstrated that both National and Labour's housing policies need more scrutiny.
Ardern stuck to the line that ramping up the building rates of more affordable housing through Labour's KiwiBuild policy, assuming the workers could be found to do this, wouldn't see the values of existing houses drop. And English defended National's record including subsidies for first home buyers and its focus on supply, which has failed as new builds lag well behind population growth. (There's more on Auckland's housing shortage from interest.co.nz here and from S&P here).
Aside from proving an all-important place for people to live, housing dissects other key areas too. There's health of course, with much spoken and written about the health impacts and costs of cold and damp housing. Then there's education and the impact on children whose renter parents are forced to move house several times with the kids bouncing around between schools. 
Over the past couple of years we've seen the growth of what I call sticking plaster solutions. These include the first home buyer subsidies, increasing use of taxpayers' money on homeless shelters, and putting those needing emergency housing up in motels. By one measure NZ now has the worst homeless rate in the OECD.
What about demand?
Obviously the key solution is building more houses. There are ongoing land supply and council consenting issues to be overcome, and greater densification is required. But also demand must be acknowledged as an issue too. The August year net migration gain of 72,072 is equivalent to about 1.5% of NZ's population. With the lion's share settling in Auckland, that's a whole lot of new people who need somewhere to live, arriving in a city that's already bursting at the seams.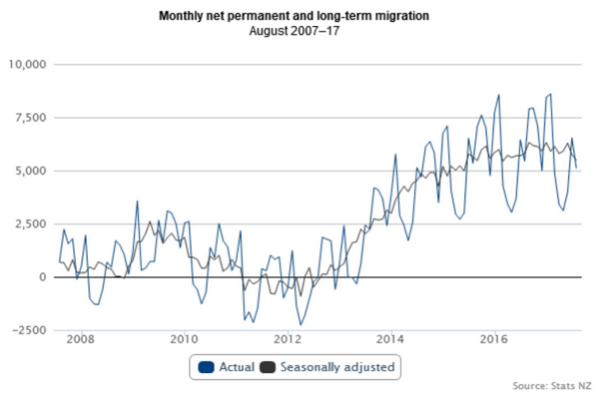 Yet, like housing, immigration also hasn't received the airtime it should have during the election campaign. That's even though it has been broadly acknowledged that our housing, health system, schools and roads are struggling to cope due to population growth and in some cases under-funding. (There's also the issue of the quality of skills many migrants are bringing to NZ as David Hargreaves covered here, and Wellington economist and former Reserve Bank staffer Michael Reddell covers in his Croaking Cassandra blog).
Time to declare war
Recently I interviewed University of Auckland senior lecturer in economics Ryan Greenaway-McGrevy. He argues our politicians must declare a war on house prices in Auckland and do what it takes to make Auckland housing affordable. That's because given NZ's lacklustre productivity growth wages are simply not going to rise fast enough to make housing affordable in our biggest city.
As Greenaway-McGrevy I believe correctly argues, it's hard to understate the importance of restoring housing affordability to Auckland. Cities are productive places, the engine room of the modern economy. High property prices discourage people from moving to Auckland from within NZ, and firms find it difficult to attract staff when they try to expand. Companies also lose employees as bright young workers move away in search of a reasonably priced home.
But with ex-Greens co-leader Metiria Turei the only party leader brave enough to say house prices need to fall, I won't be holding my breath for dramatic change whoever is able to form a government after Saturday night. That means housing affordability, or lack thereof, is likely to be an issue - especially for our young people and especially in Auckland - for years to come.