David Hargreaves says on one hand it's great to see so many first home buyers getting into the market - but the risks are looking very real at the moment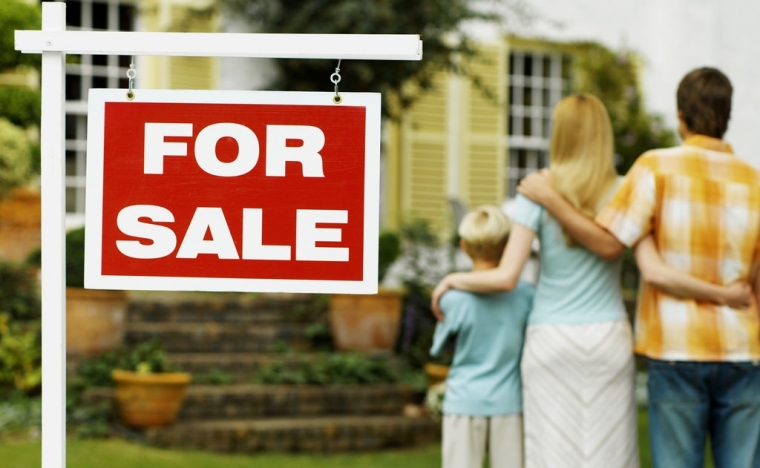 By David Hargreaves
It was one of those curious twists of timing this week that saw news of further falls in business confidence coinciding with new figures showing first home buyers continuing to roar into the market.
The two pieces of news are at first flush entirely unrelated. But the point is they very easily could become related - and worryingly so.
First up, I would reiterate that I'm very leery of surveys and opinion polls. In different lives (in the world of PR) I have actually been involved in phrasing questions and content for surveys that were actually designed to guarantee a certain outcome.
It's all about how questions are asked.
The other thing is, opinions can be disingenuous. It was to be expected that business confidence would fall once a Labour-led Government came in. The classic dummy spit.
However, after you've said all that, the one area that needs to be taken pretty seriously is the firms' own intentions. To the extent that you can believe people are genuinely saying what they will do, any findings that show businesses intending to cut back on investment and hiring need to be taken on board.
Just the very fact that people say these things can become self-fulfilling. 
Independent economist Cameron Bagrie (who for a long time was of course ANZ's Chief Economist) was typically pithy: "The economy is now clearly tracking around 2% and not 3%," he said.
"The difference between 3% and 2% growth is a $800m potential loss of tax revenue.  Treasury is expecting growth to rebound to 3-3.5% - that's a country mile off.   We need a solid looking economy to deliver on the social policy agenda.  That solidity is looking shaky."
Excellent cut-to-the-chase comments that boil down the situation nicely. 
Okay, let's move aside from businesses being ratty that the lefties are in the House - the real story is this is starting to look like a meaningful slowdown.
And yes, into this environment are stepping big numbers of first home buyers.
How do we view that?
On the one hand, I think it's great. The FHBs had to stand by helpless while investors drove up prices higher and higher - particularly in Auckland.
Now, courtesy of RBNZ lending restrictions the FHBs are being given a chance.
But they are stepping into a market that's flat at best.
Logic might tell you that now is not the time to buy. But let's face it, any would-be FHB that took advice in 2013 to not buy into a then rapidly rising Auckland market would now need to find $300,000 more for the median priced house than they did then.
And of course anybody who took out even as much as a 90% mortgage on a $550,000 median Auckland house in mid-2013 would now - assuming no repayments at all (which is unlikely) - be in a house worth $850,000 and in which their equity has gone from a slightly scary 10% to  a comfy 42%.
So, who is to tell anybody that 'right at this minute' is the wrong time to buy a house?
Except of course that now it might be the wrong time.
Who knows? I don't expect to see big falls in house price values. But just because that's not really happened in New Zealand doesn't mean it can't.
And it is worrying to think that now increasing numbers of presumably young buyers are fully exposing themselves to the vagaries of the market at a time when uncertainty is rampant.
How geared are these people buying now? You only have to look at how much it costs to buy a house in Auckland to know that some people must be getting into eye-watering amounts of debt.
Where are they getting their money for a deposit?
Well, at least some of it is coming from Kiwisaver - which is a bit of a worry in itself. Taking your nest egg, putting it with your other eggs and depositing it all into one basket.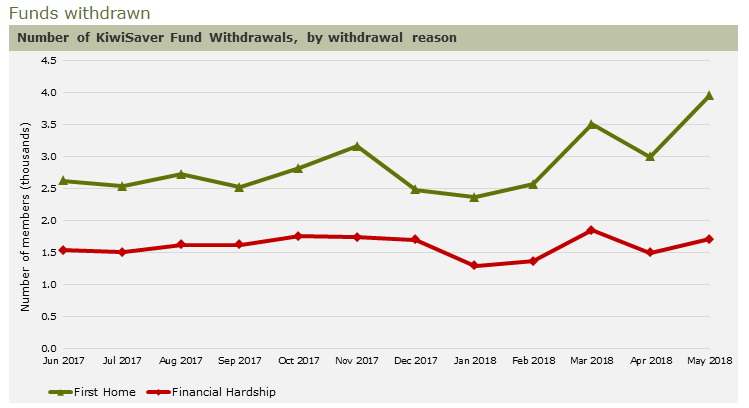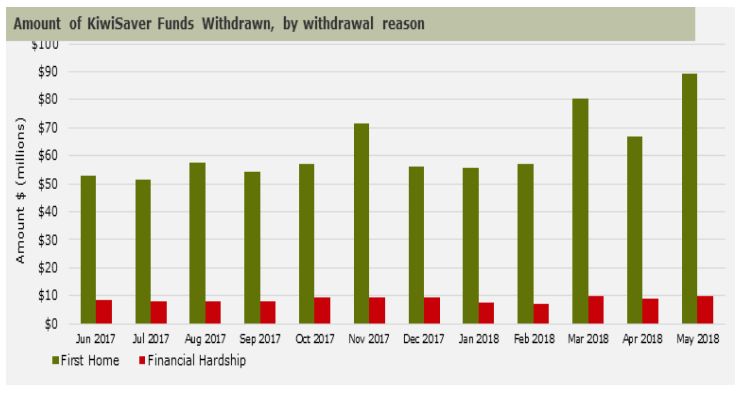 According to the official figures $89.4 million was withdrawn from Kiwisaver accounts for first home purchases last month - up over 40% from the same month a year ago. In terms of numbers of withdrawals, it amounted to 3950 members making withdrawals for a first home, up by a third from the 2970 withdrawals at the same time a year ago.
Even if you assumed that the people taking that money out had no savings at all and just used all that as deposits, the nearly $90 million could, on a normal 80% value of the property loan, raise about $400 million in mortgages.
That's food for thought when looking at the overall figure of $1.1 billion borrowed by FHBs in May. Presumably a fairly significant portion of that money was borrowed against Kiwisaver (IE retirement) funds. Literally, people are mortgaging their futures.
The one good thing in all this is that interest rates are real low and set to stay there for the foreseeable future. 
Despite the fact that household debt has continued to climb, the cost of servicing the debt has been going down and is currently at historically comfortable levels.
So, all things being equal, it doesn't matter if house prices do dip. It's your home, you sit tight in it. Even if you get into the dreaded negative equity, all is well as long as you keep servicing the mortgage - which is doable when interest rates are low.
However, the big potential spanner in the works would be a substantial slowdown in the economy - resulting in job layoffs.
That's when it would get hairy.
And that's why - making the loop back to the start of this piece - the business confidence surveys are now becoming a worry. This is particularly so in the expectations around hiring of staff.
With seemingly so many people making the leap into the housing market for the first time now it means that a significant percentage of our young people are vulnerable. 
If a lot of people start losing their jobs they might be forced to sell their house - even if their equity position is not good. And that of course would put further downward pressure on prices, increasing the pressure on heavily leveraged homeowners as they see their equity shrink.
This is all possible and it's not a good thing.
Providing the house market stays reasonably solid and the economy doesn't go into a sharp fall then hopefully we can ride this out and in a few years all will be well. It's just right at the start when the FHBs have low equity and are so exposed.
But it does mean we are arguably more vulnerable as a nation right now than we have been in the past to any external shocks. And external shocks can come from anywhere at any time. Right now the climate looks ripe for a shock.
As the Auckland experience of a few years ago would tell you, advising people that 'now is not a good time to buy' is not a good idea. 
But it is really to be hoped that those taking the plunge into deep water right now do have their eyes open.
Otherwise I fear the worst.