David Hargreaves crunches some numbers on the growing proportion of first home buyers in an uncertain housing market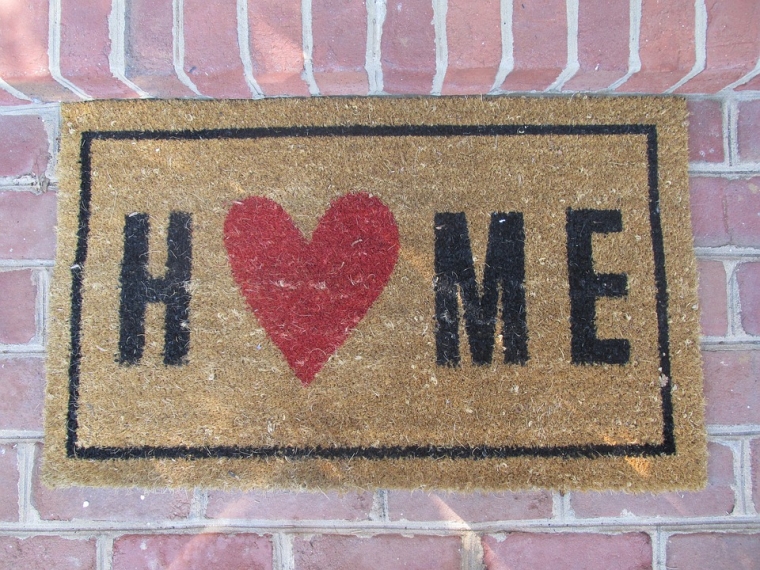 By David Hargreaves
If would-be first home buyers are worried at all about the immediate future of the New Zealand housing market, their actions aren't showing that.
The FHBs are continuing by the month to get a bigger share of the mortgage monies advanced as the investors now take more of a back seat.
I opined similarly on this topic last year, and the trend of the FHBs climbing in has continued and expanded since.
In January the FHBs, with $700 million borrowed, accounted for 17.3% of the mortgage money advanced, which is the highest proportion for that grouping since the Reserve Bank started publishing such figures in mid-2014.
The FHBs are individually borrowing more than others too. According to the January figures there were 1771 FHB borrowers, accounting for 9.4% of the total 18,774 borrowers in the month.
So, yes, that's 9.4% of the borrowers by number accounting for 17.3% of the money borrowed.
New rules
January was the first month in which the new rules relaxing the affecting the permitted levels of high loan to value ratio (LVR) loans took effect and this is somewhat visible in the new figures.
Of the $700 million borrowed by FHBs, some $280 million was for mortgages where the deposit made up less than 20% of the value of the house being bought. 
That means 40% of the money the FHBs borrowed in January was for high LVR loans. That's the highest such ratio since the figures began being compiled in 2014.
Now, yes, given the LVR restrictions have been with us since 2013 and they originally permitted banks to advance only 10% of their new lending on high LVR mortgages, it's not too surprising to see the FHBs hitting a new high in terms of the proportion of high LVR borrowing - now that the banks can advance up to 20% of new lending (since January) for high LVR mortgages.
So, it's understandable, but nevertheless a bit disconcerting to see the FHBs piling in with large mortgages relative to their deposits at a time when certainly Auckland is looking a bit wobbly. Much of the rest of the country is still experiencing fairly buoyant conditions - but remember, Auckland did have at least about a two-year lead on the rest of the market when it came to the bull conditions we saw earlier this decade. Where Auckland goes, the rest of the country's housing market will probably go eventually.
Everything counts 
In terms of what the FHBs are borrowing for individual mortgages, dividing the $700 million advance to the FHBs in January by the number of loans taken - 1771 - gives an average-sized mortgage of $395,000.
Believe it or not, that's actually down a little on the average-sized FHB mortgage as of January 2018, which worked out at about $403,500. Given the ratio of high LVR loans is higher this year, one would have to suspect that there's an 'Auckland effect' in there, in that there are presumably fewer Auckland mortgages. And Auckland mortgages of course are by the nature of Auckland's median price that much bigger than in the rest of the country.
But, still. A mortgage of $395,000 for a first home buyer is not something to be contemplated without a few deep breaths. And remember, that's an average, so, a fair few people will have borrowed MORE than that, while others will have borrowed less.
Where are people finding the money from for deposits?
A glance at the Inland Revenue Department's KiwiSaver Statistics gives a reasonable clue.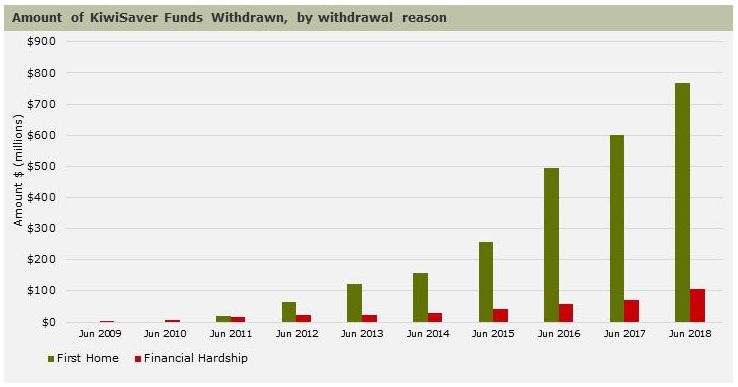 As you can see, the chart above is for the June year, but the upward trend has continued since June 2018, with the January 2019 first home withdrawals up 6.5% compared with the same month a year ago to $59.4 million.
For the year to June 2018 there was $769 million withdrawn for first homes. In the seven months since a total of $544.6 million has been withdrawn for first homes and if that overall pattern continues then we would be heading towards $1 billion being withdrawn in the year to June 2019.
So, the KiwiSavers are digging into their retirement money in order to then buy houses with large mortgages.  
That such sizes of mortgage can be contemplated is down to the persistently low interest rates. But it is to be hoped that people taking out these mortgages do their own 'sensitivity analysis' and have a look at the consequences if interest rates did turn. I did a little quick checking on interest.co.nz's mortgage calculator.
Bills, bills, bills
These things are a bit arbitrary, and of course many people will be able to fix mortgages for a period up front. But for illustrative purposes, let's suppose someone took out a $395,000 mortgage for 30 years, paying monthly, at what the RBNZ gives as the current average floating mortgage rate, namely 5.85%.
This would cost $2330 a month ($27,960 a year), which works out at $537.69 a week.
The good news is, nobody expects interest rates to go up in the foreseeable future. So, anybody who can manage that now can keep managing in future.
But what if the global sky falls in and rates take an unexpected hike?
If floating mortgages went up by one percentage point to 6.85% a $395,000 mortgage would be costing $2,588 a month, $31,056 a year, or $597.23 a week.
Amp up the volume more with a two percentage point rise, to 7.85% and a $395,000 mortgage would cost $2,857 a month, $34,284 a year, or $659.31.
Put another way, a one percentage rate increase would increase mortgage servicing costs by 11.1%, while a two percentage point rise would increase the annual mortgage bill by a whopping 22.6%.
So, a "2% rise in interest rates" as such things are always inaccurately described would in fact increase servicing costs by damn near a quarter, which would be a worry.
Now, I don't want to scare anybody, but it is worth remembering that average floating rates were over 6.7% less than four years ago, while in and around the Global Financial Crisis of 2008 they were close to 11%.
Anything goes
Just because there's currently no reason at all to believe that interest rates won't go up (and indeed, our largest bank, ANZ, thinks the next move will be down) doesn't mean there's no chance at all they never would go up.
That's one thing to worry about.
The other is the dreaded negative equity. Obviously the bigger the deposit a buyer has, the more leeway they have if house prices come down. Anyone borrowing say 90% wouldn't have to see too much of a downturn to see their equity being eroded.
Now, negative equity is not a huge problem per se, providing everybody keeps their jobs and doesn't have to renegotiate the mortgage - IE they can keep servicing the mortgage.
But that brings us to the prospect of a general slowdown in the economy and rise in joblessness. That could also be a killer. 
Essentially in New Zealand we need three things:
Interest rates have got to stay flat (or even drop!)
The economy's got to stay reasonable with ongoing low levels of unemployment
House prices have not got to start seriously falling (and a fall of say 10% would start to become problematic for high LVR people)
Putting on my rosy coloured spectacles, I would say, fingers crossed, there's a fair chance all three of those things will come to pass, which would be wonderful. But they might not. Such is uncertainty when you live in a small island country totally exposed to global volatility. 
The risky time for someone with a big mortgage is in the first few years. After that, even if there isn't much or any capital appreciation, they should hopefully be building some equity through repayments.
After all that has been said though, this is a risky period we are going through right now. And we just have to hope that the FHBs won't end up on the wrong end of that risk. Because that would be bad for our country.