Kiwibank CEO Steve Jurkovich says 'flight to safety' has led to a glut of deposits & 'some people are finding it difficult' with low rates. Advises no 'hard stop' on mortgage deferrals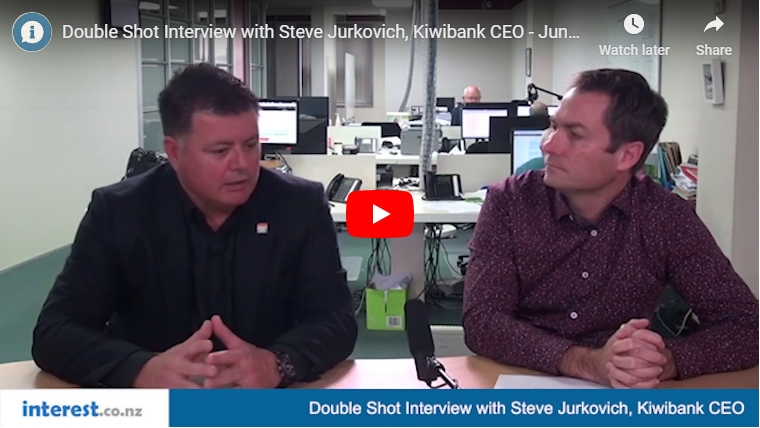 Kiwibank CEO Steve Jurkovich acknowledges the difference between fixed and floating mortgage interest rates has "felt uncomfortably large for a while," and he expects his bank's 100 basis points reduction to floating rates to help drive more interest in this type of borrowing.
Jurkovich, speaking to interest.co.nz, said Kiwibank's move to reduce floating, or variable, lending rates by 1% (100 basis points) was in part a reflection of the bank challenging the oligopoly of the big four Australian owned banks. The reductions include Kiwibank's business variable loans, business revolving credit, and business overdraft.
Kiwibank's variable rate changes take effect for existing customers on 29 June and for new customers on 15 June, and will drop the bank's floating home loan rate to 3.40%. That's more than 100 basis points lower than the floating rates offered by ANZ, ASB, BNZ and Westpac at the time of writing, and takes the floating rate nearer one and two-year fixed rates which are below 3%. See all banks' advertised, or carded, home loan rates here.
"The difference between the floating and fixed has felt uncomfortably large for a while," Jurkovich said.
"And once you start to think about that you start to reflect and say, 'well it's fair that there's a premium for the flexibility, but is the premium a good customer outcome in the sense of how big is it, and are customers choosing fixed rate loans when they perhaps would be better off on floating?"
"Particularly in the business lending market, the ups and downs of the cashflows over the Covid period, some people are trading really well with the pent up demand, others are struggling, and it just seemed to me that we could do something about it," Jurkovich said.
"And really it's a reflection, I think of 20 years ago we were kicked off to be different, we were kicked off to challenge a market that's dominated by four big Australian owned banks."
Jurkovich said he was challenged by Kiwibank's board to be bold. 
"And so when you think about it this is pretty bold so I think it fits that category. And I hope for a lot of customers who are maybe on the fence about joining Kiwibank, they'll say 'they are different and maybe I should join them'."
In terms of home loans, Reserve Bank statistics show 85%, or $241.190 billion worth of total home loans, were fixed at the end of April. Just under 15%, or $41.461 billion were floating. However Jurkovich anticipates more interest in floating loans now.
"Typically the gap, if you're thinking about 4.4% versus in the 2s, that's a big gap. Whereas at 3.4% you might be saying to yourself 'well actually even if I don't go 100% variable, I might go 50/50 or I might go 70/30.' So yeah, I think we will see more interest. Certainly on the business banking side I think we'll see a big move pretty quickly."
Could borrowing rates go even lower?
Asked if there's scope for mortgage rates to go even lower, Jurkovich said not in the short-term.
"[But] I haven't seen any economist say there's going to be a rate rise before the end of 2021 and even that seems quite bullish at the moment."
In terms of Kiwibank's net interest margins, the difference between the interest income generated on lending and the amount of interest paid to its lenders such as depositors, Jurkovich said they are "manageable" at the lower variable rates.
"And it will be interesting to see whether the competitors want to follow. We've put a lot of time into thinking about that and we think that living up to our purpose, being different, recapturing the challenge or spirit of what we're trying to do will pay off," he said.
In a very rare, but not unique occurrence, the home loan market went backwards during April when the country was in Covid-19 Alert Level 4 lockdown. Reserve Bank system-wide housing loan figures show home loans at $280.759 billion at the end of April, down $590 million from $281.349 billion a month earlier. Jurkovich said anecdotally May and June are busier.
"My sense is there was so much stimulus that went into the market, billions and billions of dollars, anyone that could do anything to offset debt did. And so if you've got a revolver account then you've paid it down. And so I think that's what we saw rather than people fleeing," said Jurkovich.
Burgeoning deposits 'a flight to safety'
Meanwhile the bank is being inundated with deposits.
"If you look at the liabilities side of our business we're double plan and we'll release our numbers soon, but you'll see that really strong growth. And I think one of the headwinds to bank profitability...will be the headwinds of how much deposits we've got and the liquidity. Which is a quality problem in a tough time but very, very different to the GFC [Global Financial Crisis]. We're actually really flush," Jurkovich said.
Kiwibank's financial year balance date, June 30, is rapidly approaching. The bank will report its annual results in August.
Unlike home loans, bank deposits have been growing strongly. Reserve Bank figures show the value of deposits held by banks increased by nearly $5.6 billion in April to $385 billion helped by the Government's wage subsidy scheme. Of the $385 billion total, $193 billion are household deposits.
Reserve Bank Deputy Governor Geoff Bascand recently told interest.co.nz that some bank depositors might want to put their money to use elsewhere. Jurkovich said these were interesting comments.
"From my perspective I think we have seen a flight to safety. And in troubled times people tend to look for banks...The desire for safety and accessibility seems to still drive customers to want to put deposits with banks," said Jurkovich. 
"But if I think about my mum, she's in her 70s, term deposits has been a big part of her income... Those are hard rates for her to make do with. So there's a lot of people in that environment. So yeah, I think people will consider other options. But we'd like to think that we're doing a reasonable job on the savings and it is a balancing act, but I accept that some people are finding it difficult."
Asked whether there was scope for higher deposit rates anytime soon, Jurkovich said: "I don't think so. Not in the next couple of years. I really don't."
Mortgage deferrals: 'Don't put a hard stop on it'
In terms of mortgage deferrals put in place for borrowers as the Covid-19 crisis took a grip, Jurkovich says from a peak of about 2000 customers per day wanting something done on this front, Kiwibank's now down to about 100 with half to three-quarters being people wanting to get back on track with their loans. He cautions, however there could be a second wave of deferral requests when the Government's wage subsidy scheme ends.
Nonetheless Jurkovich said Kiwibank's numbers don't look like there's a big flow of loan impairments coming.
"But it's really uncertain. So we are watching carefully and thinking about it long and hard."
Asked whether there was any discussion going on about extending loan deferrals, introduced in late March for up to six months, Jurkovich said there is.
"That's part of an ongoing discussion. I think what was really key was that we had to mobilise really fast to get the support in play. I think what's going to be just as important is that you don't put a hard stop on it. I think you have to try and let people readjust."
"There's always an ongoing discussion, but I'm sure senior people in Wellington are thinking about it a lot," Jurkovich said.
*In the video Jurkovich also talks about lending to small businesses, including the Government's Small Business Cashflow Loan Scheme.