Banking Ombudsman confirms borrowers with 'post-fixing dissonance' are clashing heads with their banks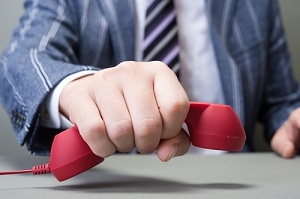 By Jenée Tibshraeny
More borrowers are finding bones to pick with their banks as interest rates drop to record lows.
The Banking Ombudsman Scheme in its 2014/15 Annual Report notes it has received more complaints from bank customers about early repayment costs to break fixed-term loans, since interest rates started falling this year.
The Banking Ombudsman Nicola Sladden, says that of the 28 cases regarding these breaking costs dealt with over the year to June 30, it received 24 from January.
In fact, since the start of the new financial year in July, it's already received 24 complaints regarding early repayment costs to break fixed-term loans.
The average two-year fixed mortgage rate across all the banks that operate in New Zealand has fallen to a record low of 4.84%, from 6.35% in August 2014.
Sladden says "People are generally aware there is a cost associated with breaking their loan early, but the rise in complaints has been caused by people not fully understanding how the early repayment charge is calculated."
Banks use complex formulas to calculate these costs, which are based on the length of a loan, and increase if wholesale interest rates drop.  
Sladden says customers are often shocked this charge can increase by "quite a few thousand dollars" in just a few weeks.
She maintains banks disclose adequate information to customers about these break costs when they take out loans, but the miscommunication arises when people want to change their loan agreements.
"The key is for banks to better explain how the cost is made up so people can better understand it and make informed decisions when they go to change their lending arrangements," she says.
The Ombudsman's observations correlate with those which two mortgage brokers and a bank chief executive told interest.co.nz about earlier this month.
They said low interest rates had prompted an influx of borrowers to consider breaking their fixed-term contracts, to capitalise on the cheaper rates on offer.
Squirrel Mortgages managing director, John Bolton, said he had a number of clients who fixed at mortgage rates in the mid-5%s and were now suffering from "post-fixing dissonance".
Systemic failures picked up regarding credit card fees and currency conversions
Issues related to 'cards' make up the third largest area of contention the Ombudsman has dealt with over the year.
"When it came to cards, specifically credit cards, customers' chief concerns were excessive or unfair fees, particularly for international transactions and late payments, and banks' refusal to compensate customers for fraud or theft involving their cards," the Scheme's annual report says.
The portion of 'card' related cases the Ombudsman has received has risen over the past few years, as the amount of credit card debt New Zealanders owe has increased by 15% from $5.678 billion at the start of July 2012 to $6.547 billion at the end of June this year.
The Banking Ombudsman Scheme's annual report highlights a "systemic" failure it picked up, after it found a bank wasn't straight up with a customer about when they would start being charged annual fees for their new credit card.  
It noted the bank had sent the customer a letter with "confusing information" about when the fee would take effect, so got the bank to agree to contact customers before they charged them, so they knew what they would be paying and could cancel the card if they wished.
It also points out a "systemic" failure it came across with currency conversions at ATMs:  
"After upholding a complaint about high currency conversion rates applied on EFTPOS card withdrawals at a bank's ATMs, we asked the bank to see whether it had incorrectly charged other customers as well.
"The bank reported that it had identified and reimbursed a small number of customers affected by how it had applied its conversion rates to such withdrawals."
A 2013 Treasury report into the competitiveness of the banking sector has described some bank fees as "concerning". It says, "While banks compete relatively fiercely on headline interest rates, it is possible that they use the lower level of scrutiny surrounding fees to extract uncompetitive profits."
As for interest rates on credit cards, Sladden says "The complaints we received are related to how the interest is being applied in a particular case and how charges are being made, and don't relate to the actual interest rate, even though I'm aware this is a broader question."
As shown in this interest.co.nz report, credit card interest rates have been increasing over the past couple of years, despite the overall lower interest rate environment and the Official Cash Rate decreasing.
While the Reserve Bank of Australia has pulled banks up for this in a submission to an Australian Senate inquiry into credit cards, New Zealand's Minister of Commerce and Consumer Affairs Paul Goldsmith has told interest.co.nz he isn't going to get involved.
Bank customers dub notice periods for breaking term deposits "unfair" 
The second largest category of cases the Ombudsman's addressed over the past year, relate to 'bank accounts', with the portion of these complaints and disputes it's handled rising to 25%, from 19% in 2013/14.
The Ombudsman Scheme's annual report says savings account problems have contributed to this rise, with these complaints and disputes tripling from 28 to 93 in a year.
It notes, "This year, the bigger banks began to introduce explicit notice periods for customers who want to break their term deposits. The intention is to maintain liquidity levels.
"We received 51 cases (40 enquiries, seven complaints and four disputes) on this point. Customers felt the change was unfair, or that banks had breached existing terms and conditions."
Number of disputes involving BNZ has increased 43% over the year
Comparing trends between the big banks that have been at the centre of disputes dealt with by the Ombudsman, BNZ appears to be an outlier.
While since 2013/14 there's been a decline in the number of completed disputes the Ombudsman's dealt with involving ANZ and Westpac, and basically no change in the number ASB's been party to, the number of disputes BNZ has been at the centre of has increased by 43% to 74.
Sladden won't go into detail about why BNZ customers have been unhappy, but says, "We've been actively managing and monitoring it [BNZ], and we're satisfied they've taken some steps to address that."
BNZ says, "Our increase in disputes were largely in the categories that the Ombudsmen outlined - early repayment costs, savings accounts and fees. The services of the Ombudsman is something we're very proactive about offering our customer throughout the disputes process." 
Of the 265 disputes resolved by the Ombudsman over the year, 49% ended in favour of banks, 12% in favour of customers, and 21% favourable for both banks and their customers. Around 19% were considered out of the Ombudsman's jurisdiction.   
See these table from the Banking Ombudsman Scheme's annual report to further compare disputes completed and cases received, between different banks.