Figures produced by the RBNZ suggest that house price falls in excess of 20% would start to produce large numbers of people in negative equity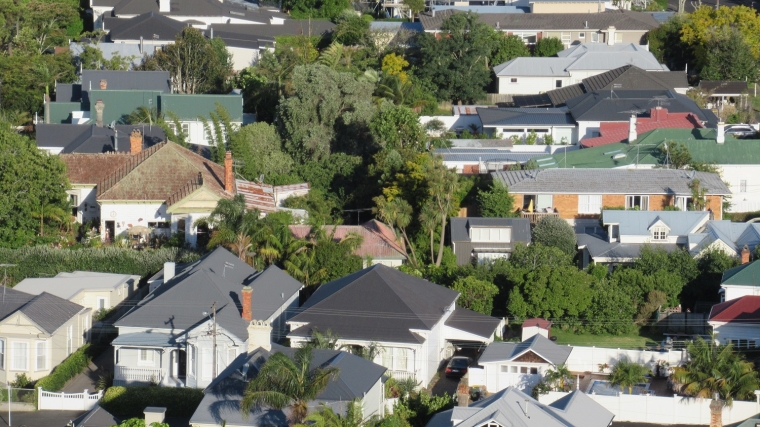 Analysis produced by the Reserve Bank suggests that house price falls would need to reach in excess of about 20%  in order to cause seriously large numbers of homeowners to be in the dreaded negative equity with their houses.
The RBNZ, which itself sees house prices falling by around 10%, has crunched the numbers in its latest Financial Stability Report.
It notes that the housing market is vulnerable to a downturn.
The data analysed by the RBNZ suggests that at house price declines of 20% only around 7.5% of the stock of mortgage debt goes into negative equity.
However, a price drop of 25% sees the amount of mortgage stock tipped into negative equity climb sharply to 21.5%.
"Household stress could be accentuated by declining house prices. After nearly two decades of house price growth generally exceeding the growth rate of incomes, the current economic downturn could bring a significant correction," it says.
"Declining international arrivals, as well as the departure of temporary workers from New Zealand, may weigh further on housing demand. With the ratio of the median house price to median income near an all-time high, a major correction would test the resilience of households and lenders."
It stresses, however, that the loan to value ratio (LVR) restrictions that were put in place by the RBNZ in 2013 have "contributed to improved household balance sheets".
Indeed 'counterfactual' data crunched by the RBNZ, which estimates what might have happened if the LVR restrictions had not been put in place, suggests that a 20% price fall could have tipped 24.2% of the stock of mortgage debt into negative equity, while a 25% drop in house prices could have seen as much as 44.6% of the mortgage debt in negative equity. 
"The proportion of households with low equity buffers has declined substantially since 2013, and is well below the Reserve Bank's estimates of what it would have been in the absence of LVR restrictions.
"While LVR restrictions have had distributional impacts, overall they have been positive for financial stability. Household balance sheets are generally now able to absorb a greater decline in house prices without going into negative equity (figure 2.6).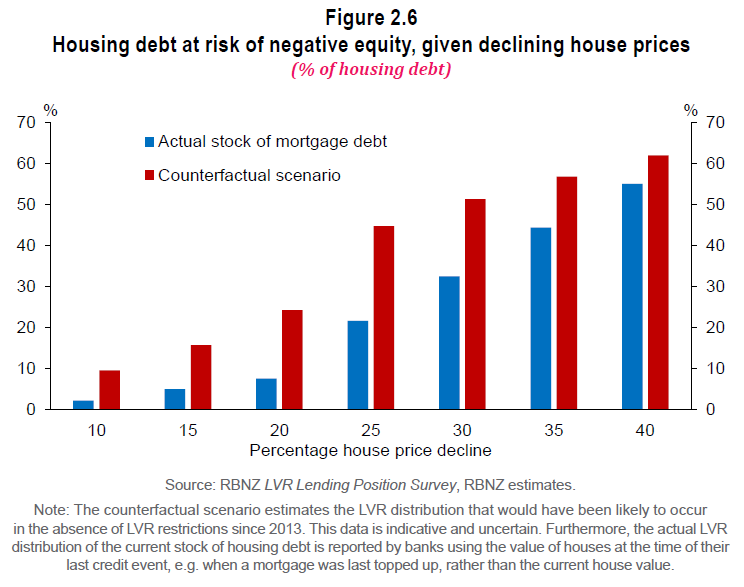 "This leaves most borrowers in a position where they would be able to restructure debt to withstand temporary income losses. As a result, there will be fewer non-performing housing loans and fewer mortgagee sales, which reduces the chance of a negative feedback loop causing a more severe decline in house prices," the RBNZ said.
As of May 1 the LVR restrictions were removed for a period of 12 months, at which time the policy setting will be reviewed.
The RBNZ says this was done so that banks would not be inhibited in assisting customers who may be experiencing temporary stress, "and is not expected to result in banks materially easing their lending criteria in the current environment".
"The removal of the policy now does not undo the resilience benefits that have been made since 2013. The benefit of the LVR policy comes from having the restrictions in place while the housing market is rising, so that subsequent corrections will be less severe."
The central bank says rising unemployment will put some households under financial stress.
"Households face income shocks through two key channels: an increase in unemployment from redundancies and business failures in sectors most directly affected by COVID-19; and reductions in pay as firms across a range of sectors look to offset pressures they face during the period of reduced revenue.
"The support packages for businesses, in particular the Wage Subsidy Scheme, have meant firms have been able to maintain more employees through the lockdown period than they could have otherwise. For the household sector as a whole, debt-servicing burdens are not very high by historical standards, reflecting historically low interest rates.
"However, a high proportion of recent entrants to the housing market has taken on debt at high debt-to-income ratios (figure 2.4). These households will have less resilience to absorb declines or losses of income, and are more likely to be left in positions of being unable to service their mortgages."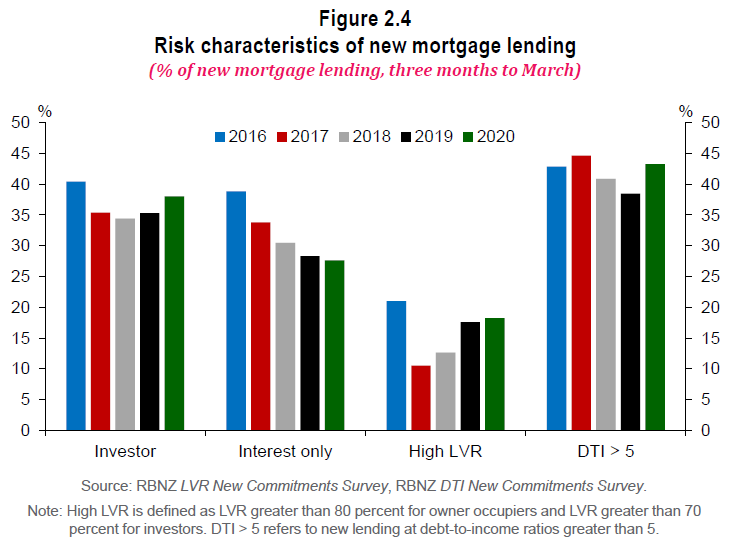 "Banks have supported mortgage and consumer credit borrowers with options to switch to interest-only terms or defer payments for up to six months, allowing them time to adjust to temporary income shocks without entering into arrears. As at mid-May, banks have reported granting payment reductions or deferrals on 13 percent by value of total household lending. However, by shifting loan repayments to future dates, payment deferrals ultimately increase households' debt servicing burden over the remaining term of their borrowing. If current pay reductions and elevated unemployment persist for a longer period than expected, households and banks may find that more substantial loan restructuring or remediation is necessary when deferral periods end."