ANZ economists see regional house prices as likely out-performing those in the country's largest city in the near term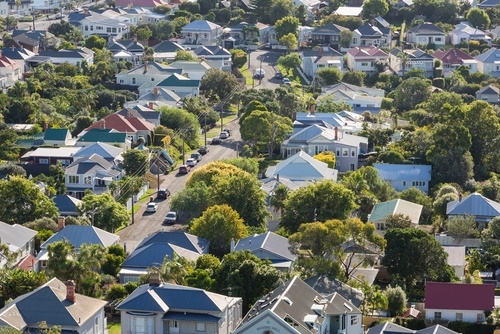 ANZ economists believe the Auckland house market is set for a period of under-performance relative to the rest of the country.
Chief economist Cameron Bagrie, senior economist Mark Smith and senior rates strategist David Croy, writing in the the ANZ's latest Property Focus publication, say that over time Auckland house prices have tended to out-perform the national average.
"But there is a cycle; Auckland can under-perform too. We appear to be entering such a stage," they say.
They have done detailed crunching of historic figures around the country, looking at some of the key drivers of regional house prices, with a view to seeing whether they have common linkages and if the recent buoyancy in Auckland property prices will filter through to other regional areas.
"Our analysis suggests price rises in Auckland tend to lead those in the rest of the county, and should support prices in regional areas, with nearby regions already benefiting. But regional determinants matter too."
The economists say that since the mid-1970s the ratio of Auckland house prices to the rest of the country shows an upward trend (see graph below), with annual nominal house price growth averaging 9% in Auckland since then versus around 7% for the rest of the country.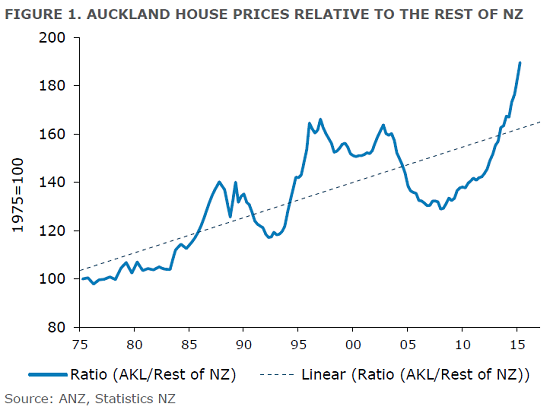 "This is likely (in part) to reflect Auckland's stronger population growth and geography. In the early 1990s, the median Auckland dwelling price was about 30% higher than the median nationwide dwelling price; now it is about two-thirds above the nationwide median. A similar trend is evident for Auckland residential section prices, which are now around 85% higher than the nationwide median.
"The mid 1990s housing boom was more concentrated in Auckland, whereas the 2003/07 boom was more acute in other regional areas. Auckland house prices sometimes underperform the rest of the nation. That tells us that market forces still work. You can't have unfettered rises in one region or yields driven lower without investments starting to look attractive elsewhere. Eventually capital and people are attracted to places or regions that offer better valuations and yields."
The economists say that "a clear upward trend" is noticeable of late courtesy of the recent strength in Auckland prices, and this ratio is now well above its longer-term trend.
"If this relationship holds, it suggests Auckland house prices are due for a fall relative to other regional areas. That doesn't mean Auckland house prices need to fall; they simply need to underperform."
The economists say whether Auckland is classed as an international city and prices are being driven by more global factors (including historically low global borrowing costs, and offshore demand) is a "moot point".
"In our minds domestic fundamentals matter and will have the final say. At present, Auckland prices are above their long-run trend and are due for a pullback relative to other regions.
"The rubber band that is Auckland property valuations relative to domestic fundamentals – as well as their price in relative to prices in other regions – looks tight. Either Auckland prices fall or prices in other areas catch up, or both."
'Ripple effect'
Bagrie, Smith and Croy say that, anecdotally, prices in nearby regions are already picking up as the "ripple effect" of higher Auckland house prices spread, with the RBNZ's proposed modifications to the LVR criteria (via increasing investor deposit requirements to 30% for Auckland purchases) likely to further underpin the relative attractiveness of nearby regions.
"But valuation metrics will also be at play. With rental yields in Auckland sitting just above 3%, money is invariably attracted to higher-yielding alternatives.
"There may always be a gap between Auckland and the rest of New Zealand yield-wise (on the back of better expected capital gain in Auckland). However, that gap has boundaries and a stretch point. We appear to be hitting that point at present, just as we did in 2003."
The economists looked at the relationships between house price movements in the broad regional areas and potential determinants, including mortgage interest rates, regional residential consent issuance, net permanent and long term immigration into the region and regional economic activity (using the ANZ Regional Trends data) and they say this all revealed the following:
There is no clear link between house price movements and changes in regional economic activity. "We find, however, that changes in economic activity for Auckland and Christchurch tend to lead movements in house prices in these regions."
Movements in regional consent issuance tend to be contemporaneous with movements in nationwide house prices. Viewing the relationships by region indicates that house price movements in Auckland tend to lead movements in Auckland residential consents, whereas movements in consent issuance tend to lead movements in house prices in Christchurch and Wellington.
The strongest link between net PLT immigration flows and house price movements is in Auckland, with little evidence that net PLT immigration leads house price movements in other regions.
The lagged level of mortgage interest rates has the strongest negative link with Auckland house price movements, followed by the Rest of South Island and Wellington. Movements in nationwide house prices tend to lead changes in mortgage interest rates, with the strongest link from Auckland and Christchurch house price movements.
On the impact of net immigration, the economists say increases in it tend to flow through more quickly to Auckland house prices ("peak effect six to seven quarters following the shock") than for other regions.
"What is also evident is that the migration impact washes out after about four years in Auckland. Prices in the regions are also positively related to regional net immigration flows, but lower on average than in Auckland. We are interpreting this relationship as either evidence of migration causing a ripple-type effect to areas not directly impacted, or that the linkages are due to something we have not captured in our modelling approach.".
On the effects of interest rate movements, the economists say the peak impact from an interest rate move occurs after three to four quarters.
Full impact next year
"This implies the full impact of the June RBNZ interest rate cuts will not be fully felt until early next year."
Turning the equation around and looking at the impact of house price rise on interest rates, the economists say their research suggested that movements in Auckland house prices have historically tended to elicit a more significant interest rate response than for other regions. "No surprises there; the Reserve Bank watches them closely," they say.
"Given the recent uplift in Auckland prices, and the fact that our analysis shows that movements in Auckland prices tend to lead those elsewhere, the focus will be on the potential impact of current Auckland house price strength on prices in other regions. Simple equation estimates suggest that increasing Auckland prices will tend to permeate to the regions, with a lag of about three to six months depending on the region, but the impact is not one for one."
Bagrie, Smith and Croy say their regional analysis suggests increasing the supply of dwellings holds the key to putting a lid on prices.
"The impact on Auckland property values from increased dwelling supply is slower than for other regions but it eventually hits home. Crucially, the construction sector response should meet the regional and budgetary needs of the region and the key will be putting in place an affordable housing supply side response."