Labour Party leader releases new interactive 'housing map' showing people 'how the crisis is affecting their neighbourhood'; Govt says it's riddled with errors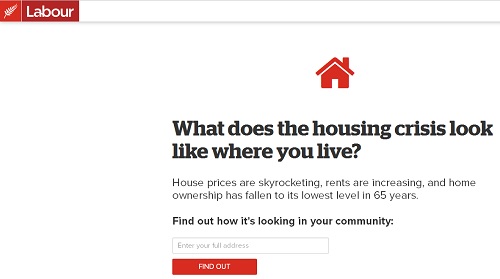 More than 98% of the country is afflicted by a "housing crisis" according to the Labour Party, while the Government says Labour's evidence for such a claim is 'riddled with errors'.
Labour leader Andrew Little has released a new interactive housing map that people can look up to see just how the "crisis" is affecting their neighbourhood.
"Housing pressures have seen house prices rise faster than wages in all but four areas of the country: the Grey District, Masterton, Westland and Wairoa. These four areas make up 1.25% of our population.
"The housing crisis is making life tougher for most New Zealanders. Skyrocketing house prices are locking a generation out of the Kiwi dream of homeownership and pushing rents up so high, families are being forced to live in cars and garages," Little says.
Building and Housing Minister Nick Smith says the new Labour website showed how "desperate" the opposition had become to overstate New Zealand's housing challenges.

"The claim that 98% of New Zealand has a housing crisis because house price increases have exceeded wage increases is not credible.
"This definition would mean almost every region of New Zealand was in crisis for all of Labour's nine years in government, during which house prices rose 102% and wages 44%," Smith said.
The Information in the Labour map includes: rises in house prices, changes in homeownership rates, rent increases and the length of state housing waiting lists.
Labour says it's drawn the information from the following sources:
"The map highlights how dramatically National's housing crisis is exacerbating inequality. The highest homeownership rate in the country is in Waimakariri at 80%, compared to just 39%," Little says.
"Unsurprisingly the highest average house price – a staggering $1.4 million – is found in Auckland's eastern suburbs. In comparison in Kawerau it is $131,000."
Little says the shortage of houses in Auckland is now affecting other areas.
"In South West Hamilton house prices rose 29.8% in the past year – the fastest in New Zealand. The fastest rent increases were in the Bay of Plenty where they rose 9.5% in the year to March.
"Behind all these figures are families who are paying more and more for a roof over their heads, leaving less and less for food and other essentials for themselves and their kids."
'Riddled with errors'
Nick Smith says Labour's website is "riddled with errors and misinformation", with the homeownership rates differing from those provided at the last Census.
"It claims 82% of homes in Christchurch are rented – but that is the figure for the CBD. In fact, for the city as a whole, 65% per cent of homes are owner occupied.

"Another error is around incomes; it claims Wellington incomes have dropped in the past year, whereas the latest quarterly employment survey shows wages have increased. The data on rents is also incorrect, with the latest Auckland data rents up 4.1% Labour claims it's 5.2%".

Smith says the information is about is reliable as that used to supposedly identify Chinese buyers in Auckland - "based on the sound of their names".

'Biased data'
"If people want reliable information on New Zealand's housing sector they should look to the independent information provided by Statistics New Zealand and other independent agencies, and not biased data cooked up to serve Labour's political purposes."
Little says "only Labour" has a comprehensive plan to address the "housing crisis".
"We will build 100,000 affordable homes, crack down on offshore speculators and provide the social and emergency housing our country so badly needs," Little says.