Steven Joyce says the risks facing the NZ economy are 'almost exclusively international', while Roger Kerr and Anthony Healy only see household debt as a 'medium term' issue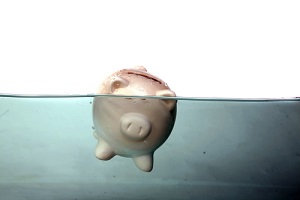 'Move along, there's nothing to see here' appears to be the attitude of some of the country's finance bigwigs, when asked about New Zealand's high level of household debt.
Housing debt hit a record $231 billion in December, while consumer credit hit $16 billion. Together, total household debt is up 8.7% year-on-year.
While debt grew at faster rates during the housing boom 10 years ago, the value of the debt was about a third lower than it is now.
Yet delivering his first speech as Finance Minister on Thursday, Steven Joyce didn't acknowledge this as a risk threatening the economy.  
"Both the Reserve Bank and Treasury have highlighted that unusually, the current risks to New Zealand's continued economic expansion are almost exclusively international," he said, before proceeding to affirm New Zealand's commitment to free trade despite US President Donald Trump's push for protectionism.
Roger Kerr: 'I wouldn't overrate that as a big risk'
Asked during a panel discussion at PwC's CEO Survey breakfast on Friday whether he saw high household debt as a threat to the New Zealand economy, PwC partner Roger Kerr said: "In Australia, as well as New Zealand, if interest rates went up one or two percent, there might be a bit of an issue.
"The Reserve Bank is concerned about that and is doing good reporting and having good interaction with the banks about that."
He said the pinch would really be felt if asset values came down at the same time as interest rates rose.
While the Official Cash Rate is expected to remain on hold for the year, banks have started hiking their mortgage rates, largely due to increased funding costs.
House prices have also been cooling off - the national median selling price falling to $490,000 in January from $516,000 in December and its peak of $520,000 in November last year, according to the Real Estate Institute of New Zealand. In Auckland, the median price declined to $805,000 from $840,000 in December and $851,944 in November.
While fewer people are expecting house prices to keep rising, the majority believe they'll continue trending up, according to ASB's latest Housing Confidence Survey. It found only 10% of survey respondents expect prices to fall in the next year. 
Kerr said: "I wouldn't overrate that as a big risk to the New Zealand [economy] right now. I don't think short term interest rates will go up for another year, or year and a half. Let's hope the housing market has a soft landing, not a hard landing."
Anthony Healy: It's a 'medium-term' issue
BNZ CEO Anthony Healy then went on to say: "Interest rates go up and go down. Asset prices go up and go down. So at some point, we're going to face more challenging times around interest rates and asset values."
With a house price to income ratio of 10:1, Healy acknowledged the unaffordability of housing in Auckland is up there with London, Sydney and Melbourne.  
"I have enormous sympathy for the Reserve Bank Governor, because everyone blames him for it. There are about 15 tools or levers that drive this issue, and one of them is the Reserve Bank's role.
"I think they've done a reasonable job on the macro-prudential tools... They got laughed at by other central banks and now other central banks all over the world are trying to apply macro-prudential tools.
"You don't want too many, because you'll end up with unintended consequences, but I think they've done a reasonable job with that."
Healy said housing affordability was a complex problem involving a number of factors.  
"Interest rates is one of the issues, and there's a risk there, but I agree with Roger that it's probably not a short-term risk, it's a medium-term issue."
New mortgage lending still increasing
Having a closer look at RBNZ figures, homeowners took on $5.9 billion of new mortgage debt in December. This is down from when it peaked at $7.3 billion in May, but the amount of new mortgage debt taken on every month has generally hovered at around $6 billion over the past year.
Taking the number of borrowers into the equation, the amount of mortgage debt accrued by the average borrower has been trending upward in recent years.
As shown in the graph below, the average mortgage taken out by 26,245 borrowers in December was $223,090.
At $383,231, average first home buyers took on 72% more debt than the average mortgage holder across all borrower types in December.
Meanwhile at $344,488, the average investor took on 54% more debt than the average mortgage holder across all borrower types.
Wide funding gap taking a turn
Comparing how much debt (housing and consumer) households are racking up with their banks, with the amount they're saving, the difference shot up from mid-2015, nearly to levels hit in the 2007 housing boom.
However at $78 billion in December, the funding gap has started to make a turn and begin closing.   
ANZ economists last month commented on this funding gap, saying: "We noted extensively over the latter part of 2016 that the large gap between bank deposit and credit growth was unsustainable, and that without a further ramping up of banks' offshore borrowing (which would not be desirable from a financial stability perspective), higher deposit rates and increased credit rationing would result. We are now clearly seeing that.
"And while RBNZ data from November showed the gap between credit and deposit growth has now started to narrow, it is still wide. That flags more pressure on retail interest rates to rise to a) attract more deposits and b) slow lending."