ANZ economists see house prices being capped by affordability constraints and new Government measures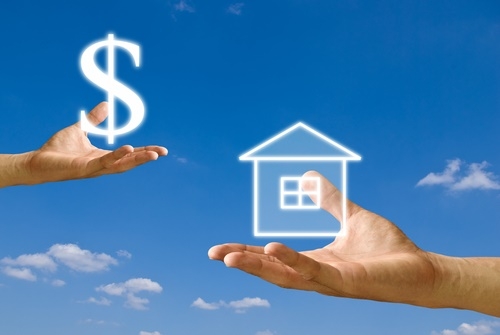 ANZ economists don't believe the recent uptick in house prices will result in a full-blown resurgence, and think that prices will be capped to a degree by affordability constraints and various measures proposed by the new Government.
In their weekly Market Focus publication the economists reiterate their earlier view that a number of opposing forces are likely to see house prices effectively stay 'on ice' for the foreseeable future.
"All else being equal, we expect this to be a headwind for consumption growth going forward, although perhaps to a lesser extent than history would suggest, given that the softer housing market has not been driven by a turn in the interest rate cycle, but rather by a more restrictive credit landscape, including macro-prudential policy.
"Nevertheless, with the household saving rate having deteriorated over recent years (to an unsustainable level in our view), weaker house price performance is expected to see households look to rebuild precautionary saving, and this will be a headwind for overall activity growth," the economists say.
In noting that the housing market has "staged somewhat of a comeback of late, with turnover and house prices accelerating again", they say that this "bounce" has been large enough that it will reinforce in the minds of Reserve Bank officials that it was right to take a cautious approach when it comes to rolling back LVR restrictions [with a part-lifting of them in January].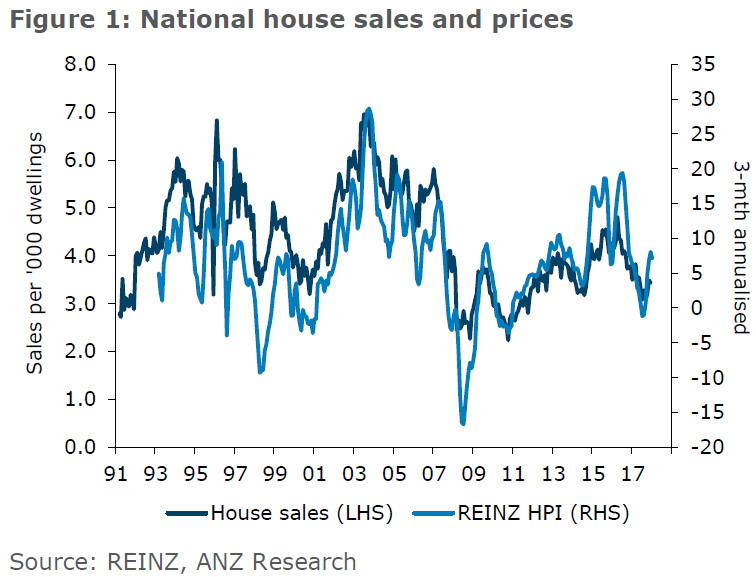 "In fact, we believe a further softening in those restrictions is unlikely in the near term." 
The economists say the housing market is still a long way off its "lofty heights" of 2016.
"Despite the recent bounce, sales volumes in January were still 12% below the 2016 monthly average. In three-month annualised terms, national house prices are currently growing at 7.2%. At the height of market strength in mid-2016, that pace was 20%. And at 37 days, the median number of days to sell is up significantly from around 30 days in February 2016.
"Importantly, we don't see this recent bounce turning into a full-blown resurgence; our overall views on the market have not changed as a number of factors balance out.
"The topside should be capped to a degree by affordability constraints and the measures proposed by the new Government (banning of non-resident buyers, extension of the bright line capital gains test, and possible other tax changes). At the very minimum, we suspect this will keep sentiment contained and ensure investors are not the driving force they were when the market was at its lofty heights over 2016."
The economists do note, however, that there remain "supportive forces" too.
One of these is that a little more competition in the mortgage market has surfaced as banks' funding pressures have eased.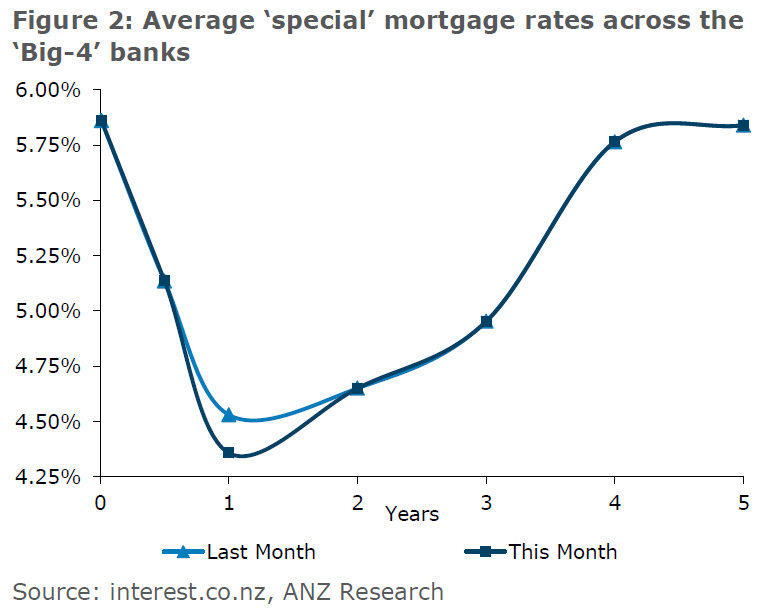 "Short-term fixed mortgage rates have fallen a little over the past month, which perhaps could also be a sign that banks' appetite to lend is increasing too (i.e. both a volume and price story). That will provide some support to the market (and probably already is doing so)."
The economists say one of the "conundrums" of recent years was the apparent relative softness in household consumption growth.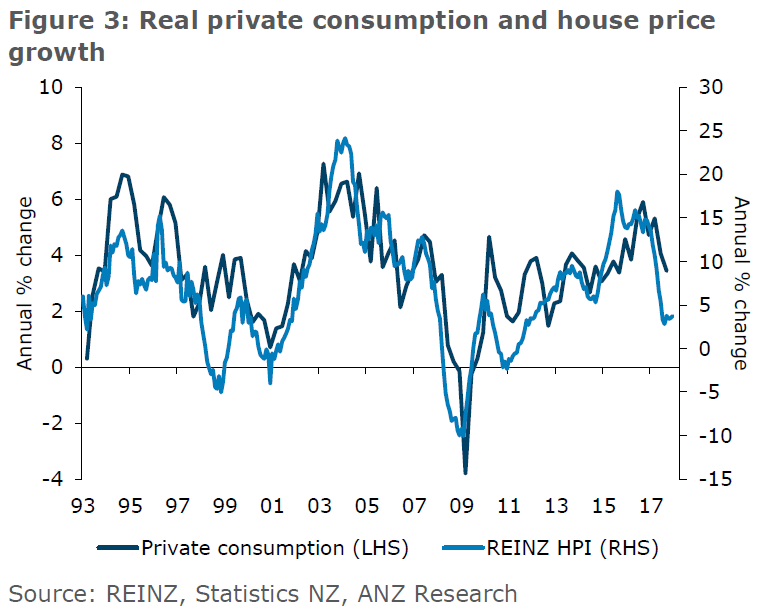 "Now don't get us wrong, consumption was reported to be growing at a decent pace overall, supported by reasonable income growth, low interest rates and strong population growth. It just was not growing as strongly as one would have expected given the strength in house price inflation. It appeared that households were showing far more spending restraint than had been seen in the past, which, at the time, was one of the reasons proposed for why the current account deficit had remained contained and domestic inflation pressures had not risen to the extent expected. Prudence was the new black.
"However, the revisions to GDP changed that story. Real consumption is now reported to have grown at close to a 6% y/y pace in Q3 2016, which is right around the time when the housing market was humming. It was the strongest growth since 2005. The household saving rate is now shown to have deteriorated more than initially thought, to be currently sitting around -3% of disposable income. So much for that household restraint! 
"All else equal then, if the traditional relationship between the housing market and consumption is alive and well, one must conclude that the slowdown in house price inflation will be a real headwind for spending growth. In fact, real household consumption growth has already close to halved from the 6% pace seen in 2016, and perhaps has further to go." 
However, the economists say there is a complicating factor.
"...Whereas the housing cycle historically has often been arrested by higher interest rates, this time around the cooling has been driven more by macro-prudential policy and arguably more restrictive credit conditions."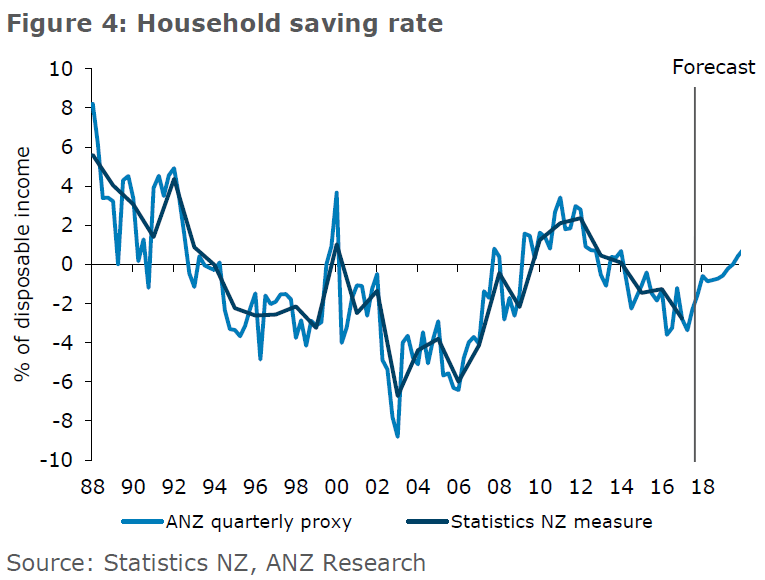 The economists go on to question whether this means that the observed tight relationship between spending and house price growth is actually just a correlation, a reflection that both variables are impacted by a third influence (interest rates)? Or does the house price cycle influence consumption directly through its impact on household balance sheet strength?
"We suspect it's a bit of both. Perhaps the fact that interest rates remain historically low – and are expected to remain that way (short-term rates, at least) – means that consumption growth won't follow the pace of house price growth down to the extent that has been seen in the past.
"After all, mortgage serviceability is at about historically average levels, despite record-high levels of debt.
"However, we still believe there will be some impact, especially as we don't deem the deterioration in the household saving rate to be sustainable.
"At a time when the asset side of the household balance sheet (housing) is not performing as strongly as it was, we suspect households will look to rebuild precautionary saving, getting their net equity up, and debt-to-income ratios down (or at least no higher) the hard way.
"All else equal, that will be a headwind for consumption growth, and hence GDP growth more broadly."