ANZ economists say the cost of building a new house has become more attractive relative to the cost of buying an existing one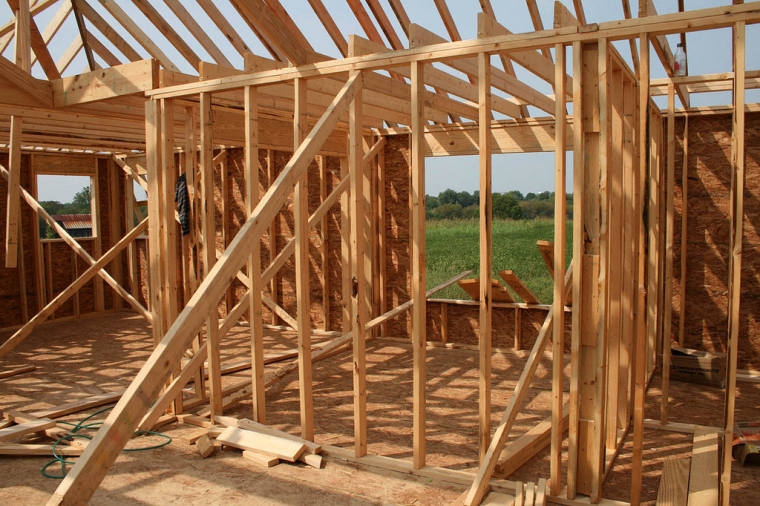 ANZ economists say that despite rising construction and land costs, the high existing house prices in New Zealand have made building a house more attractive relative to buying an existing one.
In the bank's latest Property Focus publication, chief economist Sharon Zollner, senior economist Liz Kendall and senior macro strategist Philip Borkin say the cost of building (based on the cost of a section and a new dwelling) can be compared with the cost of an existing house through a measure known as "Tobin's Q for housing".
"Building tends to increase when the cost of a new build becomes cheaper relative to buying an existing dwelling," they say.
"Prices for existing houses have increased 50% since the start of 2012, whereas we estimate that the cost of a new dwelling (including land and construction) has increased 30% over the same period.
"The location and composition of new versus existing housing can differ, of course, but this comparison gives a general indication of how relative costs have evolved.
"Building has become more attractive relative to buying and consents have risen accordingly."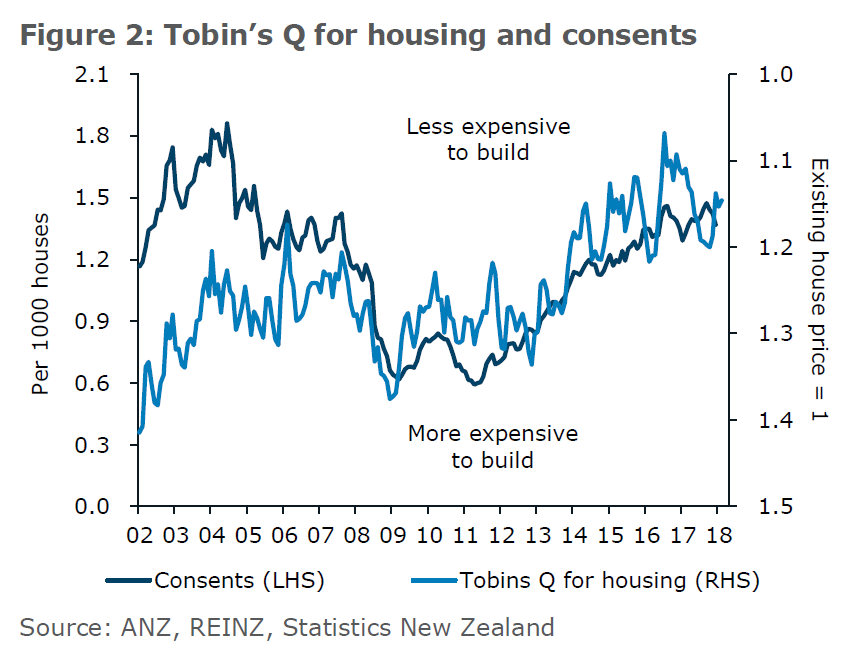 The economists say, however, that cost increases, uncertainty and credit constraints are squeezing profits and limiting the degree to which the building industry can increase activity further.
"While activity levels are high, construction firms bear some of the burden of increasing cost pressures. In some cases, cost increases cannot be passed on to customers because contracts have already been negotiated. Unexpected cost increases or delays can squeeze profits and make the outlook uncertain, making it more difficult for firms to bear risks and make financing decisions."
They say also that banks are not necessarily willing to fund all projects, partly because of this uncertainty.
"Bank credit is thus a constraint for some, and due to the demise of the finance company sector, non-bank financing is not available to the extent it was last cycle. So although firms are very busy, profitability in the sector is strained, with firms struggling to pass on higher costs in a timely fashion."
In terms of the new Government's Kiwibuild programme, the ANZ economists say that the target of supplying 100,000 affordable homes is "ambitious".
"Increasing supply is good for affordability, but doing so will be difficult in practice.
"The issue is that the Government is competing with the private sector for resources, with demand and construction costs high.
"The construction industry is under significant capacity pressure already. Without significant efficiency and cost improvements, Government involvement may increase costs further, and thereby crowd out private sector investment, potentially implying only a small net impact on supply.
"In its November 2017 Monetary Policy Statement, the [Reserve Bank] assumed that the KiwiBuild initiative would crowd out 50,000 houses that would otherwise have been built, meaning a net gain of only 50,000 homes, even if targets are reached. Ensuring that sufficient labour is available (through migration and training) will be crucial for demand to be met."
The economists also say that building "affordable" houses will be difficult, given elevated costs.
"Given the current costs of land and construction in Auckland, it is difficult to deliver new housing for less than $900,000 – the price of the median house.
"The cost of construction (not including land) was $2,100/m2 on average for new dwellings consented in February.
"But even if the Government's targets are met, the houses will still be unaffordable for many, with $600,000 just under 6 times the average income in Auckland.
"Compared with a median price of $900,000, this is certainly an improvement. With a 20% deposit, this equates to 33% of disposable income going to mortgage payments, rather than 50%. But $600,000 is ambitious, given high costs and strong demand. Tweaks such as multi-level "walk-ups" (no lifts) and cutting out car parks will help at the margin but aren't a game-changer."
And the economists say that while 100,000 homes is ambitious, it isn't actually going to solve the housing shortage.
"Demand has outpaced new supply for a number of years, leading to a significant shortfall. And population growth remains strong.
"New Zealand's population is estimated to have increased by 100,000 people over the year to December 2017 to reach 4.8 million people.
"Ironically, the promise of these houses may have had a dampening impact on housing demand and hence prices already – why buy a $900,000 house today if a $600,000 option will be available in a year or two?
"Ultimately, though, we suspect any direct effect on house prices of the KiwiBuild initiative will be small. (But as is often the case in economics, we will never have the counterfactual to be sure.)"
The economists do, however, cite some potential positive spin-off's from the Government's initiatives, namely:
Sharing the financial burden: The Government's books are in a solid shape and the Crown can borrow more cheaply than corporates, so government financing of projects may ease that constraint by sharing risk.
Procurement: Government procurement could help reduce construction costs, though competition for labour resources will work in the opposite direction.
Productivity: Use of prefabricated housing and modular units at scale could provide the productivity kicker that the residential construction sector so desperately needs (if it is consistent with buyers' preferences).
Streamlining consents: Initiatives to review council regulations and streamline consent processes would be useful for reducing costs and delays, but only if they are widespread.
Land supply: Freeing up land for new building (or loosening land use restrictions) is the most important step the Government can make towards improving housing affordability.
"But it's like the old joke when you ask the local for directions: 'Well son, I wouldn't start from here.' Auckland is faced with a housing shortage that was years in the making, and it won't be turned around overnight.
"In addition, exceptionally high house prices, particularly in Auckland, have become embedded in the financial system, something the Reserve Bank has been talking about in a financial stability context for years."
The economists say that increasing land supply is crucial in the face of strong demand.
"High house prices have been driven significantly by rising land values, with effective land supply relatively unresponsive to changes in demand. Increasing land supply is therefore crucial to making houses more affordable, in the face of strong population pressures.
"Estimates suggest that "In Auckland, land use regulation could be responsible for up to 56% or $530,000 of the cost of an average home". This issue is not confined to the Auckland market, though. Land use regulation could be responsible for up to 48% of the cost of an average home in Wellington, 39% in Queenstown, and 32% in Christchurch."
Looking to the immediate future the economists believe that housing demand is expected to remain solid, "but constraints are at play".
"We expect residential building activity will remain at high levels. Underlying demand remains strong, with a significant number of houses needed to keep pace with demand. Regional housing markets are playing catch up, filling the gap as rebuild-related activity in Canterbury continues to wane. The Canterbury market is expected to slow further going forward. The Government initiatives described above will also contribute to demand, while inevitably causing a degree of crowding out of private sector activity."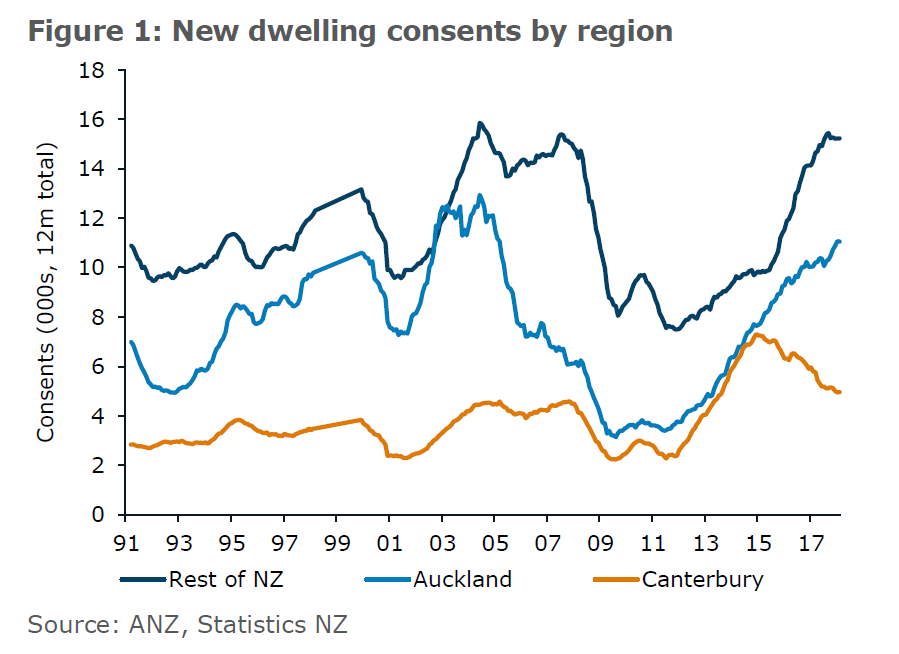 The construction industry more broadly is closely connected to economic activity, the economists say. Construction industry activity (which includes residential and non-residential investment along with other construction) is quite 'cyclical': it tends to pick up considerably when economic activity is strong and pare back a lot in downturns.
"Construction industry activity is currently elevated as a share of total economic activity – and we expect this will continue for some time yet, with GDP continuing to grow at about-trend pace. It's not just the outlook for residential building supporting this solid outlook for construction; demand for commercial property is also expected to hold up. Commercial and residential construction firms compete to some extent for workers (but perhaps not as much as one might expect).
The economists say, however that we are now arguably reaching a more difficult phase in the construction cycle.
"Activity levels are high, but we expect continued upward pressure on costs at a time when house prices are no longer increasing significantly – meaning cost miscalculations won't come out in the wash. Cost pressures and delays could squeeze profits and put cash-flow pressure on firms in the industry.
"Current high levels of construction activity may also be allowing less competitive companies to stay in business, so the industry will need to adjust if growth softens. And if construction activity were to slow significantly, such firms could face difficulty."
The outlook though is solid, with demand expected to remain supportive.
"But pockets of pressure could emerge, particularly if house prices were to start to turn south. Given such pronounced housing shortages in Auckland, that is not our expectation. But nor can it be ruled out. House prices could start to fall if household debt serviceability were to take a hit, either due to reduced job security or interest rate rises.
"For now though, it's all hands on deck."