Fonterra says global dairy prices have not increased as expected; current season milk price forecast dropped to $4.40 from $4.50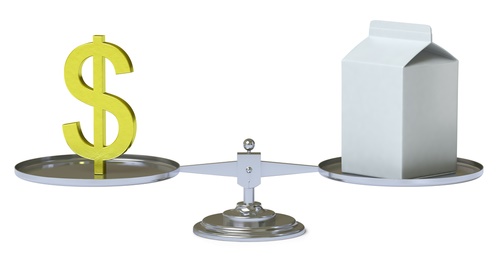 By David Hargreaves
Dairy giant Fonterra's announced an opening milk price forecast for the new season at the low end of market estimates - $5.25, and unleashed an unpleasant surprise by dropping the current season price yet again to $4.40 from $4.50.
Market estimates for the new season price had ranged from as little as $5 to a more commonly expected $5.60-$5.70. The further drop in the current season price had not been widely expected.
The advance rate to farmers for the new season will be $3.66.
Fonterra's farmers, through the Fonterra Shareholders' Council, expressed a desire to put the current season behind them and move on to the next. "The number remains a disappointing one," shareholders' council chairman Ian Brown said.
In terms of the current season, along with Fonterra's previously announced forecast dividend range of 20-30 cents per share, the change amounts to a forecast cash payout of $4.60 - $4.70 that would be paid to a fully shared-up farmer. Last year the total payout was $8.50.
Labour's finance spokesperson Grant Robertson said the "dramatic" milk price forecasts made for a "$13 billion two-year economic black hole".
"The big black hole in the Government's budget was a plan to diversify the economy so New Zealand is not so reliant on commodity traders," he said.
"...New Zealand needs a modern, diverse economy that creates well-paying jobs across all industries. This Government's neglect is creating financial risks to New Zealand."
The Kiwi dollar rose slightly after the announcement - up about a quarter of a cent to US72.7c - which Westpac senior economist Michael Gordon said suggested that "the market was braced for the possibility of something even weaker".
Westpac's retaining a forecast for the milk price to end the season at $5,70/kg, although "the risks lie to the downside".
'Distinctly below average'
"The 2015/16 season is shaping up to be a distinctly below-average one, following a very weak 2014/15 season. Dairy farmers will need to budget cautiously over the next year regardless of where the final milk price ends up," Gordon said.
Fonterra chairman John Wilson said the revised forecast for the current season reflected the reality that global commodity prices had not increased as expected.
"World markets are over-supplied with dairy commodities after farmers globally increased production in response to the very good prices paid 12-18 months ago. This supply imbalance has heightened due to continuing good growing conditions in most dairy producing regions.
"This is a tough season and we will continue to keep our farmers informed as the season draws to a close given the current volatility."
Wilson said the further reduction in forecast price for the current season would mean a further revision to the Advance Rate Schedule of monthly payments to farmers.
In terms of the forecast price of $5.25 for the coming season, Wilson said it was based on Fonterra's best view of long-term global dairy supply and demand.
'Expecting recovery'
"We can expect prices to recover going forward, and to see a rebalancing of supply and demand over the season. However it is more difficult this early in the season to determine exactly when this recovery will lead to a sustained price improvement,"  Wilson said
Fonterra chief executive Theo Spierings said the long-term fundamentals of global dairy demand were strong.
"Our forecast for the new season takes into account a range of factors including global milk production forecasts, the economic outlook of major dairy importers, current inventory levels and geopolitical events.
"Given the season we are coming out of, we are absolutely focused on improving farmer returns and driving the co-operative's performance."
The shareholders' council's Brown said farmers would view next season's forecast as "as a positive given the situation we have experienced this past season".
"They will also see the announcement as a signal from their board that the market should start to move in a positive direction in the near future, which is welcome news.
"However, all Farmers are by now very well-versed in the realities of volatility in our industry and this needs to be front of mind for them as they work through their budgets."
Expecting 'timely' communication
Brown said that while acknowledging this volatility, farmers would be expecting Fonterra to communicate any significant price fluctuations that occur throughout the coming season "in a transparent and timely manner".
In the recent past Fonterra's opening forecast for the season has not proven to be a particularly close guide as to the final price. Much can happen, good and bad, during the season with global prices - and much of this cannot be forecast.
In fact in the past two years Fonterra opened with a $7 forecast. In 2013 the forecast ultimately led on to a much higher final price of $8.40 for the 2013-14 season, while for the current season the surprises have all been on the downside, with a final price of $4.40 expected.
Global dairy prices dropped again last week, with prices down 2.2%, the fifth consecutive fall and taking prices to their lowest level since mid-2009 - though there was some sign prices were stabilising.
RBNZ warnings
The Reserve Bank has warned that financial stress in the dairy sector "could rise markedly" if prices remain at low levels in the 2015-16 season. The RBNZ estimated in its six-monthly Financial Stability Report released earlier in the month that despite many farms being in a position to manage down working expenses, around one-quarter of dairy farms are believed to have negative cash flow for the 2014-15 season.
"The sector's vulnerability to reduced incomes is increased by elevated indebtedness, despite moderate growth in borrowing since 2009."
The central bank said that approximately 30% of the dairy debt was concentrated among the most indebted 10% of farms. "Indebted farms are particularly vulnerable to a period of reduced cash flow."
Fonterra had only recently dropped its forecast milk price for farmers in the current season to $4.50 per kilogram of milk solids from a previous pick of $4.70. Including dividends.
Based on final payout estimates, this suggests a drop in earnings this year of about $6 billion for Fonterra farmers alone and about $7 billion for the dairy farming sector.