Fonterra says earnings per share this season may be in the 50c to 60c range, up from 45c to 55c in the past season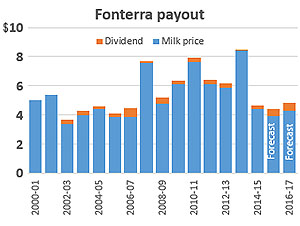 By David Hargreaves
Fonterra has kept its forecast for the milk price to farmers this season unchanged at $4.25, but is picking an improved earnings per share range of 50c to 60c, up from 45c to 55c.
This means if the top of that EPS range was achieved, the payout  - as things stand - could be $4.85, up from $4.30 in the past season, but still well shy of the breakeven point for many farmers.
A 3% reduction in milk collection for this season is forecast.
ANZ agri econonmist Con Williams in a commentary on the Fonterra update, said while there was still plenty of water to flow under the bridge the current milk price is only around $3.90/kg MS – "so some decline in the NZD/USD and improvement in international prices is required to achieve this forecast".
Fonterra separately also announced changes to its farmgate milk price manual.
The main change there as outlined in a reasons paper and the new draft manual is that Fonterra will now include the revenue from spot sales of commodity whole and skim milk powders and anhydrous milk fat in its Farmgate Milk Price calculation. This change will be incorporated into the 2016/2017 season Milk Price. Spot sales are referenced to GDT and are direct-to-customer sales in the global commodities market of products with the same specifications as those sold on GDT.
Fonterra said the estimated impact of the change on the farmgate milk price for the 2016/17 season amounted to an increase of 4c to 5c per kilogram of milk solids, based on analysis of the change over the past four years.
Fonterra made its current price forecast on May 26, at which time it also re-affirmed an expected price of just $3.90 for the recently completed season. Farmers are looking at their third consecutive season of potentially below break-even prices. See here for the full dairy payout history. 
In the updated milk price statement today, Fonterra chairman John Wilson said the co-operative was aware "how tough the situation on the farm" remained.
"We are focused on delivering as much cash as possible to our farmers by bringing payments forward while maintaining a strong balance sheet," he said.
"This forecast is our best estimate at this early stage of the season. We will continue to update our farmers as we move through the season."
Wilson said the $4.25 milk price forecast reflected the continuing global uncertainty and the high NZD/USD exchange rate, "which continues to impact the competitiveness of New Zealand dairy exports".
The recent weakening of the Euro currency, combined with the continued strength of the New Zealand dollar, had meant a price advantage for European export dairy products.
"We expect global milk supply and demand to come into balance over the course of this season.
"Farmers globally are producing less milk in response to lower prices and we are forecasting a 3% reduction in our New Zealand milk collection for this season."
Fonterra chief executive Theo Spierings said the returns from the ingredients, consumer and foodservice businesses continued to grow in-line with Fonterra's business strategy to convert more milk into higher returning products.
"We are seeing the benefits of our investments in manufacturing over recent years. We now have more flexibility to make the right products at the least cost, delivering better returns for our farmers' milk.
"Our good progress in continuing to increase value through our consumer and foodservice businesses, particularly in important markets such as China, Malaysia, Indonesia, Sri Lanka, Oceania and Latin America, is reflected in the lift in the earnings per share forecast.
"Constantly improving the performance of our business is an absolute priority and puts us in a strong position to create more value for our farmers. We are generating significant improvements and cash benefits through our ongoing business transformation that contribute to both our Farmgate Milk Price and our earnings," Spierings said.