Further falls in the global price of dairy products indicate its now more when than if Fonterra reduces its forecast milk price below the current $6.75; Westpac has dropped its forecast to $6.25 from $6.50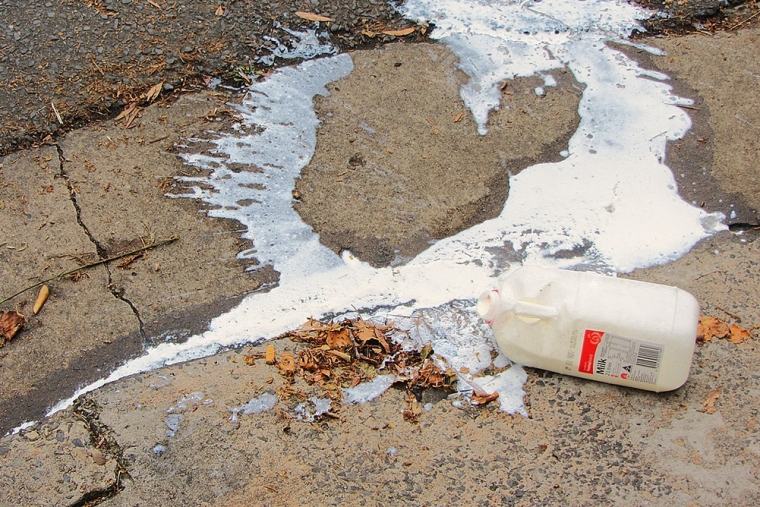 By David Hargreaves
Fonterra's increasingly looking out on a limb with its current farmgate milk price of $6.75 per kilogram of milk solids - as global dairy prices continue to slide.
Overall prices dropped 1.3%  and the key Whole Milk Powder price slipped 1.8% in the GlobalDairyTrade auction early on Wednesday.
This was enough for Westpac economists - who were already below Fonterra with their milk price pick - to drop their forecast price to $6.25.
Fonterra started the season with a $7 milk price, which appeared optimistic  to economists when Fonterra first made it. Since then global prices have kept slipping and slipping.
It was therefore something of a surprise that when Fonterra reviewed its forecast last month, it dropped it only to $6.75 and not the $6.50 most economists were suggesting looked more on the money.
Any further reduction by Fonterra in the price may well be more politically loaded than usual, given the trials and tribulations the co-operative is experiencing, with a loss of $196 million reported last week and with various aspects of the business officially up for review, including the disastrous investment in China's Beingmate Baby and Child Food Co.
Westpac senior economist Anne Boniface said while the Westpac economists had long been factoring softer dairy prices into their outlook, "prices have slid further than we had been expecting in recent weeks".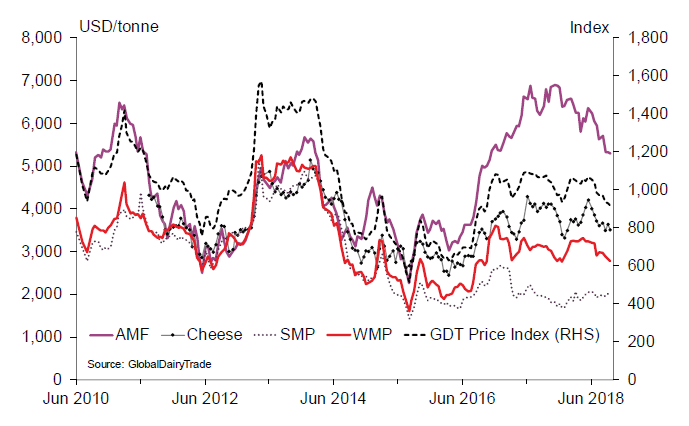 "And with farmers pleased with pasture conditions in many parts of the country, at this stage prospects for NZ milk supply appear favourable. This may be one factor behind Fonterra's 3% lift in the forecast volume of product it expects to offer on the GlobalDairyTrade platform over the next 12 months (driven by a lift in forecast whole milk powder supply).
"Consequently, we have lowered our milk price forecast to $6.25 (previously $6.50).
"As we noted last week, we continue to view Fonterra's $6.75 forecast as too optimistic," Boniface said.
ASB senior rural economist Nathan Penny said in annual change terms, overall dairy prices have fallen 14.8%.
"Moreover, overall prices are now at their lowest since October 2016 in USD terms."
However, he said in NZ dollar terms (given the recent weakness of our currency) the annual fall is much more modest 3.7%.
"In the short-term, we expect dairy prices to remain soft."
Penny noted that New Zealand is approaching its seasonal peak in production in October and in line with this peak auction volumes are also increasing.
"This additional auction product will keep the downward pressure on prices."
Looking over the rest of the season, broader NZ production trends will be a key factor for prices, he said and he anticipated NZ production growth of 2% for this season compared to last.
"Production growth in excess of this level would likely lead to additional price weakness and vice versa. Implications
"For now, we stick with our 2018/19 milk price forecast of $6.50/kg, but continue to note the downside risks."