Finance Minister Grant Robertson urges banks to keep lending to even their more 'challenging' dairy farming customers, noting banks are best-placed to support businesses' cash flow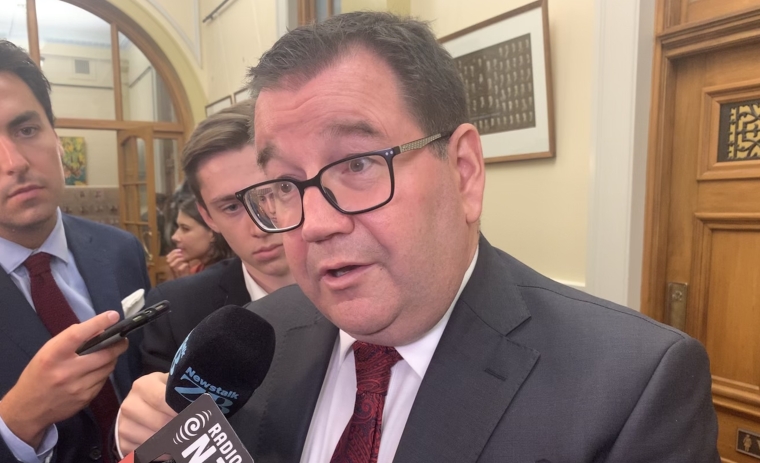 Finance Minister Grant Robertson is subtlety urging banks to keep their doors open to borrowers as the impacts of coronavirus get worse.
"The thing I want to guard against is banks using this [coronavirus] as an opportunity to deal with bits of their loan book that they're finding challenging," Robertson told TVNZ's Q+A programme on Sunday.  
"I don't think any New Zealand bank would do that.
"But it is important that for example, with the rural sector, which has pressure from drought as well, that actually banks are working with those farmers, working with those communities to make sure that they support them through this.
"Because at the other end, the New Zealand economy has still got strong fundamentals. Our primary sector is still producing goods people want to buy. And I just want banks and all industries - but especially that one - working together."
Banks' dairy pull-back been happening for some years 
Banks have been reducing their exposures to the dairy sector for some time, having lent up a storm in the past.
Just under 8.5% of all new banks loans written in January 2020 went to the dairy sector. This was a fall from 9.5% in January 2018, and 10.0% in January 2016.
According to Reserve Bank figures, dairy farm debt stood at $40.3 billion in January 2020, down from $41.6 billion a year earlier.
ANZ NZ's former CEO David Hisco in 2015 said that after the 2008 Global Financial Crisis, the bank's agri team worked hard to "exit people that we don't want to be with next time we get into a downturn". (ANZ is New Zealand's largest agri lender).
These charts, from the Reserve Bank's latest biannual Financial Stability Report released in November, show the reduction in credit growth and increase in non-performing dairy loans (recently largely driven by banks re-classifying loans rather than a deterioration in underlying loan performance):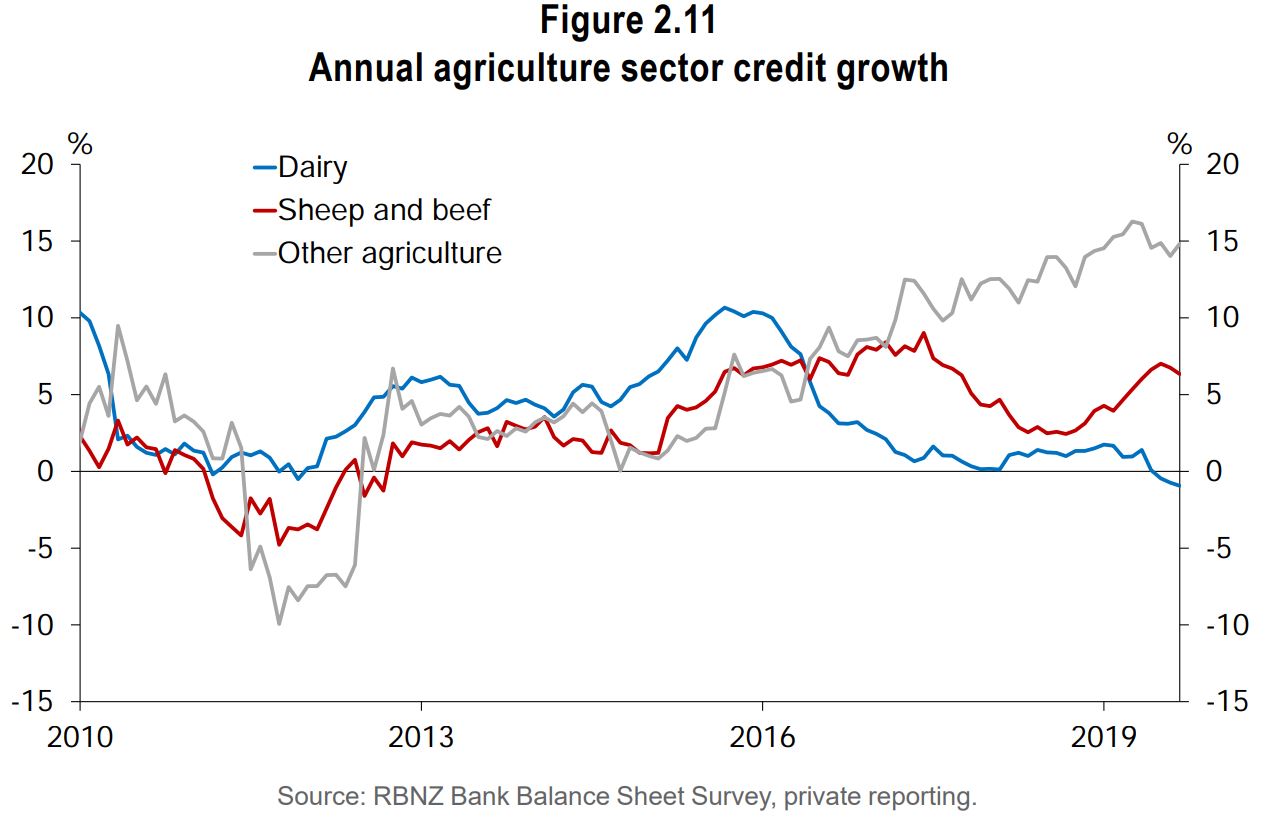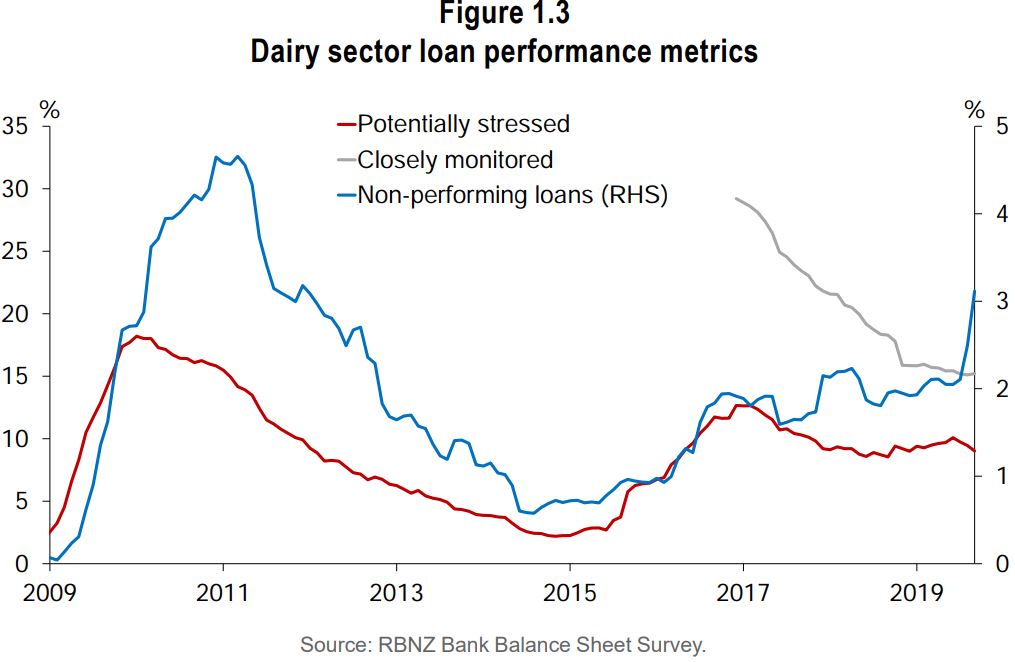 Ardern: 'I think sometimes it's good to get in front of things before they might occur'
Asked by interest.co.nz on Monday whether the Government had any reason to believe banks were using coronavirus as an excuse to further reduce their exposures to the dairy sector, Ardern said: "I think it's a valid concern that we've seen an indebtedness within our agricultural sector; that we as a government are concerned about the ongoing financial wellbeing of our rural communities.
"And I think it's only right that we continue to remind the banking sector of the obligations they have to the communities that they have lent to.
"None of us would want to see any rationale, any excuse for suddenly creating a difficult situation for those farmers which I think they have obligations to."
Pressed on what was behind both her and Robertson making these comments, Ardern responded: "I think sometimes it's good to get in front of things before they might occur."
On Tuesday, interest.co.nz followed up with Robertson, who commented: "Businesses… and banks know each other well and they need to work together to make sure that they help support liquidity, support cash flow, because they're actually in the most direct and best position to do that...
"There have been some concerns raised within the rural sector more broadly that they feel that banks might crack down on them. All I was doing [on Q+A] was making the point that we don't need to do that.
"These are strong sectors. These are ones where there are good relationships between banks and their customers. And I'm just calling on banks and their customers - and indeed, employers and employees - to be talking to each other and making plans."
Dairy farmers aren't seeing a coronavirus-inspired retreat now
Neither Federated Farmers' President Katie Milne, nor Vice-President Andrew Hoggard, had seen evidence of banks using coronavirus to accelerate their pull-back from dairy.
The pressing issue for them is the drought and securing funding for feed.
Milne said the dairy sector was also more insulted from the impacts of disrupted supply chains caused by coronavirus than the meat sector for example, as milk powder can be stored.
RBNZ has warned against 'excessive risk aversion'
Robertson's call for banks not to cut off "bits of their loan book that they're finding challenging", echo comments made by the Reserve Bank pre-coronavirus.
It said in November: "The current profile of dairy debt reflects a degree of poor decision-making by borrowers and lenders, but it is important that banks are not overly cautious when implementing new lending policies.
"Lending always entails a degree of risk but excessive risk aversion by financial institutions when risks crystallise can introduce unnecessary pro-cyclicality into the system, and despite the challenges in the sector, most operations will continue to be viable investments unless payouts decrease significantly."
Interest.co.nz contributor, Keith Woodford, recently pointed out dairy farm values are in decline. He said "banks are now trying to figure out how they can get out of the mess they themselves helped to create. In the meantime, the banks are raising their interest margins on existing loans to compensate for the perceived increase in risk."
Woodford, formerly Professor of Farm Management and Agribusiness at Lincoln University, also argued many dairy farmers' financial positions are highly insecure.
While Fonterra forecasts it will pay farmers between $7 and $7.60 per kilogram of milk solids this season, economists have trimmed their forecasts due to coronavirus and the domestic drought.
Banks acknowledge ways they can help 
New Zealand banks are stronger now than they were at the time of the 2008 Global Financial Crisis, as regulators are making them hold more capital and they've become less reliant on short-term offshore wholesale funding.
The New Zealand Bankers' Association is urging those affected by coronavirus to talk to their banks. It said banks could help by:
Reducing or suspending principal payments on loans and temporarily moving to interest-only repayments
Helping with restructuring business loans
Consolidating loans to help make repayments more manageable
Providing access to short-term funding
Referring individual customers to budgeting services.