ASB economists say the Reserve Bank 'sounds complacent' about the downside risks to inflation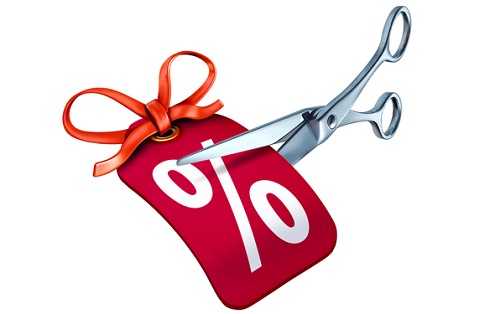 By David Hargreaves
Cuts by the Reserve Bank to the Official Cash Rate can't come soon enough for economists at the ASB.
In the bank's Economic Weekly publication, chief economist Nick Tuffley says future rate cuts [taking the OCR from the current 2.5% to a probable new record low of 2%] are a question of timing, and when the RBNZ "crosses the fence into rate-cutting territory".
"[It] would be a u-turn of the tyre-shredding sort that has the Police impounding vehicles," if the RBNZ were to cut rates at its next review this Thursday, Tuffley says.
"Not much more than a month ago the RBNZ was defending its on-hold position, including making the observation that 'some commentators see a low headline inflation number and immediately advocate interest rate cuts'," he says
"Although weak inflation expectations show the risks to the inflation outlook have since piled up on the downside, it still seems too much of a hurdle for the RBNZ to have cleared the fence already."
Tuffley says this leaves April and June as the more likely timing for the next OCR cut. He says the RBNZ's forecasts and the tone of the statement will – as usual – be key to divining just how close the RBNZ is to jumping the fence.
An April cut would appear more likely under outcomes such as: 90-day interest rate forecasts implying upwards of 50bp of future cuts; a high degree of concern over falling inflation expectations, or; phrasing such as "it is likely further policy stimulus will be necessary", he says.
Signs that the RBNZ's position is shifting only gradually would still leave June being more likely. "But April [28] will remain firmly live given the next CPI release will be out [on April 18] beforehand," Tuffley says.
"We think the sooner the RBNZ cuts the better. What has primarily held us back from predicting an earlier move than June has been how entrenched the RBNZ's position has been in its public utterances this year to date.
"The RBNZ is heavily emphasising the flexibility of the inflation target and sounds complacent about the downside risks," Tuffley says.
"What troubles us is the ongoing risk that inflation remains more muted than expected. And, with inflation expectations hitting record lows in some measures, there is the growing risk that monetary policy becomes less effective in boosting inflation back to a more comfortable pace nearer 2%."
ANZ economists: 'A hat tip to the risks'
ANZ economists, who did their own u-turn last week to now expect further rate cuts this year, say in their weekly Market Focus that the RBNZ will on Thursday "give a hat tip to the risk profile and likely open the door further to the possibility of future interest rate cuts".
"But we doubt cuts are yet part of its central scenario. While that may disappoint some looking for a signal of imminent easing, there should still be enough in the language tweaks, scenarios and modestly lower bank bill profile to keep the market gunning for interest rate cuts this year."
The economists say the "right here and now" still looks pretty good for the economy, but the outlook from here "is a little darker, with risks aplenty".
"This dichotomy between the here-and-now and the outlook presents the RBNZ with something of a dilemma this week. Does it go with what it knows; that activity growth is reasonable, strong credit growth presents more financial stability risks of which to be mindful, and core inflation (albeit still below its target midpoint) has risen over recent quarters? Or does it put more weight on the far less certain outlook, growing realities of the severe challenges facing dairying, the high NZD, darker clouds on the global horizon and the fact that measures of inflation expectations have fallen?
"We suspect the RBNZ will place a 'bob each way'. We don't yet see additional interest rate cuts as being part of its central scenario; the growth story at present is strong enough to augur inflation eventually making its way back to the midpoint. But there will be enough in the language and scenarios to keep the market attuned to a reasonable probability of the OCR moving lower."
Westpac sees 'dovish rhetoric'
Westpac economists, who were the first of the big bank economists to pick more rate cuts this year, say in their Weekly Commentary, that while the RBNZ will not cut rates this week, "we expect that their rhetoric will become even more dovish. In addition, the accompanying interest rate forecasts are likely to be revised down, consistent with rate cuts over the coming year". 
They say it important to remember that it's "not just oil prices" that are pulling down inflation.
"In fact, even excluding petrol prices, inflation has been below 1% for most of the past year. In part, this weakness in inflation is because the New Zealand dollar has lingered at higher than expected levels, and has not provided the helping hand in generating inflation that was expected. Domestic factors, such as increased price competition in the retail sector, have also dampened inflation.
On top of this, the extended period of low inflation in New Zealand in recent years has put downward pressure on inflation expectations. This has been reflected in several key measures of inflation expectations, including last week's ANZBO measure of businesses' inflation expectations which dropped to a record low of 1.4%. That's a big concern for the RBNZ. Inflation expectations are a key influence on wage and price setting decisions, and their continued downshift will make generating a sustained pick-up in inflation that much harder."
The Westpac economists say developments in recent weeks have, on balance, reinforced the need for OCR cuts. But there's still a question as to when cuts will occur.
"On this front, there are couple of key concerns that the RBNZ will be conscious of.
"The first is the strength of the housing market, particularly in Auckland where earlier strong price gains have raised concerns about financial stability. The Auckland housing market has slowed sharply since October when new regulations around property investment came into force. The latest QVNZ house price figures show that prices were down another 0.3% in the 3 months to February. However, some of the heat in the market prior to October was due to investors rushing to beat the new regulations, so it's not surprising that we're seeing a post-regulation hangover now. The RBNZ will be wary of reigniting pressure in the Auckland housing market, so will want to be sure things have cooled off.
"The other consideration affecting the RBNZ's thinking is their medium-term focus. In practice, this means the RBNZ will tend to look through sharp temporary swings in inflation associated with volatile items. Instead, they typically focus on longer-term trends and how the economy could evolve over the next two to three years. With this in mind, the RBNZ has recently been drawing attention to its own model-derived estimate of core inflation, which smoothes through temporary volatility in prices. This measure has remained comfortably within the 1-3% target range. However, as we discussed in a recent report, this measure has been below 2% for several years and points to a very subdued underlying inflation environment.
"Given these concerns, we've pencilled in rate cuts in June and August of this year. By then, the RBNZ will have more detailed information on the housing market, and an additional read on headline (and core) inflation. However, given the extent of softness in inflation and broader concerns about the outlook, both this week's interest rate review and the following April decision should also be considered potential dates for OCR cuts."
BNZ's Toplis: Pressure mounts
BNZ's head of research Stephen Toplis, meanwhile, is sticking to his earlier view that the RBNZ should question whether lowering interest rates will even help achieve its inflation target anyway.
"Be that as it may, we have to concede that if the RBNZ sticks to its inflation mandate rigidly the pressure to ease is mounting significantly," he says.
"It's probably relatively easy for the Bank to look through falling inflation expectations (for the time being) but what is less easy to look through is the direct impact of the currency on nearer term CPI outcomes. After another leg up over the weekend, the [trade weighted index of currencies of major trading partners] now sits at 73.22. That's 7% higher than the 68.4 TWI that the RBNZ built into its forecasts for the June quarter of this year when it presented its December MPS.
"If the NZD stays at these lofty levels, without a commensurate increase in commodity prices, it may leave the central bank little option but to ease.
"Mechanistically, this TWI level, alone, is enough to knock around 0.7% off the Bank's year ahead CPI forecasts. That would leave the Bank's annual headline inflation rate at potentially less than 1.0% right out into mid-2017.
"We don't yet have rate cuts in our published forecasts but if the inflation outturn continues to 'deteriorate' we may also have no choice but to insert them.
"Of course, if New Zealand simply lowered its inflation target to 0-2% all this consternation would disappear. Just a thought!"