Finance Minister Grant Robertson's presided over another strong financial year for the Crown - but he's still not expected as yet to provide the fiscal kick many are seeking for the economy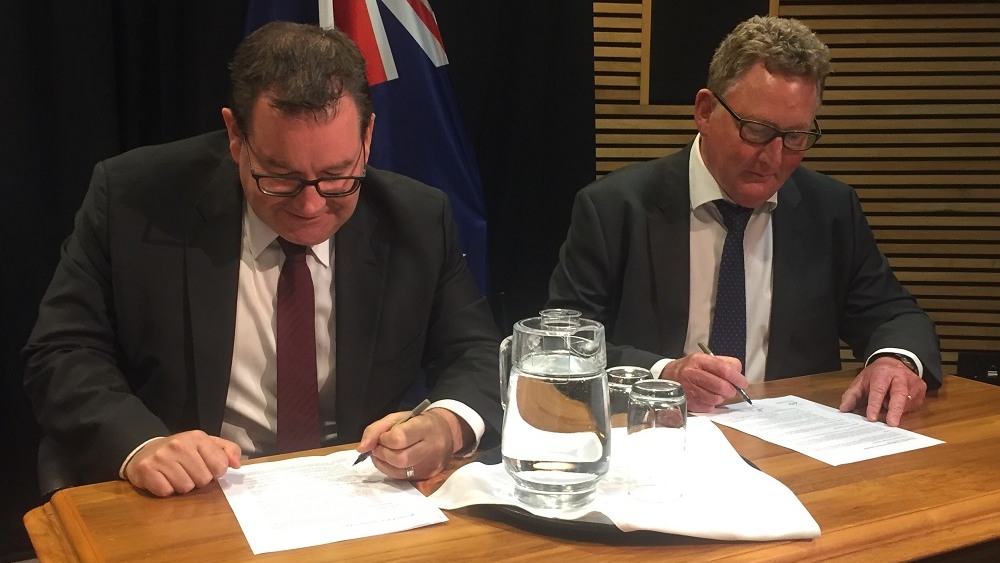 The irony is unlikely to be lost on the business community.
As it collectively talks itself into an ever gloomier state, it will on Tuesday (October 8) witness the sight of the Government unveiling what's expected to be another bumper surplus for the year ended June.
And while there's a growing chorus of voices (including not least the voice of the Reserve Bank Governor Adrian Orr) imploring Finance Minister Grant Robertson to roll out some 'fiscal stimulus', it's not seen as likely that he will, at least not at the moment.
As Kiwibank chief economist Jarrod Kerr and senior economist Jeremy Couchman put it: "Minister of Finance, Grant Robertson, has the opportunity to signal a change in fiscal policy direction, ahead of the Government's half-year fiscal update in December. However, we expect an announcement of another outsized surplus and a commitment to irresponsible fiscal rules." (They've previously pointed out that the fiscal responsibility rules are "effectively irresponsible" as they say these limit infrastructure spending to get debt levels down to levels we don't need.)
"Here's hoping there is a change in tack. But we are likely to be disappointed, again. And we must focus on the RBNZ, again," they said. 
The RBNZ dropped the Official Cash Rate by 50 basis points (to a new record low of just 1%) on August 7 in an attempt to stimulate the economy. It's widely expected that the RBNZ will cut rates again next month.
Meanwhile, for the 11 months to the end of May the Government's operating balance before gains and losses (OBEGAL) was just under $7 billion, which was $2.5 billion ahead of forecast in May's Budget, while net core Crown debt as a percentage of GDP was 19.3% - comfortably below the 20% target.
Economists are quick to point out that much can change in the final month of the financial year's wash-up - but there should still be a substantial surplus and a set of accounts showing the Crown in rude financial health.
Robertson has signalled a broader debt-to-GDP target in future years of up to 25%, but given no hints as to whether and when such wiggle room would be used.
In an in-depth ANZ Economic Insight, titled 'Let's Get Fiscal' ANZ senior economist Miles Workman said balancing up the need to be prudent with the ability to borrow more would suggest the Government could increase spending (or reduce taxes) by around $30 billion "and still tick the fiscal-prudence box".
"To put that in perspective, the current level of net core Crown debt (excluding NZ Super Fund financial assets and advances) is around $60 billion."
He says, however, while that seems "like a decent factoid" to rest an argument on that the Government could be doing a little more, there are longer-run fiscal challenges that need to be considered, as well New Zealand's need to run a more prudent fiscal position than other countries.
"After all, New Zealand runs persistent current account deficits, has a significantly negative net external investment position (although this has improved as a share of GDP over the past 10 years or so), and a very indebted household sector."
He says that ultimately, any Government stimulus package should have regard for "the three T's" - that is, temporary, targeted, and timely.
"Ticking all three boxes will likely require both more spending and lower revenues."
By no means everybody is convinced there should be a programme of fiscal stimulus. 
National's Finance Spokesperson Paul Goldsmith didn't agree with Robertson's broadening of the debt-to-GDP target.
And BNZ economists say people should be wary about inferring from Tuesday's Crown figures that the Government has a lot of room to move in terms of fiscal stimulus.
BNZ senior economist Craig Ebert says it's worth noting that "some (most?) of the recent out-performance in the Crown accounts appears related to the new tax-recognition scheme that IRD started to employ earlier this year, in the sense of front-loading".
"This, and the prospect of GDP growth proving materially lower than the 2019 Budget projected, means people should be very wary of reading tomorrow's "bumper" government accounts as wherewithal to spend up large (as has become the hue and cry).
"Indeed, to the extent that (core) operating deficits start opening up over the next couple of years – which we still believe is the bias – the maintained net-debt target of 20% out to 2021/22 could easily be called into question."
He says in the the meantime there is also the irony that the government is struggling to spend as much as intended, on account of a severe lack of resources to be able to carry out the work.
"The latter does not speak of an economy currently suffering a relative lack of demand, in need of government expenditure to save it from a major pothole; quite the opposite."