Broader questions raised about the David Hillary controlled NZ company Worldclear as one of its former employees remains holed up in a Singapore prison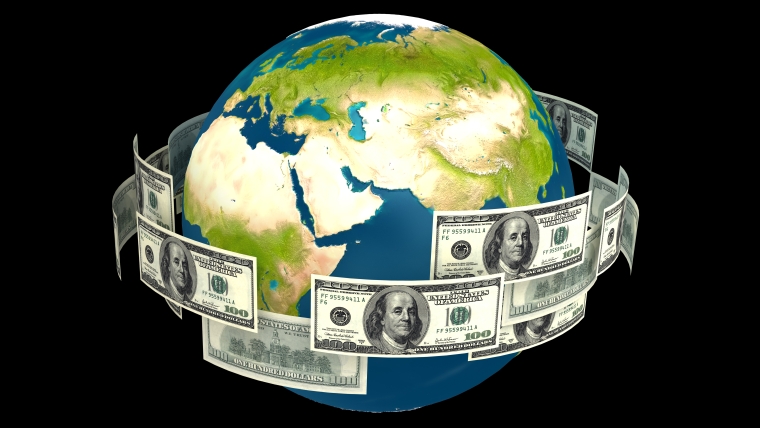 By Gareth Vaughan
A New Zealand financial service provider, a Cayman Islands bank, a man in a Singapore jail, anti-money laundering concerns at major NZ banks, a liquidation, disputed money in Lithuania and a house formerly owned by convicted fraudsters.
These might sound like the ingredients of a Hollywood movie. Instead they feature in the tale of NZ company Worldclear Limited and its director David Hillary.
The previously low profile Hamilton-based company, whose sole director and major shareholder is Hillary, boosted its profile significantly in 2018 when Hillary went to war with his employee Richard Whitham. Whitham had established T1 Holdings Ltd to open bank accounts on Worldclear's behalf. However the relationship quickly soured with T1 Holdings, incorporated in December 2017, placed in liquidation at the behest of Worldclear, its only creditor, in May 2018. This occurred because Whitham had allegedly stolen millions of dollars of Worldclear's clients' money and fled to Singapore. 
McDonald Vague's Colin Sanderson and Iain McLennan recently issued their fourth liquidator's report on T1 Holdings, whilst Whitham remains in Singapore, in Changi Prison. The report notes Worldclear claims $4.5 million and has thus far got back $1.2 million. The liquidators are taking legal action in Lithuania seeking €250,000 sent by Whitham from a T1 Holdings account at OCBC Bank in Singapore to WB21, now known as Black Banx, in Lithuania. Police in Lithuania are investigating WB21, thus halting withdrawals from its accounts.
Whitham, as sole director and shareholder, established T1 Holdings to open bank accounts and conduct financial transactions on behalf of Worldclear. He established 26 bank accounts with ANZ, ASB and BNZ, and with banks in Singapore and Europe. Transactions, including foreign currency transactions, were undertaken. Worldclear itself had been unable to retain relationships with major NZ trading banks, understood to be due to anti-money laundering concerns held by the banks.
T1 Holdings didn't register on the Financial Service Providers' Register (FSPR). Aside from limited exceptions and exemptions, everyone in NZ in the business of providing a financial service, whether in NZ or overseas, must be registered on the FSPR before they can legally provide financial services under the Financial Service Providers (Registration and Dispute Resolution) Act.
Nor was T1 Holdings registered as a reporting entity under the Anti-Money Laundering and Countering the Financing of Terrorism Act (AML/CFT Act). Worldclear itself was registered on the FSPR between 30/4/2014 and 15/2/19, and remains an AML/CFT Act reporting entity under the supervision of the Department of Internal Affairs (DIA).
Hillary claims Whitham "acted improperly and illegally" and dismisses allegations against Worldclear and himself detailed below as "unsubstantiated and false."
T1 Holdings 'established to circumvent banks' anti-money laundering programmes'
Philip Sarsfield, head of governance, risk and compliance at AML/CFT Act software and consultancy service provider Dimension GRC, believes T1 Holdings should have registered on the FSPR and was established to circumvent banks' anti-money laundering programmes.
Sarsfield's attention was drawn to Worldclear and T1 Holdings through his work for United States-based payment platform provider Akirix. Sarsfield was Akirix's director of business development between September 2015 and July 2017. Akirix provided transactional assistance to Worldclear's customers, including Choice Bank Ltd of Belize, and the Puerto Rico domiciled Strategic Bank Ltd, for international financial transactions between February 2016 and September 2016.
However the relationship soured with the two firms squaring off in a Utah court. As previously reported by interest.co.nz, Worldclear claimed US$4.3 million it entrusted to Akirix was misappropriated. Akirix said it was required by its bank Wells Fargo to review some Worldclear transactions "for compliance with federal law because of the nature of those transactions." Consequently Akirix said it suspended Worldclear's access to its online system, and the two parties entered a settlement agreement on October 3, 2016.
However hostilities resumed with Worldclear saying Akirix planned to charge "unjustified fees" totalling nearly US$1 million to review Worldclear transactions, maintaining there was a large shortfall between Worldclear's stated balance and the amount Akirix should have held on behalf of Worldclear amounting to US$4.3 million. Akirix said based on its settlement agreement with Worldclear, the NZ firm's funds were transferred from its Akirix accounts to other institutions, net of fees owed to Akirix. A trial date is scheduled for the first quarter of 2021.
Sarsfield said he's advising Akirix in its defence of Worldclear's court claim but is not a beneficiary of any outcome from the litigation.
A shell bank?
Sarsfield is also shining a light on Worldclear and T1 Holdings' relationship with Global Fidelity Bank of the Cayman Islands. As previously reported the bank entrusted clients' money to Worldclear. Global Fidelity Bank has a "Category B" banking licence from the Cayman Islands Monetary Authority, allowing only offshore business.
Under the AML/CFT Act NZ reporting entities aren't allowed to have a business relationship with a shell, or offshore, bank. Included in the definition of a shell bank is incorporation in a foreign country, and not having a physical presence in its country of incorporation. Sarsfield believes Global Fidelity Bank is a shell bank.
In 2018 Global Fidelity Bank turned to the High Court at Hamilton to claw back money it said was entrusted to Worldclear. The Cayman Islands bank was represented by Chapman Tripp. Interest.co.nz raised the shell bank issue with Chapman Tripp and asked the law firm whether Global Fidelity Bank was retained as a client after the AML/CFT Act was extended to law firms in July 2018.
"We have reviewed your email seeking comment from us. Due to our strict duties of confidentiality and continuing duty of confidence to any client who may have engaged with the firm (even after any matter has come to an end), we are not at liberty to comment and unfortunately unable to assist with your request. I trust you understand and respect our position," a Chapman Tripp spokeswoman said.
Sarsfield believes Whitham established T1 Holdings while a Worldclear employee to deceive local and overseas banks about the nature of the business the company was doing. In addition to alleging breaches of the Financial Service Providers (dispute resolution and registration ) Act and the AML/CFT Act as detailed above, Sarsfield also alleges breaches of the Crimes Act.
"Money transferred into accounts controlled by T1 became the proceeds of an offence when it was received," Sarsfield argues.
"Section 243 (1) of the Crimes Act defines 'proceeds' as in relation to an offence, means any property that is derived or realised, directly or indirectly, by any person from the commission of an offence. In the case of T1, proceeds (the money received) became the legal property of T1 when it was received, and it was received as a direct result of the commissioning of the offences pursuant to the FSP Act and the AML/CFT Act," Sarsfield said.
"In respect of the offence(s), based on the testimony of David Hillary on the Worldclear versus T1 Holdings matter and Global Fidelity Bank in the preservation order application, both parties admitted in open court that they constructed the scheme for the sole purpose of defeating the intentions the AML/CFT Act and the AML programmes put in place by the banks providing account services to T1 Holdings, and by default to Worldclear."
"There is also an additional aggravating feature, in that Global Fidelity Bank is a 'shell bank' pursuant to the definition contained within the AML/CFT Act, so both Worldclear and T1 Holdings should have been aware that providing services to a shell bank is prohibited pursuant to the AML/CFT Act," adds Sarsfield.
"In essence the majority of the transfers disclosed to the liquidators of T1 Holdings were directly attributed to the scheme and every transfer constitutes an offence, without which T1 Holdings and then Worldclear would not have received the money. I am therefore satisfied that the money that came under the control of Worldclear meets the definition of proceeds as particularised in Section 243 (1) of the Crimes Act."
The NZ banks that T1 Holdings opened accounts with - ANZ, ASB and BNZ - have all declined to comment. In 2018 a Reserve Bank spokeswoman told interest.co.nz;
"If the major banks had either closed the accounts of Worldclear, or refused completely to establish accounts with Worldclear, RBNZ doubts these banks would have knowingly opened accounts for another company if they had actual knowledge of the connection with Worldclear. The T1 Holdings accounts were opened in a different name and with a different director, therefore it is unlikely the major banks had visibility of the connection with Worldclear," a Reserve Bank spokeswoman said. 
"Operating under a different name, either company or personal, to avoid further detection is a common ploy used by persons who have had their bank accounts closed."
Hillary and the T1 Holdings liquidator strongly disagree with Sarsfield
T1 Holdings liquidator Colin Sanderson said Sarsfield's allegations are "based on a false premise and are without merit." The liquidators have responded "and placed the questions and our responses into court," said Sanderson.
"Mr Whitham was bankrupted in NZ on 27 May 2019 on the petition of Worldclear Limited. The Official Assignee's front page report says he is a prisoner, in Singapore," Sanderson said.
Hillary said Whitham acted improperly and illegally.
"As a result of his illegal actions, T1 Holdings Limited and Worldclear Limited have suffered substantial losses. Richard Whitham has been duly arrested and is in prison in Singapore. While the efforts to recover losses have been expensive, time consuming and painful, they have been successful and will continue," said Hillary.
Of Sarsfield Hillary said; "It is important to note that Phil Sarsfield, a known associate and former official representative of Akirix, LLC in New Zealand has threatened a number of people and made a number of unsubstantiated and false accusations. The liquidators of T1 Holdings Limited swore an affidavit, outlining these threats and unsubstantiated and false claims, which were submitted to the US civil court hearing the case against Akirix, LLC, which the court has accepted and which Akirix, LLC did not refute. Phil Sarsfield has made repeated attempts to make false claims about Global Fidelity Bank Limited. Global Fidelity Bank Limited was not, is not and does not meet the definition of a shell bank and is a duly licenced bank."
Whitham couldn't be reached for comment. However he has previously denied Hillary's allegations and told interest.co.nz in 2018; "The allegations and inferences outlaid by David Hillary's Worldclear against T1 Holdings, Retail Guru [another Whitham company] and myself will be extensively challenged in court when I am able to return to New Zealand." Whitham's wife Erika recently told Stuff he would consider a plea deal if it meant he could get back to her and their four children in NZ. Although innocent, getting home "the quickest way possible" is his priority, she reportedly said.
Neither Global Fidelity Bank nor its managing director Jim O'Neill have responded to requests for comment. A spokeswoman for the Cayman Islands Monetary Authority confirmed Global Fidelity Bank has a "Category B" banking licence. However she wouldn't say who owns the bank noting; "the Authority cannot share any information that is not public knowledge." A notorious tax haven, the Cayman Islands doesn't have a corporate tax and imposes no direct taxes on residents. It has however pledged to have a public register of company beneficial ownership by 2023.
Sarsfield denies threatening people and said neither he nor Akirix are aware of any affidavits from the T1 liquidators being filed in the Akirix case. 
Sarsfield also points to a Suspicious Transaction Report filed with Singapore's Suspicious Transaction Reporting Office. It features Worldclear (Management) Ltd, another Hillary company. Sarsfield said the report was provided to him by a law enforcement authority he'd prefer not to name at this stage, and argues the transaction was "structured by Worldclear to circumvent the AML/CFT controls put in place by the banks." Worldclear Management, via an ANZ Bank New Zealand bank account, received US$200,000 in July 2017 from Riverfall Group via WB21 and Global Fidelity Bank, with Worldclear the financial service provider that accounted to Global Fidelity Bank for the credit. Riverfall Group was incorporated by Brit Roger Knox who has been arrested and charged by the US Securities and Exchange Commission in relation to a major alleged global securities fraud scheme.
Of the report Hillary said; "Disclosure of suspicious transaction reports is strictly prohibited and a criminal offence. Many of the transactions, if not all the transactions, related to WB21 and Knox would have been reported by any of the institutions around the world affected by the activities of those two parties."
'If a person structures transactions to avoid the application of AML/CFT requirements by a reporting entity such as a bank this is a criminal offence'
So what do the regulators say?
A spokeswoman for the Ministry of Business, Innovation & Employment (MBIE) which includes the Companies Office, said the Companies Office has not received any complaints about T1 Holdings or Whitham.
"As T1 [Holdings] is in liquidation, the Companies Office will review any referral from the liquidator, should any mismanagement or breaches of the Companies Act 1993 be identified involving the company or its director," the MBIE spokeswoman said.
A spokeswoman for the Department of Internal Affairs (DIA) said there's no legal obligation for a business captured under the AML/CFT Act to register with their supervisor, which in T1 Holdings' case was the DIA.
"But if their activities deemed them captured, they must comply with the Act. Once a company is in liquidation they are no longer a reporting entity under the Act."
The DIA is not taking any action against Whitham or T1 Holdings.
Meanwhile the DIA spokeswoman said Worldclear has been an AML/CFT Act reporting entity in the past and the DIA has had significant compliance engagement.
"This included reviewing its AML/CFT programmes and on-site inspections. These engagements occurred both before and after May 2018. Worldclear has since deregistered from the Financial Service Providers Register and notified us that it is no longer providing financial services."
Interest.co.nz also asked about T1 Holdings establishment to conduct financial services on Worldclear's behalf, including establishing relationships with banks potentially unaware of the link to Worldclear.
"All reporting entities are required to comply with the obligations of the AML/CFT Act. This requires a reporting entity to implement an AML/CFT programme to manage and mitigate the risk of money laundering (ML) and financing of terrorism (FT). If a reporting entity delivers its products and services in conjunction with another company, it must still ensure that all AML/CFT requirements are met. It must also assess and mitigate any additional ML/FT risks that associated with its relationship with that other company. We also note that if a person structures transactions to avoid the application of AML/CFT requirements by a reporting entity (such as a bank), this is a criminal offence under section 101 of the AML/CFT Act,' the DIA spokeswoman said.
A Financial Markets Authority (FMA) spokesman said the FMA has received two misconduct reports from the public about Worldclear, one last year and the other in 2018, regarding alleged money-laundering. However he said the FMA does not share details of complaints for privacy reasons. The FMA is not considering taking any action against Worldclear, T1 Holdings or their directors.
A spokeswoman said the NZ Police are "unable to respond to queries which seek to establish whether specific individuals or organisations are, or have been, under Police investigation."
A phone directory for the financial services sector
A former financial adviser, Hillary also previously ran the "Lost Soul" blog where he wrote acerbic posts about South Canterbury Finance prior to that company's August 2010 demise. Worldclear and Hillary previously featured in this 2016 interest.co.nz article Standard Capital PB, PB Standard Capital, a NZ financial service provider, an 'undisputed US$1 mln debt' and the man who wants it back, and this 2017 article; NZ financial service provider Worldclear and local banks caught up in the activities of curious Singapore company Summit International.
Companies Office records show Hillary owns 66.45% of Worldclear. The second biggest shareholder is EBANQ Holdings BV of the Seychelles with 20.98%. EBANQ's CEO is Michael Magnusson who wrote a book about NZ entitled 'The land without a banking law; How to start a bank with a thousand dollars.' The book featured in this 2014 interest.co.nz article. Magnusson, originally from Sweden, was accused of money laundering in Panama in 2012 but was acquitted. Worldclear's other shareholders are Recoveries Assignee Ltd of the Cook Islands with an 8.74% stake, and Hong Kong firm Suncorp Credit Ltd, which holds 3.82%.
Worldclear was registered on the FSPR but has never been a registered bank or non-bank deposit taker. The FSPR is like a phone directory for the financial services sector. A company merely being registered on the FSPR doesn't mean it's actually regulated or licensed in NZ or elsewhere. Interest.co.nz has written extensively about problems with the FSPR. You can see more on this here and here, and more on why NZ has it and why I think it should be abolished here.
Worldclear was registered to provide the following financial services; Being a creditor under a credit contract, operating a money or value transfer service, issuing and managing means of payment and changing foreign currency. Financial Service Providers Registrar Ross Van Der Schyff deregistered Worldclear last year because he was satisfied it was no longer in the business of providing a financial service. No objection was received from the company within the time provided.
'Worldclear' website makes misleading claims
Last week a note on the Companies Office website was saying Worldclear was overdue in its obligation to file an annual return and Van Der Schyff was preparing to remove it from the Companies Register, seeking any objections to this action by 5pm on February 26. On Monday Hillary said Worldclear's annual return was "in process and will be filed." It now has been filed.
Interest.co.nz also came across a Worldclear website last week claiming the company remains a registered financial service provider when the Hamilton-based company was deregistered a year ago, on February 15, 2019. Two excerpts from the website feature below. The FMA has taken two court cases against companies and their directors for claiming to be registered on the FSPR when they no longer are. In the first case Morgan DeVere Corporate Finance Ltd director Rene Moorby was sentenced to 75 hours of community service. The second case, involving Pegasus Markets Ltd and director Michael Reps, remains before the North Shore District Court.
Hillary said he was not aware of this website.
"Thank you for notifying me about this website using our company name without permission," he said.

And;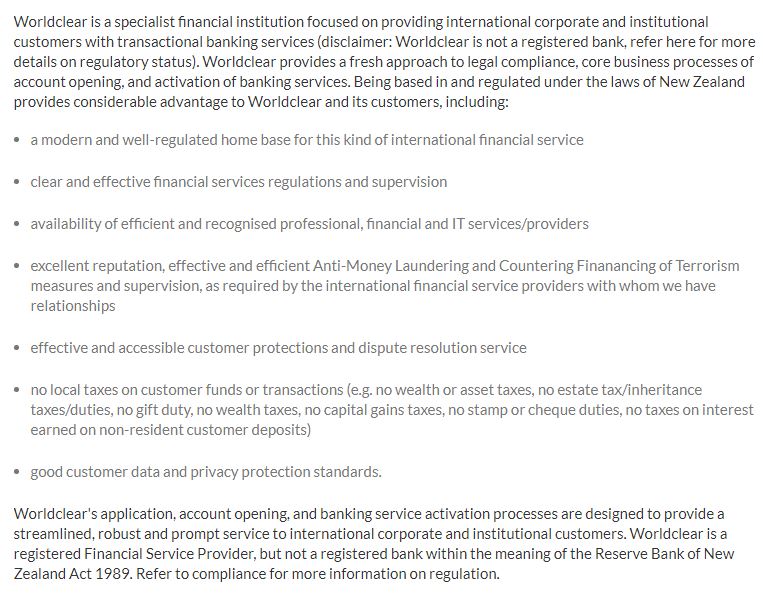 From the Cook Islands to the Cayman Islands
Hillary has recently registered two new NZ companies that appear to be targeting the financial services sector. They are AWA Finance Ltd and B9 Man Ltd, or BP Management. B9 Management's website says an Android smart-phone based app is planned to "enable investors and business people to get set up in one of the world's premier asset protection centres, the Cook Islands, with a flexible and easy to operate LLC, and open banking facilities in one of the world's premier international banking centres, the Cayman Islands."
Hillary is listed as sole director and shareholder of both companies. Asked about his new companies, including whether Global Fidelity Bank is involved, Hillary said he wouldn't comment beyond "what is in the public record."
As highlighted here by The New York Times, the Cook Islands are viewed as "a global pioneer in offshore asset-protection trusts, with laws devised to protect foreigners' assets from legal claims in their home countries."
Below is B9 Management's homepage.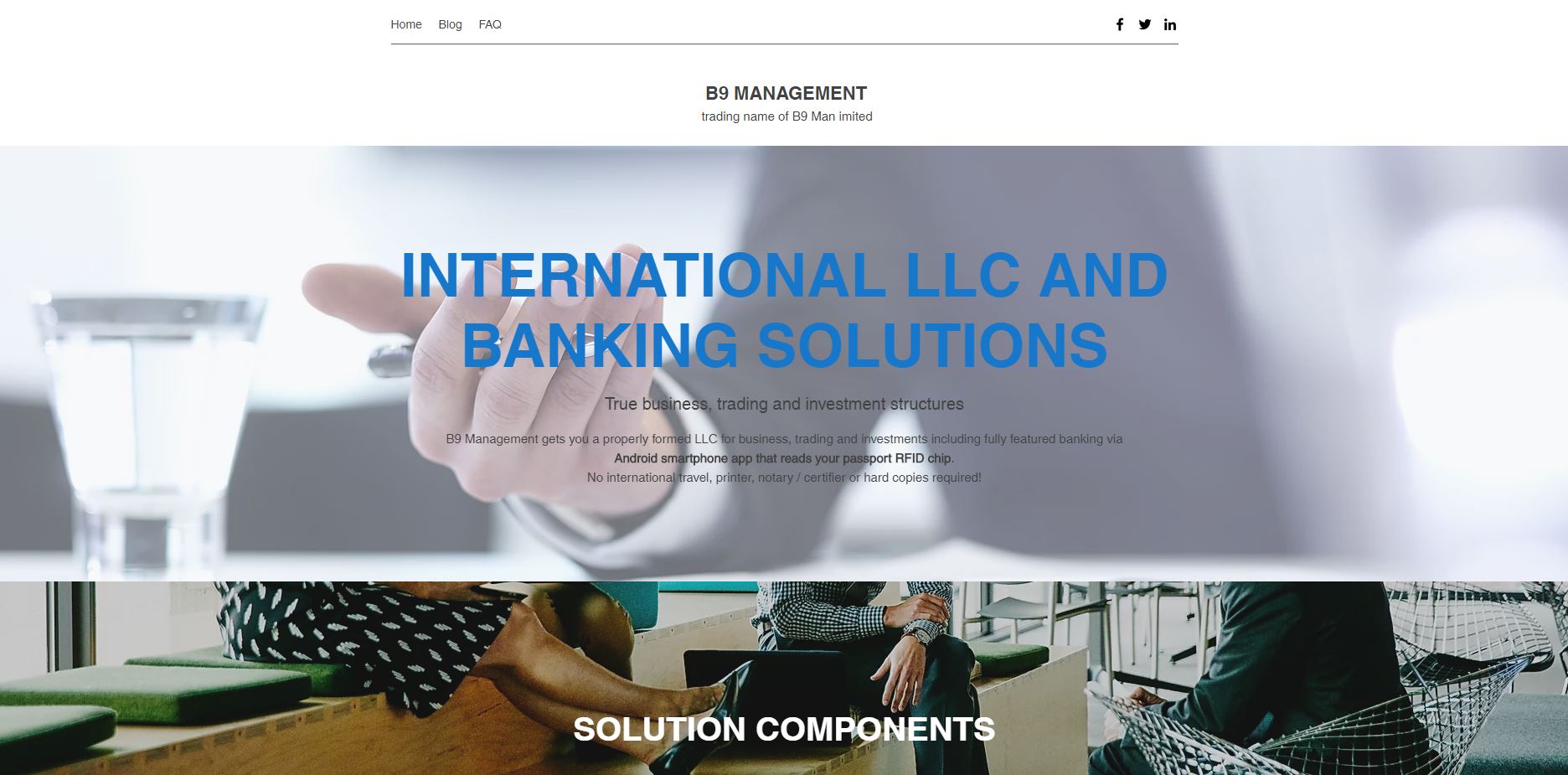 'I didn't know anything about it. I had never heard of any of the individuals involved'
In Companies Office records Hillary provides his address as 33 Hart Road, Tamahere, Hamilton. Property records list restraining orders pursuant to Section 27 of the Criminal Proceeds (Recovery) Act against 33 Hart Road from March and April 2018. The property was then held in the name of Kang Xu. Aside from property developer Kang Xu, the restraining orders also name suspended lawyer Gang Wang and ex-BNZ employee Zongliang Jiang. The three were convicted in a Serious Fraud Office case over a $54 million mortgage fraud involving 110 properties in Auckland and Hamilton in June 2018.
In November 2018 the Hart Road property was transferred to limited partnership NZ Branch LP, whose general partners consist of Hillary and his wife. They're also one of two parties to have taken on mortgages for the property at the same time.
"Until the real estate agent selling the property gave me a copy of the title, showing a proceeds of crime order, I didn't know anything about it. I had never heard of any of the individuals involved. The order was removed by the court before the purchase was completed," Hillary said.
*This article was first published in our email for paying subscribers early on Wednesday morning. See here for more details and how to subscribe.