BNZ economists say they are raising their inflation forecasts on an almost daily basis while ASB economists are seeing a 'Costpocalypse'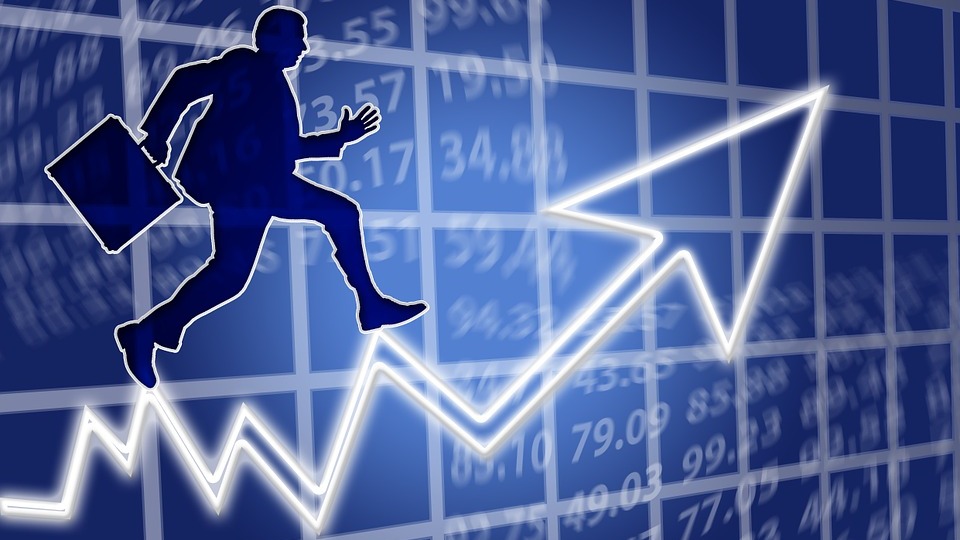 ASB economists are calling it a 'Costpocalypse', while BNZ economists say they are raising their inflation forecasts on an almost daily basis and say a number in excess of 8% for annual inflation is not out of the question.
BNZ head of research Stephen Toplis in BNZ's latest Markets Outlook says there is "now almost no doubt" annual CPI inflation will surge through 7.0%.
"We have recently raised our expectation for [March quarter 2022] CPI to 2.0%, taking the annual increase to 7.2%. The annual reading is expected to climb even higher to 7.6% in the June Quarter."
ANZ last week moved their inflation forecast up to 7.4% for the June quarter, while ASB are also now seeing 7.4% for the June quarter. 
In its February Monetary Policy Statement the Reserve Bank (RBNZ) was forecasting 6.6% annual inflation as of the March quarter, reducing to 6.3% by June. Those forecasts were finalised, however before Putin's invasion of Ukraine.
Toplis notes that the last time we experienced this kind of inflation was in 1990 just as the then "new" inflation targeting regime was being implemented.
"A number in excess of 8.0% [for annual inflation] is not out of the question. It seems we are raising our inflation forecasts on an almost daily basis as oil prices surge, food prices defy expectations and generalised cost pressures feed through into selling prices."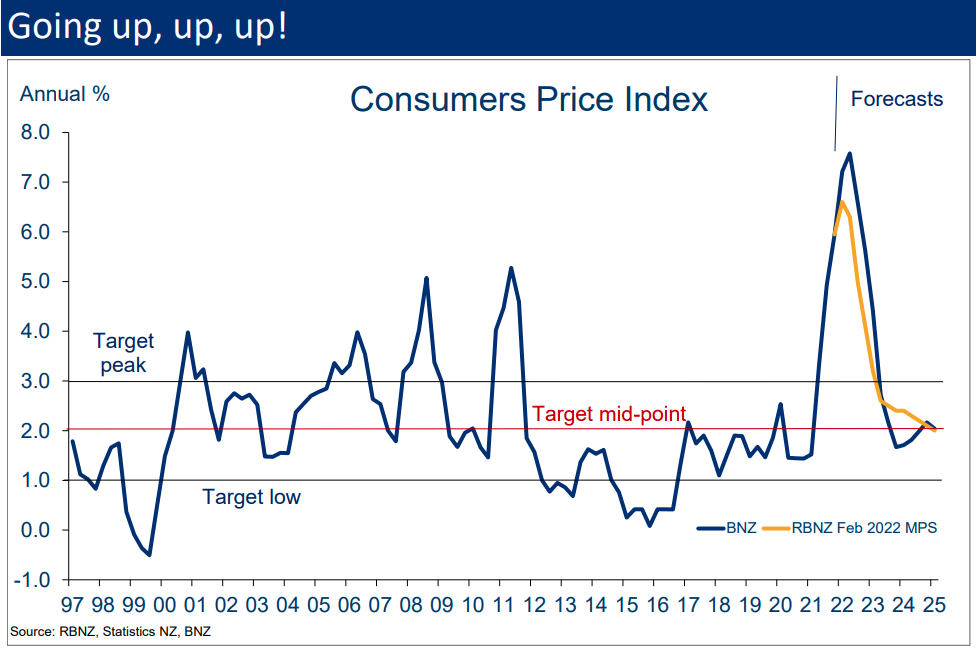 ASB chief economist Nick Tuffley in ASB's Economic Weekly publication said: "Call it a crisis, challenge, or a mere Costpocalypse, but the cost of living keeps soaring."
He noted that oil prices "bounced around" last week on Russian-Ukrainian developments. "But the fuel pump price is higher still..."
"...At the peak (in the June quarter), we estimate the CPI will show around a 45% annual lift in petrol prices, with fuel prices accounting for nearly 2 percentage points of an estimated 7.4% headline inflation rate.
"In February, food prices rose 6.8% from a year earlier, the fastest pace of food price inflation in over a decade. Within that, fresh produce prices jumped 17%. Retail grain and dairy prices are likely to come under further upward pressure this year."
ANZ's economists last week made a new call on their expectations for the Official Cash Rate. They now expect the RBNZ will lift the OCR by 50 basis points at each of its next two reviews, meaning the OCR would be doubled from the current 1% to 2% by the end of May.
BNZ's Toplis says in this environment it is "tempting" to push expectations for Reserve Bank rate hikes in line with the surge in inflation.
"The market has certainly done this with a 70% chance of a 50 basis point hike now priced in for the April MPC meeting and 85 basis points of hikes priced between now and May."
On a strict "model-driven forecast" the RBNZ would appear to be, Toplis says, "so far behind the curve it's not funny, and one could justify any number of aggressive rate hikes".
But he says it's not a one way bet that a 50bp rise will or should be delivered in April. And he cites the following "numerous factors" that will weigh on RBNZ minds:
► In April we will still be seeing the peak effects from the current Omicron outbreak, which is well and truly shutting down New Zealand at the moment.

► There is little key data between now and the April meeting and what data there is, will likely suggest that while inflation pressures are rising, economic growth is vulnerable

► May is the next MPS and would seem to be a better time to go 50bp. We will then have the next CPI report, the next labour market report and have a better idea of how the economy will be bouncing back from Omicron.

► Consumer confidence is currently plummeting. It's even below GFC levels.

► Retail spending is falling rapidly.

► House prices are falling. They will fall further.

► Surging petrol prices are destroying real disposable incomes (and, hence, consumer spending). But no one knows how long elevated prices will last. Indeed, at some point in time there is bound to be a significant commodity price correction which will prove to be broadly deflationary.

► The war in the Ukraine is adding to uncertainty at a time when Omicron is already creating bucketloads. The RBNZ doesn't like going big when uncertainty is prevalent. Given recent past comment its consistency would be questioned were it to do so.
Toplis says even if an April 50bp rise "does become saleable" [the next RBNZ review is April 13], he thinks it's too early to make that call now.
"We'll be keeping a close eye on domestic developments (Omicron and house prices) and Russia/Ukraine to see how things evolve before talking that step."
Toplis notes that the vast majority of the CPI increase can be put down to surging global oil prices.
"But the more important question is where will they go from here and, in the interim, how much of this increase will feed into more generalised CPI inflation. While all the near-term pressure is upward there will come a time when the upside risks are fully priced.
"Moreover, any sign the war in the Ukraine is about to end could bring about a very sharp drop in prices. The impact of this could be substantial, it's just that we don't know when. To put this in perspective, however, even if we assume a modest drop in pump petrol prices from current levels, say 10% by the end of the year, then by late 2023 annual headline inflation could well be below the RBNZ's target band."