ANZ economists say the Reserve Bank will need to 'move aggressively' to defend its inflation target from people's rising expectations - and that won't be good for economic growth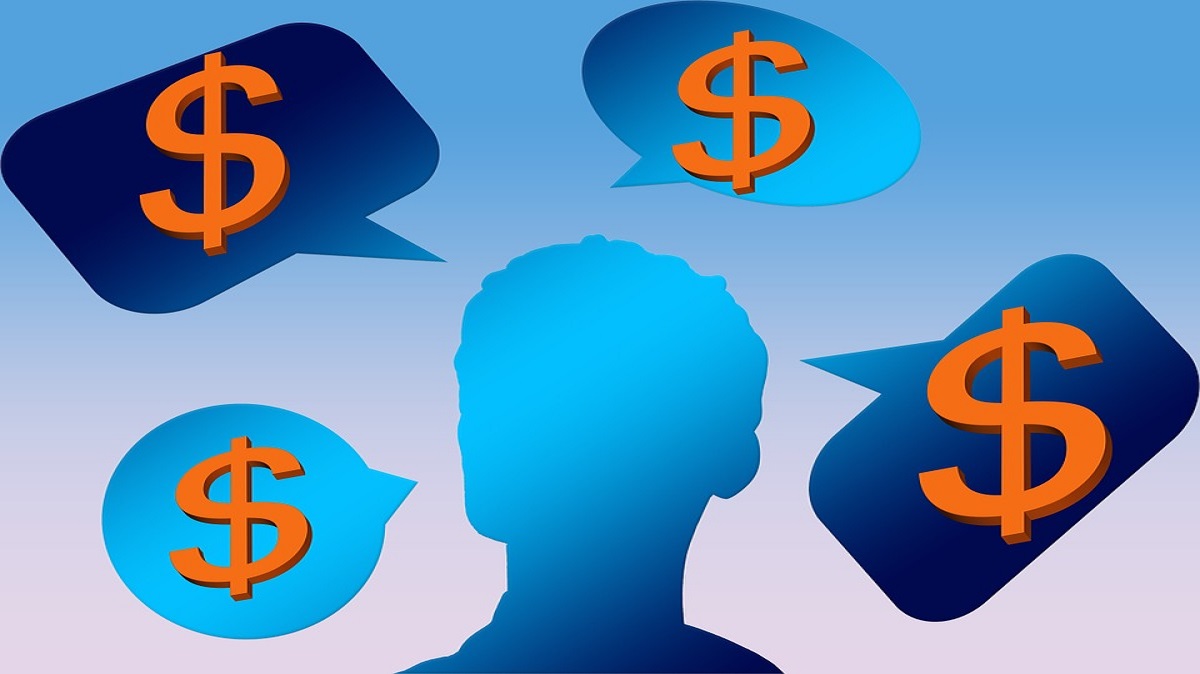 The 'damage' to inflation expectations in this country may already have been done, ANZ economists are cautioning.
In an NZ Insight publication, ANZ economist Finn Robinson, chief economist Sharon Zollner and senior strategist David Croy have a detailed crunch on the causes of inflation expectations and look at the current situation in New Zealand. 
The Reserve Bank is charged with keeping inflation in a 1% to 3% range, with an explicit target of 2%. An important part of keeping inflation under control is controlling people's expectations of future levels of inflation. The RBNZ has its own survey that monitors that while a number of other surveys also tackle this subject.
Inflation expectations "matter" for monetary policy, Robinson, Zollner and Croy say.
"In fact, it's hard to overstate how important it is for the RBNZ that agents in the economy believe inflation will be low and stable over the medium to long run.
"In essence, inflation expectations are a form of self-fulfilling prophecy. If people think inflation is going to be strong in the future, then they will likely put up their prices or demand higher wages now, in anticipation.
"If enough people do this, inflation will rise – and people may then revise up their expectations for inflation. You can see how such a feedback loop can quickly get out of hand, especially when it becomes a dominant theme in the media and in headlines.
"Figure 1 [see graph below] highlights one of the more alarming features of the economic data over the past year - the synchronised surge in various measures of inflation expectations. Across businesses and households, expectations for inflation over the next year have risen steeply – and show no signs of slowing. In our latest Business Outlook survey, a net 74% of firms were expecting to put their prices up. Overall, 92% expected higher costs – and that number was 100% for agriculture and construction.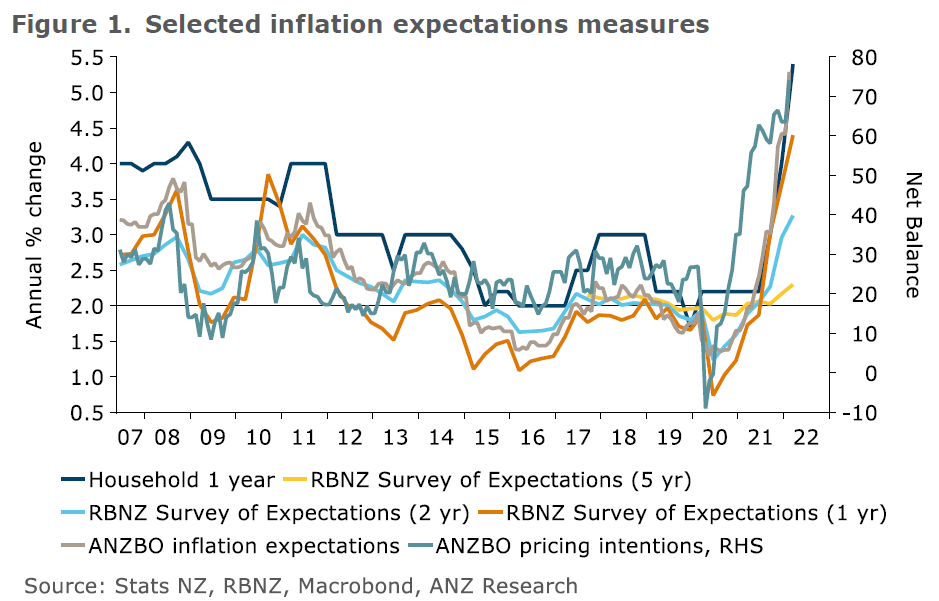 So, the economists say, in many respects, the damage to inflation expectations "may already be done".
"We'll have to wait for the next couple of months of survey data to find out. But the news has been saturated with coverage of the cost of living and rising fuel prices, and Google searches for inflation in New Zealand have gone vertical," the economists say.
For the RBNZ, the "evolution" of price pressures and inflation expectations since it released its February Monetary Policy Statement means it will "need to move aggressively to defend the inflation target from rising expectations".
"And that won't be good for growth. It's increasingly looking like the first half of 2022 will be pretty soggy in terms of 'real' economic growth, given surging cost pressures and ongoing Covid disruption. In fact, we've recently downgraded our outlook for GDP growth. But the RBNZ needs to bring surging inflation under control, so they need to keep on hiking interest rates even as economic activity struggles."
The economists concede this "might sound callous" if you're a struggling businesses owner or mortgage holder.
"It won't be easy, and the pain won't be felt equally - just as the benefits of falling interest rates were not evenly shared.
"But at the end of the day, we know that letting inflation get out of control would be more harmful, requiring even more aggressive OCR hikes than the two 50bp hikes we're calling for.
"Inflation isn't just going to go away by itself – and the global forces which held inflation down in the post-GFC [Global Financial Crisis] decade are taking a hiatus (whether that's permanent or temporary remains to be seen, but is a moot point for the RBNZ as regards its near-term decisions).
"If there's one thing that economic history has taught us, it's that spiralling inflation is devastating for economies, and the people within. The labour market is the tightest it's been on the official record – and the best way for the RBNZ to support ongoing strength in employment is to restore price stability."
In terms of some of the things driving rising inflation expectations, the economists point to an outsized influence from the price of petrol.
"A combination of global energy shortages, robust economic recoveries from Covid, and the Russian invasion of Ukraine have seen oil prices surge compared with the extreme lows seen in 2020, and this has shown up directly at the pump. Indeed, petrol prices correlate pretty well with the most significant movements in the 1-year inflation expectations measure from the RBNZ's Survey of Expectations (figure 2 - below)."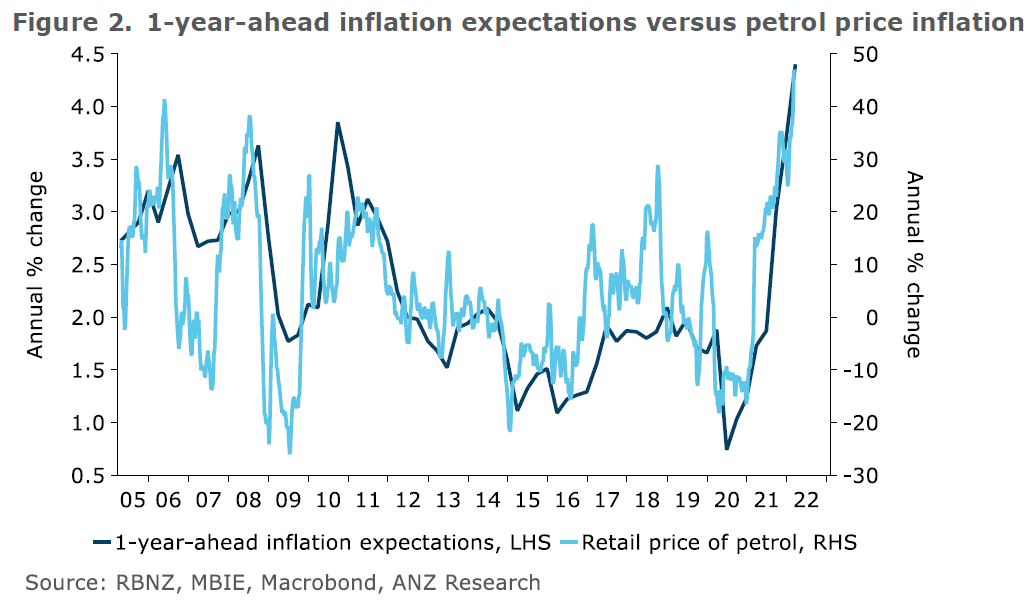 The economists say that in historical context, petrol prices have had an impact on inflation expectations that is disproportionate to their weight in the CPI basket (less than 5%). Headline inflation excluding food, energy, and fuel (ie a common measure of 'core' inflation) is also a significant driver – and together these factors explain a large chunk of the historical movements in inflation expectations in New Zealand.
The importance of headline inflation makes sense – many agents in the economy will account for what inflation was last quarter when forming their expectations. Nonetheless, this dynamic simply adds to the persistence of higher inflation and inflation expectations, they say.
Even though the RBNZ may usually have the leeway to look through things like petrol price shocks, it would be very risky to ignore the impacts they have on inflation expectations right now, Robinson, Zollner and Croy say.
"The impacts are significant, and that matters when expectations are already so elevated. The [RBNZ] Monetary Policy Committee will be particularly concerned about whether the national conversation about the rising cost of living will be the catalyst that kicks off the self-fulfilling prophecy of spiralling inflation expectations – making the cost of living that much worse."
And, so as to whether are inflation expectations are starting to "flirt" with becoming unanchored from the RBNZ's 2% target midpoint, the economists say:
"The horse, if it hasn't already bolted, is at least trotting at a fair clip and already a good way from where it's meant to be (although the RBNZ's longer-term measures are still close-ish to 2%, that reflects a very small, unusually well-informed group of 33 respondents).
"If expectations have or do become unanchored, the risk is that inflation starts to gain its own internal momentum, requiring much larger interest rate hikes – and a corresponding hole in growth and employment – in order to bring that momentum back down.
"It's already looking like achieving a soft landing for the economy will be a challenging prospect for the RBNZ – but if inflation expectations detach from the 2% anchor, it will be nigh-on impossible."