What happened while we were away: ASB coughs up; Deflation seen; Gong for RBNZ; Trade Me buys into Harmoney and more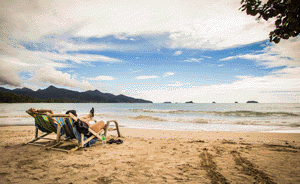 Here are some key snippets of local news that has come out since our last, pre-Christmas, subscriber email of 2014. (This story was first published in our email for paying subscribers early on Monday morning. See here for more details and how to subscribe).
ASB coughs up
The Commerce Commission announced on Christmas Eve a $3.2 million settlement with ASB over the bank's marketing, promotion and sale of interest rate swaps to rural customers between 2005 and 2009. The deal provides $2.7 million to compensate 40 eligible ASB customers who registered complaints with the Commission. ASB will also pay $250,000 towards the Commission's costs and another $250,000 to the Dairy Women's Network.
In its own statement ASB blamed customers incurring significant break costs from terminating swaps on unprecedented and unforeseeable circumstances that arose during the Global Financial Crisis. There's more on the ASB settlement here.
The ASB settlement comes after the Commission settled with ANZ earlier in December in a deal that sees $18.5 million split between 178 eligible ANZ customers. Thus the total amount of compensation secured for 218 bank customers is $21.2 million , with the Commission expecting to to "announce the outcome of its Westpac case" early this year.
Trade Me buys into Harmoney
Online auction website Trade Me has bought a stake of up to 15% in New Zealand's first licenced peer-to-peer lender Harmoney for $7.7 million. The deal sees Harmoney valued at $55 million, with Harmoney CEO Neil Roberts saying Trade Me's 700,000 daily browsers provide an "enormous opportunity" to showcase Harmoney.
Heartland Bank capital requirements normalised
The Reserve Bank has consented to the reduction of Heartland Bank's minimum regulatory capital requirements, bringing them in line with other New Zealand registered banks. Heartland also dumped Standard & Poor's and retained Fitch as its sole credit rating agency. It has a BBB rating with a stable outlook from Fitch.
Auckland house values surge
Quotable Value reported Auckland residential property values rose almost 10% during 2014, double the pace of nationwide rises. Auckland's average dwelling value rose 9.8% last year to hit $761,848. Nationally the average rose 4.9% in 2014 to $488,674. Meanwhile, REINZ reported a fresh record Auckland median price for December of $678,000, up 13 year-on-year, and said sales volumes rose 24.2% versus December 2013.
Fitch sees sound NZ banks, but cautions on high household debt
The credit rating agency expects the performance of the New Zealand banking system to remain sound in 2015, but notes household debt has risen to 156% of disposable income from 152% in 2011 and is "high."
'How we think about deflation needs to change'
BNZ head of research Stephen Toplis has suggested deflation is  now a real possibility for New Zealand. In a note entitled RBNZ impotent as deflation looms, Toplis says BNZ's now forecasting two consecutive quarters (December and March) of price declines with a cumulative drop of half a percent. The bank's economists are also forecasting annual CPI inflation of just 0.2% in the March quarter. With falling petrol prices Toplis says annual deflation is now a real possibility too.
Toplis says however, that although deflation has traditionally been seen as a bad thing, this time around may be different.
Traditionally, deflation has been seen as a "bad" thing. If prices are dropping consumers delay buying things in order to capture lower future prices. As a consequence, economic activity slows – retailers reduce sales, manufacturers supplying to those retailers reduce production and transport requirements diminish.

Lower activity sees lower employment which leads in turn to reduced demand and more downward pressure on prices. And so the vicious cycle continues. Nice in theory, but this couldn't be further from the truth in New Zealand at the moment. There is absolutely no evidence whatsoever of a retrenchment in activity due to the pressure on the general consumer price level.

Indicative of the contrary, real retail sales in the September quarter 2014 were 4.9% higher than year earlier levels.

How we think about deflation needs to change – for this particular cycle at least. If domestic prices are falling because there is insufficient demand then the normal vicious deflationary spiral might still hold. If they are falling because of a perfect storm of external shocks – some cyclical, some structural – then the conclusions reached are quite different
Gong for the RBNZ
The Reserve Bank of New Zealand was named Central Bank of the Year by a London-based publisher effectively for cracking down on banks' low equity home loans and increasing the Official Cash Rate.
'Westpac One' near, but Google Glass not
Westpac says Westpac One, its "new online banking experience," will launch early this year. It's touted as offering "one banking experience across all your devices" be it via a smartphone, tablet or desktop computer, and has been under development for some time.
Westpac unveiled a $15 million "device agnostic" mobile banking platform in September 2013, and said it aimed to provide up to 95% of its products and services via whatever device a customer chooses to use. Promotional material on Westpac One highlights "three exciting new features" being quick access, quick transfer, and spending meter.
Meanwhile of interest to Westpac, and other banks, will be news Google has brought a halt to sales of Google Glass. Westpac last year unveiled plans to offer "opt in" banking services via the spectacle-like wearable computers. There's now much speculation about what the future holds, if anything, for Google Glass.
Yellow Pages staggers on
The parent of directories business Yellow dumped its annual report during the holiday season. This revealed plans for an "orderly restructure" given there's "no realistic ability" for the group to refinance $500 million of senior notes issued in January 2011 at the current carrying value when they expire on August 31. This restructure has been on the cards for ages, - with interest.co.nz suggesting a shake-up was necessary a year ago.
The plan is for a new vehicle, Newco, to be formed to purchase the operating assets of the group and the existing holding company to be placed in receivership or liquidation. June year results show a loss of $45.8 million widening from $12.5 million the previous year, with an $82 million impairment of intangibles and $30 million of finance costs. As of June 30, 2014, there were $389 million worth of secured interest bearing liabilities paying 7.98%. There was also an equity deficit of $239.3 million in the annual accounts, which were prepared on a realisation basis rather than a going concern basis.  The trading profit was put at $48.5 million, down from $56.1 million the previous year.
Yellow says an orderly restructure is expected given the group's lenders are also its shareholders. After Telecom's $2.161 billion sale of Yellow Pages in 2007, lenders crystallised $1.05 billion of losses in 2011.
Banking Ombudsman scam warning
Banking Ombudsman Deborah Battell is predicting complaints to her office about scams will increase this year. She has issued a guide to help bank customers avoid getting caught out.
"Scams are not only increasing, they're becoming more sophisticated and audacious. It's also harder now to get your money back because, with improved technology and payments systems, money moves in and out of accounts more quickly, limiting the opportunity to stop or reverse payments,' says Battell.
"Many people think banks can stop or reverse payments but the ability to do this is limited, especially if the customer has authorised the payment. They also expect banks to monitor customers' account activity. Although banks do put considerable resources into identifying and preventing scams, they are not generally obliged to closely monitor each customer's transactions," Battell says.
"Customers must therefore always be on guard, and be especially wary if they are being asked to send money overseas."
BNZ accused of rewriting history
Fairfax's Rob Stock outed BNZ for leaving the bank's two taxpayer funded bailouts out of an online timeline of its history. BNZ said this information had been "inadvertently removed" during a website refresh, and would be reviewed.